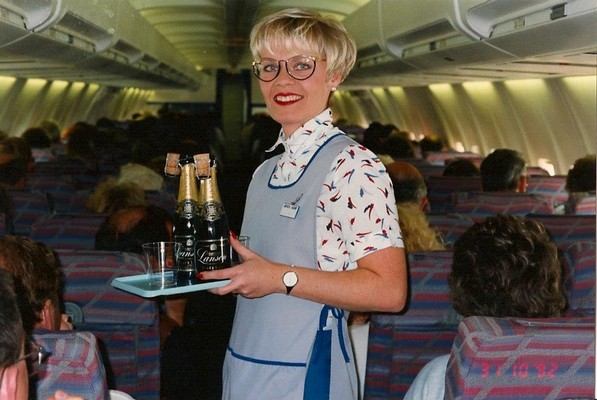 Danish born Vivian had a history of aviation in her family. Her Father worked with SAS and it was he, in fact, who alerted Vivian to the possibility of working in the UK for Dan Air. The company had just began scheduled services into the Scandinavian region. For that reason Dan Air was looking to recruit local girls who had English as a second language. Vivian joined Dan Air on 7th February 1977 initially on a six months contract. She had intended to stay with Dan Air in the UK for just the six months as a working and learning holiday. After an initial four weeks training at the Hickmen Hotel in Horley, Vivian was given her wings ranking as a junior stewardess. Her training had qualified her to work on two types of aircraft that were used on the Scandinavian routes, the BAC 1-11 and Dan Air's legendary Comet. As a junior member she was based at the back of the aircraft, she recalls the Comet galley being "Absolutely massive, with loads of space. There was so much room that we could actually fly with outbound and inbound catering all on board." Her memories of the 1-11 were not so favourable. "I much preferred the Comet. We always felt safe on it - It was very noisy, because it was so powerful. The 1-11 had over wing exit things hanging down and the doors were not fully sealed until we reached 10,000 feet." She did work briefly on the Boeing 727 fleet when it was occasionally deployed on the Scandinavian routes. The company was, at that time, still largely a charter company and therefore Vivian got to do her fair share of late night charters to the Southern European hotspots. "I did lots of flights to Palma and Alicante, that sort of place and they were fabulous. It was an almost constant party. Such happy times." When asked about the poor brand image that Dan Air had Vivian explains. "I think that some of our aircraft might have looked a bit shabby inside in the early days, but later on they were no less so than anyone else's aircraft. What was perhaps a problem was that we often used really bright colours on the seats and I think when I look at some of the photos I see that that makes the cabins look dated. That and the fact that we had long hat racks along the cabins and not lockers like today. When you see a full aircraft like that with clothes and things hanging down it can look a bit tatty. Ok some of our aircraft were old when I started! In fact when we landed in a Comet at some airports their staff used to make a special point of coming to see us and even asked if they could have a look inside the aircraft as they had never seen one before!"
| | |
| --- | --- |
| | |
| Vivian's initial training course in 1977 | Working on the BAC 1-11 |
Within a relatively short time Vivian had been promoted to the rank of Number One. This cemented her relationship with Dan Air and the British people. "I think, ultimately, I was having such a good time with Dan Air, I was enjoying every moment. When you are young and not sure how long something is going to last you kind of cling to it. The British people I worked with and the passengers made my time in England so enjoyable. I had intended to go back to Denmark, but in a short time I had decided I wanted to stay. I remember one time down route the Spanish luggage handlers were on strike. The Captain told the passengers on the aircraft that the good news was that we had arrived at the destination. He said the bad news was that with the strike it would be several hours before the luggage could be taken off the aircraft unless some strapping lads on board would care to offer their services. Immediately several men offered and they removed all the cases and took them across the airport to the terminal. It was things like that that made me love Dan Air and the British people "

Vivian was like many Cabin Crew when it came to her uniform. "When I first joined we had the navy blue with red piping. I hated the hat, hated it hated it! It was not very well made and it was a battle to try and get the people in the stores to replace it if it had become misshaped or torn, which they often did. If it was raining (The only time I liked wearing it) then it would quickly not resemble a hat any more, and any dent would ruin the shape and you could never get it back to the shape it once was." The girls were given a choice whether to wear the blue or the red blouse that accompanied the uniform. When in 1978 the uniform was changed she was still unimpressed. "That uniform came complete with Summer dresses "That rode up if you had to reach up into the hat rack - it would end up tangled in your bra and you would try to put yourself back together discretely. The uniform also came with trousers, which were very flared, as was the fashion. So I took them home and got the sewing machine out straight away. I made them really tight and loved them from then on. They also gave us a tights allowance and a shoe allowance which is something airlines today are unlikely to give." Vivian fondly remembers those charters in the late seventies and early eighties. "People were so excited, they would dress up for a flight. Every single flight I did had someone on board who was a first time flyer. We were encouraged to take children into the flight deck then, even adults wanted a visit. The flight deck crew were always happy to see the passengers too."

Vivian is like all her Dan Air contemporaries, is very protective of the company when her employer was tormented. The Dan Dare label in particular upset many. "I wasn't born in England so I didn't know what Dan Dare was, I now know it was a cartoon strip. I think it was mostly unfair to criticize the company. We were no worse than any other charter carrier and a lot better than most. The crew always worked as a team and we always had each other covered. Anything that happened down route stayed down route. If we had a problem with anyone we would have a word with them, never go reporting it back to managers. For us it was a fabulous company. Where else could you fly on any of our flights for £5? I think that charge was only there as an admin charge for issuing the ticket." The seatback catering that Dan Air used was also a bone of contention. "Some greedy people used to eat both meals, they weren't locked. They had a little catch thing on them and often people would eat the lot."
Vivian recalls one slightly hair raising moment when a 1-11 was forced to make an emergency landing. "The aircraft had burst a tyre upon take off and we were instructed to burn off fuel for one hour and then land at the airport we had just taken off from.
The Captain explained to the aircraft what was happening before we went on to do our bit in the cabin. Unfortunately the aircraft had been chartered by SAGA holidays (The tour operator that specialises in travel for the elderly) Everyone went very, very quiet in the aircraft while we explained what was going to happen. In the event of an emergency landing we had to tell the passengers to take off glasses, high heeled shoes and false teeth. To protect the landing slides."
The incident descended into comedy when the majority of the cabin started asking where they should put their false teeth for safe keeping! Fortunately the aircraft didn't have to instruct the passengers to evacuate. Instead a rapid disembarkation was deployed. "The Captain handled the landing with a lot of skill. He used the rear wheels for the landing and kept on the runway like that as long as he could before he lowered the front wheels onto the runway - that got a bit bumpy because it was metal against the tarmac, but he did an impressive job. It was a little scary with all the fire engines and emergency vehicle going along the runway at the same time as us."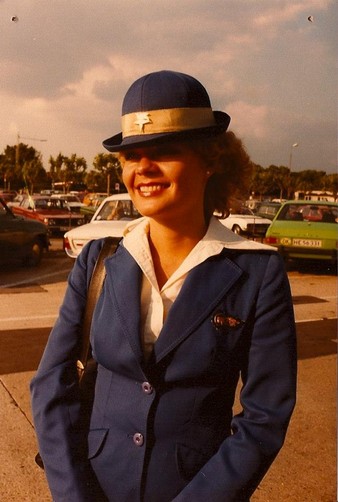 Vivian's 1978 Uniform

The airline World had a much more relaxed attitude to staff drinking than would ever be permitted in today's environment. Although the rules forbade crew to be drunk, landing drinks would be the norm when a homeward bound flight landed back in the UK. "As soon as the wheels of an aircraft hit the ground after a return flight then the crew would pour a landing drink for ourselves." This was a throwback from the Halcyon days of the Empire routes when BOAC crews were served by the chief purser when they finally hit UK soil after a long period away. An ice bucket served to make a fruit punch that was then mixed with spirits to make a pleasant cocktail. "Often, the customs officials at UK airports would come and join us and have a drink whilst they cleared us.

Much of Dan Air's charter work involved flying late at night, with flights back to the UK in very early hours. "Stop overs" were infrequent and these "Split Shifts" flight involved crew being put up in hotels for a few hours before being ferried back to the airport. It meant that the crew could enjoy socialising before returning to work. Vivian recalls that this approach is unheard of today. The rules are far more exacting with total bans on drinking for several hours before flying. The rules in the airline World meant that whilst being drunk was unacceptable, a few drinks in the bar would be ok. One has to remember that the UK drink driving laws in the seventies were very loosely enforced. A limit on the amount of alcohol was not even set for drivers until 1967 and then the limits were double what they became in the 90's. Nowadays, Vivien says she would never fly with anyone who had even one drink nor touch a drink herself whilst on duty. But, back then the rules were different.

One mystery that many of our readers have wanted explaining can be revealed today - that of "Totting" Vivian explains.

"On a typical flight we might carry say ten miniatures of Brandy, and if they all sold out we were allowed, officially, to open one of the half bottles that were carried to sell as duty free. We could then pour the drink to the passengers direct from the bottle and sell them for the same price as in the bar tariff. They would get the same amount of Brandy in their glass and they would pay the same as they would for a miniature bottle. So the passenger was happy - Now! There were ten measures in the bottle. So there was a potential £10 to be made from the sale of that Brandy, or Vodka, or whatever. To buy the half bottle outright would cost a passenger £3-50. (Although they could not drink that on board.) Dan Air only required us to account for the half bottle in the stock count and were happy for us to have the £6-50 between us. Dan Air had a happy passenger and the money for the bottle. We were happy that we had extra money. If we didn't sell the full amount we just returned the part used bottle to the bar and declared how much had been used."

There was no free bar on charter services so bar sales were an important source of revenue for any airline. Bar and duty free sales made up staff wages too with bar sales commission.

"When I went for my upgrade training to become a number one, the majority of my training was about totting and how to carry it out! I cannot imagine an airline encouraging staff to do that now!" Vivian recalls that Dan Air turned a blind eye to a lot of things that the crew did whilst back in the crew room when cashing up after a flight. Initially crew could drank from their own allowance (Each flight had an allowance of one half bottle of spirits per crew member, at a staff price). The company then decided that it would ban drinking whilst the staff added bar sales up, going as far as to install a camera to ensure the rules were obeyed. In true airline fashion, the ingenious crew members worked out that the camera had a blind spot near the safe and staff could use the area, close to the safe as an unofficial bar area, totally undetected by the management! To hide the evidence afterwards, the crew would stuff empty miniature spirit bottles in the suspended ceiling which was covered with white foam like tiles. Comic tragedy followed when, after months of evidence hiding the whole ceiling fell in with hundreds of bottles coming down in the process.

By the time Dan Air had entered the eighties they had begun a fleet renewal programme and refitted their existing aircraft with new interiors. With the arrival of the 737 to the fleet a new colour scheme was also introduced. The route network had grown and scheduled services had increased. The final Dan Air uniform was, Vivian recalls, the best one. "The hat was made of felt and had to be worn slightly at the side of our heads on a tilt. The colour was, I think, called electric blue!" She goes on to say "I think that we looked good then. The rules were so strict about how you wore your uniform though.

In fact I was brought into the office several times because I was caught not wearing my hat, or that my hair was an inch longer than they liked it to be Or my nails were the wrong colour. They didn't like us to change our hair colour either without permission. We had to wear gloves and the scarf and the hat outside the aircraft - but once inside I couldn't wait to get it off my head.
The rules at Dan Air were also unique amongst many airlines - Cabin crew were to be at the bottom of aircraft steps as well as inside the cabin. "A Boeing 737 400 would have six crew, which is a lot for the size of aircraft. We did not decide crew by how many passengers we were carrying, but by the type of aircraft it was. So therefore a 737 400 had six. The cabins would be a bit crowded with us all. But it also meant we could position more crew to guide passengers onto the aircraft and be the first to greet them or say goodbye. I think it was a nice touch."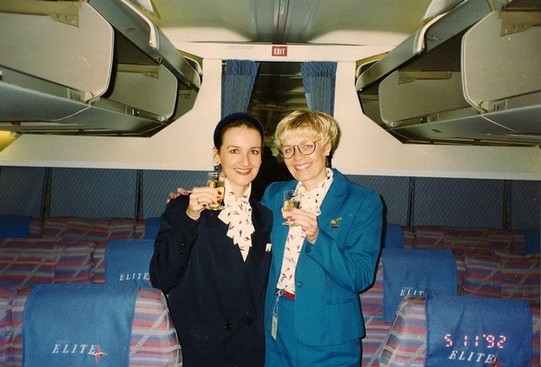 Landing Drinks?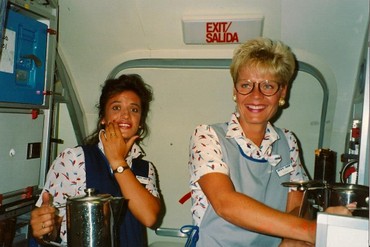 If any criticism was thrown at Dan Air as the approached the nineties they were definitely misplaced.

"We were, by then, as good as anyone else. The aircraft were mainly the same as any other airline with our 737's and 146's. In terms of passenger service we were vastly superior to anyone, even British Airways. At the time of our take over in 1992, we had the class Elite cabin, which the passengers very much approved of. That is where I worked, up front, because by then I was a senior number one.

When we were initially taken over we were flying the same routes in the same aircraft as we had been doing previously, We were even still wearing Dan Air uniforms. British Airways had added big 'British Airways' Stickers over the top of the 'Dan Air London' titles on the side of the aircraft. Lots of passengers who were flying on the same routes knew us and we knew them. They told us that the catering was far better with Dan Air. We had lovely linen, glassware and proper crockery and cutlery. We even left the middle seat empty so Class Elite passengers could work or spread out more. BA eventually upgraded their own catering to match Dan Air's but for months and months it was their own style which, as I said, wasn't as good"

At the time of the take over Only 350 cabin crew were given a job with British Airways. Several cabin crew were unhappy at the terms of their new employment. For many other people they were grateful to have secured employment in a difficult economic climate. The country was in recession and the Gulf war had taken it's toll. It would seem that although Dan Air's fleet was older, the fact that they owned outright many aircraft meant the banks pulled the plug on rival Air Europe first. They not only were merely leasing the aircraft they flew, but any office space they had was also rented. Dan Air owned significant real estate in Horley and in the city of London. These assets allowed Dan Air to carry on for a further two years. A new Managing Director, David James, did come along: "For a while he created a buzz amongst us that made us think we might be saved. But things didn't improve overnight. We had lots of new routes that needed to establish themselves. He reduced to debts and sold things off, but ultimately we knew things would end. It was very sad, I still am sad about how it ended. British Airways bought us for £1. But I was lucky, I was taken on by BA because of my seniority"

"For a lot of the flight deck crew it was harder. BA only wanted those who were able to integrate into their existing operation. Pilots who could fly 737's were the only ones who would be taken on I think." The Manchester based 737 crews were not taken on at all even though tehy had worked for Dan Air longer than the ex Air Europe 737 Captains that BA were now employing.
Vivian was given a new contract with BA and worked on the short haul division of the airline out of Gatwick.
After a few years the company opened up it's long haul flights for all crew. That meant that Vivian would now be flying on much larger aircraft to destinations far and wide. She particularly enjoys the long haul flying now where she is a Cabin Manager. It means that although the hours can be long, there are longer stop overs to relax in before the long flight home. "That is something that I never got to do with Dan Air all that much. I spent a week in Athens when we had a scheduled route there in 1991, but other than that we tended to go into an airport and fly home. Unless an aircraft went tech. Sometimes, like I said, we would go to a hotel for a few hours on a split shift." All of that is so long ago, and so different to the flying that I do now on Boeing 777 which is a beautiful aircraft, But I will never forget where it all began - With Dan Air."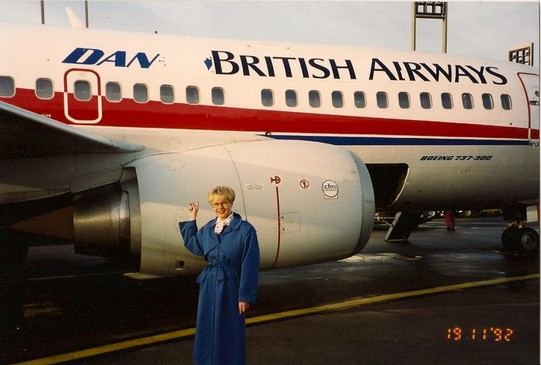 Dan Air titles defiantly revealing themselves on a newly acquired 737
GALLERY OF VIV'S LAST DAYS WITH DAN AIR & MORE RECENT PICTURES