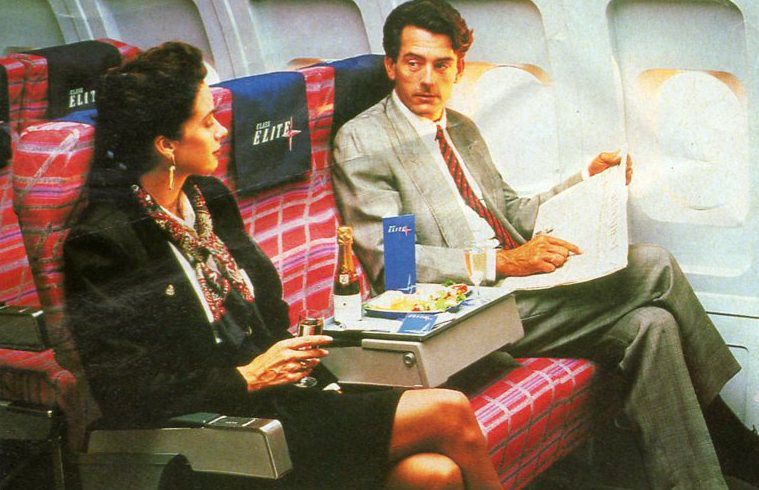 The photograph above shows Dan Air's '
Class Elite
' cabin. The airline's much praised business class cabin. Where the aircraft was six abreast, the middle seat was never sold. on five abreast layouts the same occured on the row of three. Instead a table was used, as shown. The cabin featured improved leg room and seat width. The airline advertised that you were never more than one seat away from an aisle. Drinks were complimentary, including champagne, and served in glassware rather that plastic. The meal service featured an ever changing menu and even short haul routes provided hot meals. The service 'Class Elite' was a new concept introduced in 1988, at a time when Dan-Air was trying to present itself as a stand alone, scheduled airline of choice. As we look back to earlier times we will a very different style of operation . Today's market is flooded with scheduled operators offering passengers low fares to all corners of Europe. Holiday passengers can use the internet to find hotels and flights, and all the extras such as transfers, insurance, car hire and excursions without a travel agent acting as middle man and charging a commision to travellers. When Dan-Air ws at the peak of it's success in the 70s and 80s no such self booking was possible. Travel agents and Tour Operators did everything. This of course meant that Tour Operators had to choose Airlines with varying sized aircraft with competitive rates. Todays travellers have come to accept no-frills and paying for drinks on board as standard. So was the 'Clas Elite' the right choice even then? Legacy carriers such as British Airways have had to compete in a way that could never have been imagined in the past. Charging scheduled passengesr for drinks and meals has proved to be the only way they can compete against the Low Fare giants such as Ryanair and Easy jet. Had Dan-Air survived just a few more years, after deregulation of fares, could they have gone into this market? They were ideally placed with the slots at major airports, the skills to operate a wide network at more than a hundred airports and a large fleet. I believe that the decision to compete with Legacy Carriers was the wrong one. Instead of going head to head with them Dan - Air should, in my opinion, been at the forefront of low cost travel. Doing what it had done for much of its history. An airline that carried mainly holidaymakers to the sun spots of Europe. They had already began offering fares that were lower than competitors. Had they done away with complimentary meals, drinks and expensive cutlery and crockery and instead offered flights for a few pounds like we see today things might have been altogether different. The service need not have changed. Dan-Air was proud of it's cabin crew. They were ambassodors to the Airline - Sadly all of that is a case of what might have been.....
I hope you enjoy your onlinie journey today, looking back at what your flight would be like through the Airline's 39 year history. All Of the Images can be enlarged by clicking them

Left: The Interior of a Dan - Air Dakota - Centre: - Publicity Shot of the Ambassaor when it first arrived with to Dan Air - Right: The Inteiror Of Bristol Freighter In Service
As we said earliler, 'Class Elite' passengers enjoyed dedicated check in, priority boarding and disembarkation. And even complimentary transfers to and from airports. Of course, this was not always the case. Looking at the cabins above one can see that the aircraft were quite spacious. The Bristol Freighter on the far right was actually just that - a freighter aircraft! Dan-Air converted some of the Bristol Freighters into a passenger cabin. It was known to be extremely noisy. The Airspeed Ambassador had a spacious cabin, Dan Air Engineering refitted the aircraft to their own specifications shortly after it entered service. The picture in the middle shows it when it was still in its BEA layout. Below is a picture after its refit! Dan - Air's Comet aircraft were purchased in 1966 from BEA. They had been 89 passenger seat layouts on long haul routes. Dan - Air's style of operation would see the aircraft in an altogether role. This involved strengthening the floors to accomodate 109 passengers New seats that would see the aircraft go from four abreast to five abreast. Other engineering work had to be done to enable the aircraft to be take of and land several times more than it was used to. It's testimony to the DAE staff who enabled such a feat.The centre picture below sent to us by Tony Button displays the Comet in the initial layout. By the mid seventies the comet had been fitted with the distinctive spotted seats. Michael Anciaux sent this picture of G-BDIX in 1979. The seats had come by way of Court Line. The airline had gone bust in 1973. Dan Air purchased some of their BAC 1-11 fleet. They also purchased the spares including seats from the Adminsitrator. They then purchased more seats from the manufacturer.

Dan-Air's early days saw staff trained in silver service waitressing, despite in flight facilities being somewhat primitive. Later on, as competition for charter business grew ever more intense, Dan - Air revolutionized in flight dining by being the first airline in the World to introduce 'Sky Diners' . An excercise was carried out by Dan-Air management to see if costs could be reduced. Stainless steel cutlery, crockery and glassware were heavy and the weight of these items would have to factered in how much fuel per flight was required. On a single flight this might not prove to be a great deal. When you are operating an ever growing fleet with hundreds of flights per week then the figures start to mount up. The airline discovered that the weight of catering supplies cost almost £25,000 per year. An evaluation of alternative products was carried out and one company came up with was to become 'Sky Diners' These meals were a The product, in light weight cardboard and plastic was eblazened with the company logo and was designed to fit into standard airline trollies. The meals did not need to be cooked in the galleyas as it was cold fare. The box would be also pre loaded with a bread roll, cold starter, and dessert. Accompaniments such as butter, salt, pepper and the plastic cutlery would also be included, wrapped by a napkin packed in celaphane. A plastic cup was even inside with creamer and sugar in small sachets. These were to be both popular with passengers and crew alike. Passengers enjoyed the novelty of them and Dan Air benefitted tremendously from them. It meant that the whole tray could be thrown away afterwards. Saving time and money by not having to wash the products. Britannia Airways soon followed their rival with a smilar product. Very quickly they stole the initiative and introduced the first hot meals served in similar boxes.. Dan-Air was soon matched this and offered hot meals as an option for Tour Operators to take up. On longer scheduled services a hot meal was standard with a hot or cold snack on shorter flights. The Sky Diner meal concept is shown below on a publicity photograph taken at their lauch. It didn't take Tour operators long before they embraced the concept and offer it to their clients. Scheduled and charter airlines across the World quickly rolled out similar products.
Above (L) Geraldine Standing in 1973 on a company BAC1-11 - (R) Sky diners in 1976.
Seat Back Catering
One of the most infamous memories of in flight service in the charter airline industry was seat back catering! The concept bagan early in the 1970s. Clarkson's Holidays was one of the UK's biggest Tour Operators. It had a reputation for offering the cheapest holidays on the market. Court Line's 'seat-back' catering permitted a reduction in the amount of galley space inside its aircraft's cabins. The extra space obtained was equivalent to three seats on the One-Eleven 400. This enabled it to increase seating densities and reduce individual seat rates to allow tour operators to hold on to their market shares in a price-sensitive environment. Dan-Air was one of Clarkson's biggest contracts, the Court Line fleet was small by comparison and so much of Clarkson's business came Dan-Air's way.
The concept itself consisted of pre-packed meals or snacks — usually, Spam salads out and sandwiches back — loaded into a small, two-shelf compartment in the seat back in front of each passenger. The meal/snack for the outbound journey could be found in the top compartment, the one for the return trip in the lower section. The latter contained a pellet of dry ice placed under the plastic food container. This simple refrigeration technique prevented food for the return trip that would spend several hours inside a small, confined space from going off. For the airline's cabin staff, it eliminated handling trays while airborne and resulted in a reduction of their workload. To prevent outbound passengers from consuming meals intended for return passengers, locks needed to be installed on the lower compartment that could only be opened by cabin staff during the aircraft's turnaround at the destination airport (although these were not always effective at deterring determined passengers). Who found that a pair of tweezers was all that was needed to open the box.

Above: Left, Seat Back Catering, Centre, On board a Dan Air 727, Right On Board A Dan Air Viscount (Phillip Dawson Photograph)
In addition to Court Line/Clarksons, Great Universal Stores (GUS) subsidiary Global was a major proponent of "seat-back" catering among the UK's leading contemporary tour operators. It demanded that package holiday costs be driven down to the bare minimum by replacing the traditional meal service on holiday charter flights with something much cheaper that would simply give passengers "a slice of pie". Industry insiders referred to Global's new inflight catering concept as Global Pie. The cost advantage industry leaders such as Court Line/Clarksons and Global gained over their rivals as a result of their onboard catering innovation eventually forced every other major UK charter airline to adopt "seat-back" catering on most flights serving short- and medium-haul IT destinations.

Clarkson's spectacularly went bust in 1971 and Court Line had to rescue them. The company had invested heavily in computer equipment and sold holidays cheaper than they were able to organise them. Just three years later Court Line also went out oof business. Thousands of passengers were stranded. The ATOL bonding scheme ensured everyone was repatriated. Those who had booked holidays scheduled for future dates were not so fortunate. The secretary of state, Tony Benn, mindful of an upcoming election promised that all passengers would get their money back. This had happened. With Clarkson's no longer in business, there was no necessity to offer the seat back catering which had proven to be unpopular with passengers and crew. Court Line itself went bankrupt in 1974. By 1975 the concept was dead and buried.
At one time Airtours even stopped providing all but biscuits on it's charters in an effort to reduce it's costs further. Dan Air's cabin crew bore the brunt of the passenger disquiet and the company eventually commented in it's in flight Magazine that "Catering on Dan Air scheduled services is provided by Dan Air and on charter flights it is as provided by your Tour Operator."
From the 1960's until it's demise Dan Air relied heavily on charter flights for much of it's revenue. Over 50% of trade was conducted this way. Ticket prices for scheduled services were much higher than today's ultra competitive environment. Fares and indeed operating licences were very heavily regulated. In the case of an international flight both countries had to approve the airline's application and what's more for every airline from an originating country who successfully applied to serve the route, an airline from the destination country had to be offered the same service. Before the days of deregulation and thus low cost airlines like Ryanair airlines were strictly controlled about how much they could discount fares too. The extremely busy routes between the UK and Ireland for instance cost more per mile than to fly to the United States. Scheduled services also flew at convenient times of the day which suited business travellers. It was natural then that as Dan Air began over the years to increase it's scheduled division that it should feature a dedicated business class. In the economy section of the aircraft passengers could still enjoy complimentary drinks and food as well as free newspapers and the convenience of better departure times and an increased passenger: crew ratio. Dan Air's charter passenger were not however so fortunate with on board facilities such as free drinks. Having almost 200 people on board a Boeing 707 en route to America taking more than 7 hours would mean that more than one bar service could be carried out. Drinks were made available to passengers to purchase. These included both alcoholic and non alcoholic drinks. Whilst food was served free as well as tea and coffee to accompany meals everything else had to be paid for. This is commonplace now for the vast majority of airlines. It is fair to say that Dan Air and other airlines did not grossly over charge passengers. The drinks were more expensive than landside bar prices. Profitability is high on an airline's list of priorities and it has proved to be the saviour of many modern day carriers. Easy Jet for example charge almost £3 (UK 2016) for a cup of coffee and upward of £5 (UK 2016) for a sandwich. They insist that they don't mind if you bring your own food. It can be argued that is offset with the low cost of the flight itself.
German Tour Operators sending German holidaymakers to European hot spots were more demanding of Dan-Air and insisted on an increased seat pitch. They wanted the Boeing 727 to carry a maximum of 141 passengers which was only three rows more than the standard layout for the type. Local people were recruited by Dan-Air to service the German market. So popular was the company there that they became one of the largest operators from Berlin Tegal airport. They later added scheduled services from the German capital to European destinations. But continuing the 727 story. The furthest route from Berlin was to Tenerife in the Canary Islands. The distance to the island was roughly 2200 miles. That was further than the shorted Transatlantic crossing from Shannon in Ireland to Newfoundland. Extra fuel tanks had to be added to the wings to enable the aircraft to make the journey with full reserves.

In flight entertainment
The early days of Dan Air's operation passengers had no entertainment other than what they saw through the windows of the aircraft. The same thing applied to all contemporary airlines. By the 1960s passengers would find a magazine inside the seat pocket to while away the journey. This would include a bar tariff and details of duty free goods and prices. It also had a route map and emergency information. Flying was a new experience for most people and looking at the world below was enough of a thrill for most. An in flight bulliten was passed around the cabin. This told passengers the names of the crew. It also featured a map charting the route. Details of altitude, airspeed, outside temperature were also noted. It wasn't until the 1990's that charter airlines started offering in flight entertainment. Most charter airlines charged passengers for headsets that enabled them to listen to dedicated channels of music and the latest movies shown of small screens that were lowered from the ceiling above the ailse. These were the size of a portable TV. Several of them dotted along the length of the aircraft enabled viewing. It had started a revolution in the air. Dan-Air made no effort to join the trend. New aircraft had these screens fitted as standard. Some of Dan-Air's aircraft were small and retro fitting the system would have been very costly. This could explain why the 727 had no in flight entertainment, Strangly the newer aircraft also omitted to have the product. It was Dan Air's mistake. Although the cost would have run into the hundreds of thousands of pounds, entertainment was an attractive selling point to tour operators and offered the airline chance to make revenue from the sale of headsets.
Above: Service on a Dan Air BAC 1-11
It is often claimed that charter airlines "crammed" passengers into their cabins. This is certainly the case when they are compared against large scheduled service airlines who would not risk losing passengers by filling an aircraft to bursting point. However in the highly competitive IT and charter market if your seat per mile ratio is not comparable, or even better than your competitors, then it is likely the Tour Operator will leave you when contracts are up for renewal, or not even consider you for any new contracts. By the late 60s Dan-Air was leading the field in the charter market. It was able to offer aircraft of different sizes and performance. This was an ideal set up for the time. The flexibility that Dan-Air could offer Tour Operators aircraft was unparalelled. The airline could offer charterers aircraft with as few as 48 seats with the HS 748, The BAC 1-11 could carry from 89 seats to 119 depending on the type. The larger jets such as the 727 could carry 141 and the Boeing 707 had a capacity of 189. This was a major selling point. British Midland who were also flying Boeing 707s with a capacity of 218 passengers. When compared to Dan Air's 189 - That was five extra rows of seats! One can see that Dan Air's passengers enjoyed considerably more leg room.
The Dan-Air girls (and they were all girls) had enjoyed wearing a variety of different uniforms. They changed every three to four years. The 1976 look was much admired. It featured a nanvy blue, almost black, suit with red piping. The hostess was free to wear a striking red blouse or a more subtle blue one. The knee lengths had changed too. The red uniform of the early seventies had seen the girls in mini skirts! The new look seating that came on stream in the mid 1970s featured new overhead lockers the cabin walls featured sketches of well known London landmarks. The seat covers were quite distinctive and are widely ridiculed today by former staff! By the mid seventies most major Tour Operators were using Dan-Air. It's unrivalled flexibility allowed them to sell to smaller operators. Larger Tour Operators often chartered only part of an aircraft and that suited the airline as they could offer surplus seats to other companies. Only Thomson of the major operators chose not to utilise Dan-Air.
In contrast to Dan-Air's mixed type fleet, airlines with single type fleets had to fly the same aircraft to high density destinations as well as the more off beat routes. That sometimes meant either flying the aircraft under occupied, selling excess seats to other operators or flying to the route less often. Dan-Air had so far, chosen not to operate wide bodied aircraft. They were of the opinion that should an aircraft be unserviceable down route, it would be difficult to find a replacement for. One DC10 could carry 350 passengers, finding a spare DC10 would be difficult, and the airline would need three replacement aircraft to ferry 350 passengers home.
It is quite the reverse now, many airlines prefer single type operations. They are easy to replace should technical problems arise and modern day methods can calculate more effectively fleet utilization. The advent of the internet and low cost carriers flying to airports some distance from the major cities have managed to keep costs low. Airlines can lease aircraft and negotiate better terms for brand new aircraft too. When Dan-Air commenced ABC and affinity group tours in the early 1970s the search was on for larger aircraft. Teams were sent to the USA to evaluate aircraft, the Douglas DC 8 was widely tipped to join the fleet. The large, four engined aircraft could carry up to 220 passengers. The aircraft would be the first of its type onto the UK register and that would incur cost to anglicise it to meet the requirements of the Civil Aviation Authority (CAA). In addition to that the UK government charged companies large tariffs if they purchased none British built aircraft where a UK built machine was available. The VC10 was available so the DC8 would be tariff heavy.
At the time the British Government had leaned heavily on British Caledonian who wanted to operate the Boeing 737, Caledonian were pushed into ordering the BAC 1-11. Operating costs were similar but the 737 could carry up to 130 passengers. Even the then state owned British Airways had wanted the Boeing 727 only to be bullied into purchasing the Trident. Dan-Air's first choice of long haul aircraft was rejected, despite the company going as far as to produce publicty material with the DC8 on it. After meeting Douglas Dan Air's team flew to Seattle to meet Boeing's team. They
investigated the 707 which was eventually purchased, second hand from Pan Am. The first two Boeing 707s to arrive were already 12 years old when they joined Dan-Air's 707s were some of the first 707s to be built. One in particular, G-AYSL was affectionately known as 'Sick Lil' and 'Spread Legs' as the aircraft often had technical problems. Neverltheless these aircraft could carry 189 passengers across the Atlantic and beyond. The aircraft had excellent galleys on board. Fred Newman, Dan - Air's chairman said after just eight years of using them, that they had been that they had been "unsuccessful"
This might have been that many of the UK airlines had not stuck to the rules entirely with the ABC affinity flights. Transatlantic air travel was stricltly controlled. The ABC flights were a way of getting affinity groups to America on flights that were significantly cheaper than scheuled services. Beofre long, travel agents were encouraging peope to set up groups that could qualify to travel. 'Bird Watching Groups' quickly sprung up and most people were found not to be members of these groups at all. Despite the rules saying that people had to be members of a group for three months and have a specific reason to travel to the USA. Nevertheless Dan-Air obtained several Boeing 707 aircraft and alongside those flights they were used on round the World charters for a German Tour firm as well as several high density charters in Europe. or those interested in how Dan - Air planned for their DC 8 to look, it is featured below, with a picture from a leaflet showing the service on a Boeing 707.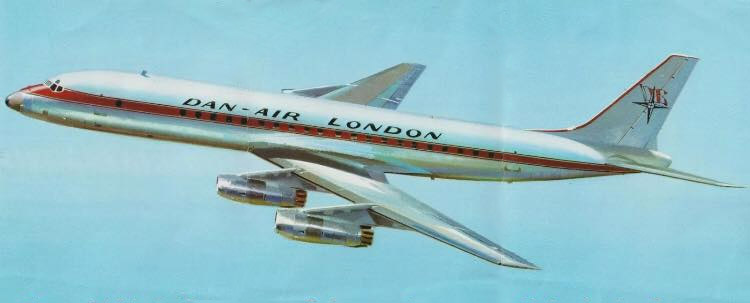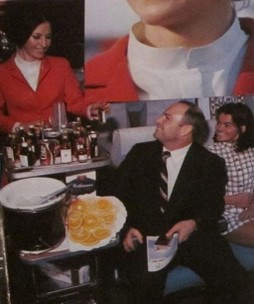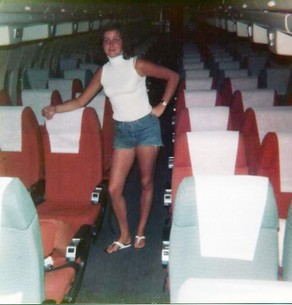 (L) What Might Have Been - The DC 8 (C) On Board The Boeing 707 (R) An off duty Sue Brewer sent us this picture showing the interior of a surprisingly smart Boeing 707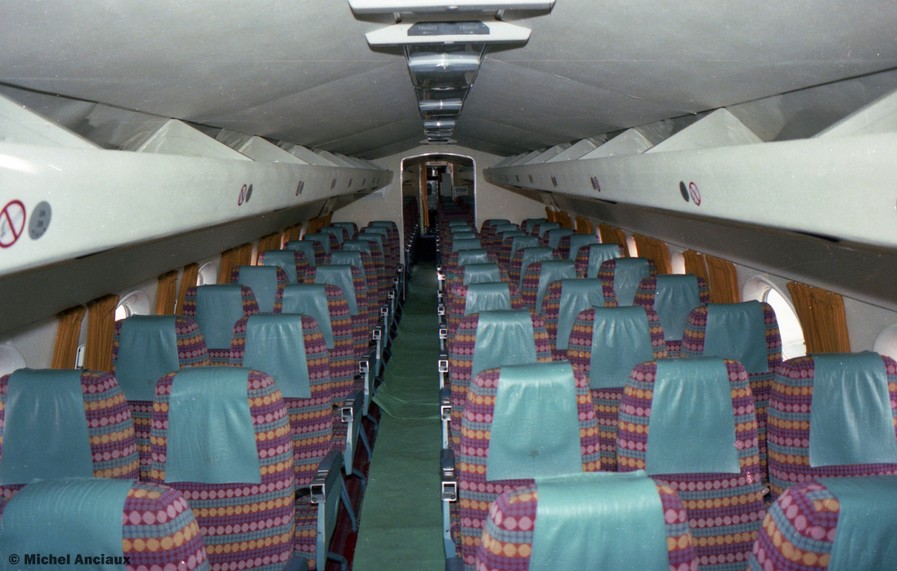 Through the 1970s the Comet aircraft soldiered on. The later models had room for 119 passengers, in what could hardly be described as absolute comfort, as the picture shows.
The author has sat on these seats in 2014 whilst visiting East Fortune in Scotland as their guest. I am an average height and my knees were touching the seat in front. Some of the seats are actually facing each other! Imagine having three sets of knees almost touching during a four hour flight to the Canary Islands. Cabin staff and Flight Deck crews loved them. They all say similar things "You felt safe on the Comet" - "Everything was solid" Pilots said "It handled like a dream" - "It was so overpowered" - "It's rate of climb was excellent" Whilst they are fantastic things to say about an aircraft, when compared to a Boeing 737 with quieter cabins and more leg room, the aircraft was dated. Dan-Air kept the type not only because they had good perfomance qualities, but because they owned them outright and had therefore no leases to pay for. This meant that the balance costs favoured the aircraft, but only just. By the late 1970s the Comet used as much fuel carrying 119 passengers as a DC 10 carring 345 people. The company had purchased these jets from many sources and of the 70 Comets produced Dan - Air had 49 of them through it's hands. Some never saw service as they were in a bad shape when they arrived. It was surprising that they were allowed to fly to Lasham! Some models were reported to have cost only £6,000. But the jets had low milage in many cases and they had many flying hours left before they had reached the end of their frame life. Although they looked like they had come from another era, in fact most of them were only around 15 years old. Some of the aircraft that never saw service were used for spares.
The next flagship aircraft to join the Dan-Air fleet was Boeing's most successful jet at the time, the Boeing 727, which had sold almost six hundred models by the time it entered Dan-Air service in 1973. The airline bought three ex Japan Airlines models and a costly programme of getting them ready for UK certification had to be completed. That is covered in the history section of this site. It goes without saying that Dan-Air did not want the cabin layout other 727s around the world had. Whilst most 727s carried around 120 passengers With a 34" pitch.
Dan-Air needed an extra five rows added. Bringing the seat pitch down to 30" and increasing capacity to a maximum of 151. For German operations the type would carry 141. This requirement was something that had never been done before.
For this to be permitted the aircraft had to have extra emergency doors added, floors strengthened and redesigned galleys. The 727 was one of the noisiest aircraft that flew, it was also loved by passengers. Some cabin crew did not like the central galley, but the attractive and stylish aircraft was a hit with passengers who had never seen the type on the UK register. The initial order for three was increased as they became available. Within five years Dan-Air were operating eight Boeing 727 100s. By 1980 Dan-Air had supplemented the fleet with the 200 version of the jet. The 200 series carried a maximum of 189 passengers. Other airlines had high density versions which seated the same. The 737 which other airlines employed iin the UK carried 130 people. This allowed Dan-Air to offer extra capacity. Dan-Air had also established a base in Berlin in 1968 and up to five aircraft were stationed there to fly.
VIP PASSENGERS
It was not only IT passengers who chartered Dan-Air aircraft. When the Ted Heath Government required the then Foreign Secretary Alec Douglas Home to visit the Far East he and his party travelled on board a Dan-Air Comet. Paul McCartney and Mick Jagger have both chartered Dan-Air Comets. The company even carried the press corp that Accompanied Queen Elizabeth on one of her foreign tours flew on board a Boeing 727. In 1992 the Liberal Democrat leader Paddy Ashdown used a Hawker Siddeley 748 for his election tour.
The Engineering department could quickly alter the cabin interior to cater for any demands the charterer had. As can be seen on the HS 748 picture, even the titles of the aircraft could be changed. In that case - 'Liberal Democrats' replaced the 'Dan - Air London'. The airline's famous compass and flag emblem was replaced with the Libdem's own logo. The staff at the paint shop could arrange that quickly too! Superb ground handling was carried out by Gatwick Handling, a company that Dan-Air had a 50% share in along with Laker Airways.

Above The Liberal Democrats chartered a company 748 for the 1992. Alec Douglas Home boaring the Comet.
Management Changes And A New Direction
In the mid 1970s Errol Cossey, Martin O'Regan, the group's finance director and Alan Snudden, Dan-Air's managing director, tried to convince Fred Newman, Davies and Newman's majority shareholder as well as Dan-Air's long-serving chairman, that operating a brand-new fleet of Boeing 737-200 Advanced series jet aircraft at the time the very latest, state-of-the-art aircraft — was the only way to secure Dan-Air's long-term future as a major player in the charter airline industry.
Their argument to Fred Newman was that operating the latest series 200 Advanced model of the 737 would not only give Dan-Air far better cost figures than any of the existing aircraft types in its fleet but would also allow it to leap-frog Britannia, which initially operated only the basic 200 model of the 737. The Britannia model lacked important enhancements, such as a short-field capability enabling operations at airfields whose runways were too short for the basic 737-200 model. After failed attempts to convince Fred Newman of their plans Errol Cossey, Martin O'Regan and Alan Snudden decided to leave Dan-Air, Snudden went to Monarch and the others left to join Harry Goodman of the ILG organisation. In 1978 they formed Air Europe, backed by the large organisation ILG - The International Leisure Group with it's flamboyant boss, Harry Goodman
Without vertical integration from a Tour Operator Dan - Air were at a considerable disadvantage. Naturally, Thomson would wish to use its own airline, Britannia, where it could. Monarch, similarly with Cosmos and Air Europe with Intasun. Dan-Air did have Tour Operators that would charter entire aircraft out for entire seasons. The large Tour Operators also did not have large enough fleets to carry out their entire programme. By 1980, Air Europe, for instance, had less than five aircraft. Their parent company was the second largest Tour Operator in the UK. So the vast bulk of Intasun's booking were flown on Dan-Air aircraft. Smaller companies would wait until the larger companies had booked their programme. Only then would they take up any remaining seats. Even though they were a huge company, Intasun was one of the last to book it's charter programme with all of the airlines it used. More often than not, this would mean they could aquire seats at a lower price, as the aircraft was already chartered out. This undercutting of prices while continuing to expand profitably. This also meant that a lot of Intasun's business involved mid-week and night flying. Initially, in practice, it was a win-win for both Intasun and Dan-Air. It enabled them to charter aircraft at substantially lower rates than its competitors, who had to pay a premium for chartering planes at weekend peak times, or whole aeroplanes. It therefore permitted Dan-Air to increase its fleet's utilisation, boosting the company's overall profitability. However, the high fuel consumption of Dan-Air's 'mix'n match' fleet against the backdrop of steeply rising jet fuel prices made it more and more difficult to offer Intasun the rates at which it was prepared to contract its business to Dan-Air. This meant that profits were eaten away with their higher costs. Late night and early morning flights that had catering provided would cost the airline more than a normal day time flight as caterers had to work outside normal hours. The caterers charged extra for that service.
During his time as Dan-Air's Associate Director in charge of the airline's operations, Errol Cossey, oversaw the successful introduction of new jet aircraft types into Dan-Air's fleet, beginning with the de Havilland Comet series 4 in 1966 and continuing with the BAC One-Eleven 400 series in 1969, the Boeing 707-320 "Intercontinental" in 1971, the Boeing 727-100 in 1973 as well as the BAC One-Eleven 500 in 1975. He assumed control over the charter fleet, numbering 28 aircraft during the mid-1970s. At that time, Intasun contracted a growing share of its business to Dan-Air. Intasun, like Dan-Air, was mocked by doubtful writers as 'no frills'. It was mainly competing on price with the other tour operators, notably market leader Thomson Holidays.

Dan-Air's new management initially were also unable to change Fred Newman's mind about purchasing newer aircraft and it was to be two more years before the Boeing 737 would join the fleet. Hot meals were provided on Boeing 727 Aircraft, the BAC 1-11 provided the standard Sandwches and Salads. It became usual to present breakfasts on most morning flights. The BAC 1-11 had no faciliities for cooking hot food. When the type was used on scheduled domestic flights where hot breakfasts were offered, the airline used hot boxes where already cooked food was kept hot.
Air Europe commenced operations in 1978 with the very aircraft that Cossey, O'Regan and Snudden had suggested Dan-Air buy. They were offering levels of in flight service that had never been seen on charter airlines before. Several of their stewardesses were recruited from Dan - Air. Even their chief stewardess had been a Fleet Stewardess with the Dan-Air. The cabin crew had an impressive reputation. It was natural that Air Europe would want to have cabin crew with such skills.
Surveys carried out by Tour Operators saw them consistently scoring well for service. But the fleet was a burdon, mainly to the airline itself.
Air Europe's standards were set to rival the leading scheduled service airlines, with an aim of establishing a new benchmark for the industry and for charter airlines in particular; this would enable the new airline to fly longer seasons as travel companies were expected to cancel their contracts with rival airlines - an increase in aircraft utilisation that would translate into higher profits. But Dan-Air was not ready for bowing out just yet....
Above - a glimpse into cabin service with Dan Air in the late 1970s
Enter The Boeing 737
Dan - Air started the 1980 season wby acquiring two Boeing 737 200 aircraft in March and April. The airline had, as usual, sourced a second hand aircraft. Maersk Air of Denmark had a 200 series. available. Thomas Cook had chartered the new type for the Summer of 1981. It was introduced quicker than expected as an unexpected opportunity arose. Guinness Peat, who Dan-Air leased the aircraft from had extra capacity for a wet lease operating scheduled services for Nigerian Airways in the Winter months. Guinness Peat had a subsidiary called Air Tara and they did not have sufficient capacity. Da -Air seized this and the jet was sent to Nigeria. The second aircraft came from Transavia of the Netherlands. Also in 1980 Dan-Air took delivery of the Boeing 727 200 series. This stretched version gave Dan-Air an edge over it's rivals in that it could now offer aircraft with up to 189 seats. To coincide with this the airline embarked upon an ambitious new corporate identity. This would see each aircraft undergo a complete cabin refit. New seats and overhead lockers would be installed as well as new bulkheads, carpets, toilets and galleys. The estimated cost was £1million for a Beoing 727. The first aircraft to display the new company colour scheme was the Boeing 727 200. Gone were the heavy red and black cheat lines on the aircraft. In it's place was a stunning red and blue flash line on a white background. Soon after letterheads, check in desks and tickets would be showing the new look. The seating would see different blue horizontal stripes on some seats and a similar pattern in sand colours. The design was to represent the sand, sea and sky of holiday destinations the airline flew to. The design was mix and matched to give the illusion of being inside a wider cabin. New lighting finished the look. Industry professionals admired the look.
Laker Airways collapsed in 1982. Dan-Air played a significant role in bringing stranded passengers back to the UK from all points in Europe. They were able to pick up lots of the contracts that Laker were now unable to fulfil. The Uk was experiencing a heavy recession, but Dan-Air weathered the storm and came out profitable. Flights to Tel Aviv were also commenced at this time.
Rival Airlines continued to snap at Dan-Air's heels and that was even more evident when new companies began springing up.
The eighties saw a period of growth for Dan - Air which was outlined in an interview with 'Flight International' it was stated that the airline was considering new aircraft including the Boeing 757. It did not forsee a time when it would enter the long range market in the future. The new aircraft would not be larger than a 200 seat type. Other airlines in the UK had already introduced the 757 in 1983. New systems allowed twin engined aircraft to cross the Atlantic. Dan-Air did not try to compete on this platform. It was not until 1986 that it entered the wide body arena. In 1984 Dan-Air became the World's launch customer of the British Aerospace (BAe) 146. The BAe146 was marketed as the 'whisper jet' Over the years Dan-Air flew three varients of this popular high wing four jet aircraft. It was used extensively on the scheduled network and became the only jet that could land at Berne. A second cabin refit came in 1989 along with the introduction of a new class of cabin.
Above: The new look cabins for the 1980s
The introduction of new types of aircraft, namely the BAe 146, The Airbus and the Boeing 737 300/400 heralded a new direction for Dan-Air. The airline was carving an impressive record as a scheduled carrier. It was carrying over a million scheduled passengers by the late 1980s. Dan-Air gave it's crew new uniforms and welcomed male cabin crew for the first time. A new class of cabin was unveiled in 1989. Class Elite was tagged as being 'What business class travel was meant to be." The first destination was Paris.
Dan-Air said "How many airlines have forgotten the very things that made business class so special?" They announced that when they sat down to design the new Class Elite that they went back to the basic principles with the intention of doing everything properly to provide a truly exclusive service. Beginning by arranging schedules that would most likely coincide with the business traveller. New check in desks were built. An executive lounge with a free bar, where you could check in also if you were only travelling with hand luggage. There was to be a superior class of cabin. They stated that 'If thirty six is the number it's designed for on that aircraft then thirty six it is (and no more) They remembered the little touches like a built in wardrobe on most flights, so that your coat and spare coat won't get creased. Then they had wider seats made to give passengers the ultimate in comfort and leg room. Then came the redesign of the cabin layout. They insisted that you would never be sandwiched between two passengers. They would welcome passengers with orange juice or champagne, or a combination of both before take off. You also received a copy of whichever National Daily Newspaper took your fancy! The airline would provide a free bar for the entire flight, a cooked breakfast plus lunch and dinner menus created by top European chefs. All of this served withstainless steel cutlery, with proper glasses for your wine, served by quietly efficient cabin staff who would cater for your every need. With hot and cold towels to freshen you before landing and priority disembarkation you would, Dan-Air claimed, find that Class Elite was exactly as its name suggests. Class Elite would see a return to what flying Business Class on an established scheduled airline was 'always meant to be'.
They invited you to "JOIN THE CLASS ELITE" Dan-Air said that Class Elite would be available on ten of it's European destinations. They invited you to "Insist that you're booked on Dan - Air Class Elite" Monte Carlo and Cannes passengers would even have a free helicopter transfer.
Above: Class Elite
Dan Air In Trouble

Several tour operators dropped Dan-Air from 1989 onwards. ILG announced it as cancelling its Dan-Air Engineering contract and reducing its chartering of their aircraft. Airlines had began to spring up everywhere, many with the backing of a Tour Operator. Owners Abroad with Air 2000, Air UK Leisure with 40% backing from Unijet, Inter European with Aspro holidays. A further blow came when Airtours, one of Dan-Air's biggest contractors, started their own airline. Airtours grabbed several Dan-Air cabin crew. the attraction being increased salary packages and the chance to work on brand new aircraft.
Intasun went even further in 1990 when they said they were no longer going to use Dan-Air at all - claiming that the reason was because of Dan Air's "Gas guzzling aircraft". Several highly trained cabin crew (including those who trained cabin crew for Dan-Air) were poached by these new airlines. The fledgling airlines all offered in flight entertainment. The provision of headsets and the latest cinema releases put the new airlines way out in front. Dan-Air chose not to compete by retrofitting its own aircraft with sound and video. Instead boasted that the 'Secret Is Service'. When Air Europe spectacularly collapsed in 1990. Dan-Air had almost gone the same way. Bot companies used the same banks. Only the fact that Dan-Air owned most of it's aircraft outright, had lots of real estate, and valuable assets in engineering spares saved them. The banks had a rescue package that came with conditions. One of them was that a new chairman be appointed. David James had no background in aviation. He quickly dismissed several of the board members and replaced them with his favoured team. He had decided that the direction the airline should take was that of a scheduled service airline. When Air Europe went to the wall James' team even rejected their charter contracts that were now up for grabs.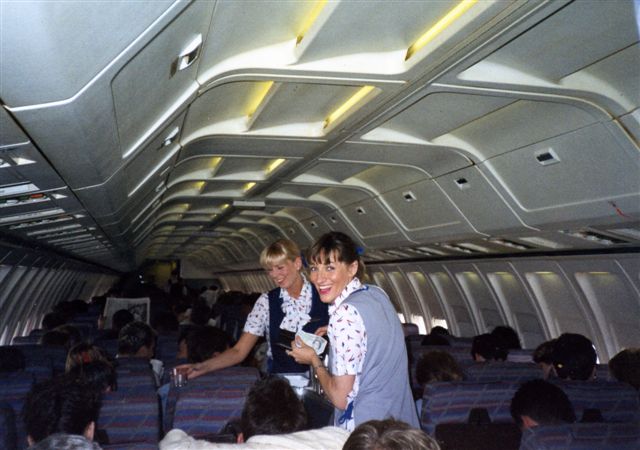 Above: Dawn Huck furthest from camers, on board one of the refitted 727s.
By 1980 Dan-Air had started to re equip its fleet. It could not do so fast enough. Nor could it consolidate its operation to one or two types as it has announced. The grand plan was to use just Boeing 737 and BAe146 aircraft. A dangerous move saw Dan- Air reduce its charter operation further. The new scheduled services would take a considerable time to establish themselves. Staff were selling tickets to consolidators who were selling them on very cheap. The fleet was reduced in size and Dan-Air Engineering was sold. Dan-Air limped on for over a year before it was sold to British Airways for a nominal £1. Much of the fleet was sold to smaller carriers and only the Boeing 737 fleet was absorbed into BA's fleet. Despite not having in flight entertainment on its aircraft and having a relatively poor brand image Dan Air did have a place in the nation's consciousness and probably it's heart. Nicknames such as Dan Dare and desperate Dan were enough to drive some of the company employees to near rage. The nicknames were probably meant as terms of endearment because the crews and staff were well regarded by the public and the company was respected Worldwide.

Should the company have survived then no doubt further improvements would have been made and in flight entertainment brought in as standard. In forums online it has been speculated that should the company have seen out the tough economic cycle of the early 90's then it would have found itself in the no frills, low cost market. Ryanair was not always a low fares airline and its operation utilised Boeing 737 200 for several years with great profits. It has never been the same not seeing the familiar Dan Air aircraft and staff at airports. I for one would love to sit back, and not hesitate to use the call button located above my head to call for assistance. A gin and tonic? Will that be with Ice? To the girls and boys of the Dan Air cabin crew - Cheers!