1980
The decade started with the introduction of a new aircraft type. The Boeing 737 joined the fleet. The flagship Boeing 727 fleet is complemented with the introduction of two Boeing 727 200 series in March with more added in April. The 200 was a much improved version of the 727 with increased seating. The 727 200 could carry 189 passengers. The number of passengers carried this year is down for the second consecutive year. The number is still substantial with 3,510,000 sector passengers. That was more than any other British airline with the exception of the state owned British Airways. The fifteen strong 1-11 fleet was given a makeover with new interiors, galleys, luggage lockers and lighting. This gave the aircraft a wide body look and feel. This was to be extended to the rest of the fleet. A new colour scheme was premiered in March when a Boeing 727 200 entered service. It was also quickly applied to the other aircraft in the fleet as they undergo maintenance. The cost was estimated to be in the region of £1,000,000. The four remaining Comet aircraft would be retired by November this year. Twenty HS748s and two Vickers Viscounts worked on scheduled low and medium density routes and the 748 in particular worked flat out on the oil industry charters. The Governments of the UK and Ireland agree on an Anglo Irish Bilateral Agreement which allows greater liberalisation of air travel between the two countries. Something Dan - Air would take advantage of. Lower fares were introduced which broke the cartel that legacy carriers had over fares in Europe. These included Spouse Fares - Super Saver - Excursion Fares - Latesaver and and Last Minute Fares.
Sadly on April 25th a company Boeing 727 100 (G-BDAN) crashed with the loss of all 138 passengers and 8 crew on board. The accident occured when the aircraft flew into a mountain in Tenerife. It remains the worst accident on the UK register in terms of lives lost. Following the loss of several aircraft and lives the CAA examines the company in depth. Nothing untoward is reported and the airlineflies on. In August this year the company introduces 'Daysaver' fares in a further attempt to increase revenue and passenger numbers on it's scheduled network. The new fares were in place by September. The Gatwick - Aberdeen service in increased to three times daily. Newcastle - Gatwick which had previously only operated weekdays, now added Saturday and Sunday to it's timetable. There is a new Government in the UK and it announces that British Airways will soon be privatised. This causes anxiety to compete on amongst the UK charter and scheduled airlines. It would be free to use it's muscle and new funds to crush opposition. However the UK Government breaks a cartell on the London - Hong Kong service by allowing British Caledonian and Laker on the route - British Airways is furious. Laker Airways applies for several new European services that it says it will operate in the same manner as the transatlantic routes. Almost immediately the applications are rejected.
New Routes
Newcastle - Belfast - April 1st - (Taken over from Bristish Airways)

Dublin - Newcastle - April 1st - (Taken over from British Airways)

Dublin - Bristol - April 1st -

(Taken over from British Airways)

Dublin - Cardiff - April 1st -

(Taken over from British Airways)

Bristol - Jersey

- April 1st - (Taken over from British Airways)

Cardif - Jersey

- April 1st - (Taken over from British Airways)

Bristol - Guernsey

- April 1st - (Taken over from British Airways)

Cardiff - Guernsey

- April 1st - (Taken over from British Airways)

Leeds/Bradford - Guernsey

- April 1st - (Taken over from British Airways)

Bristol - Paris

- April 1st - (Taken over from British Airways)

Cardiff - Paris

- April 1st - (Taken over from British Airways)

Gatwick - Munich - May 1st

Berlin (Tegal) - Amsterdam - Rights granted.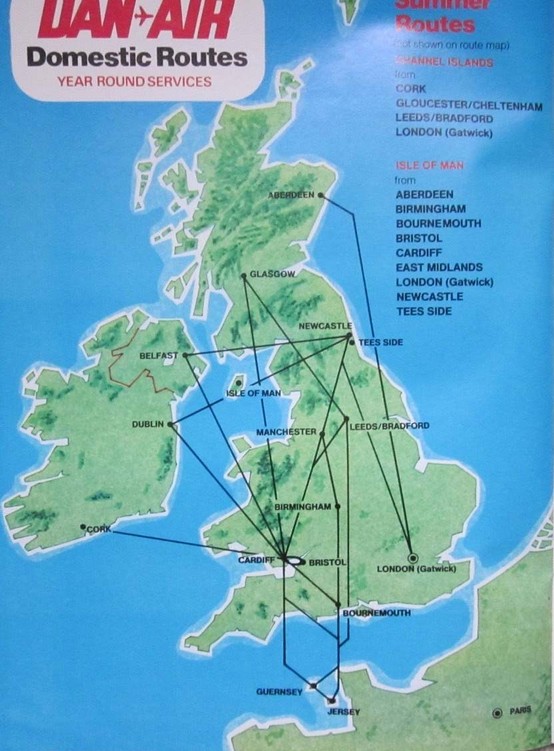 UK Network 1980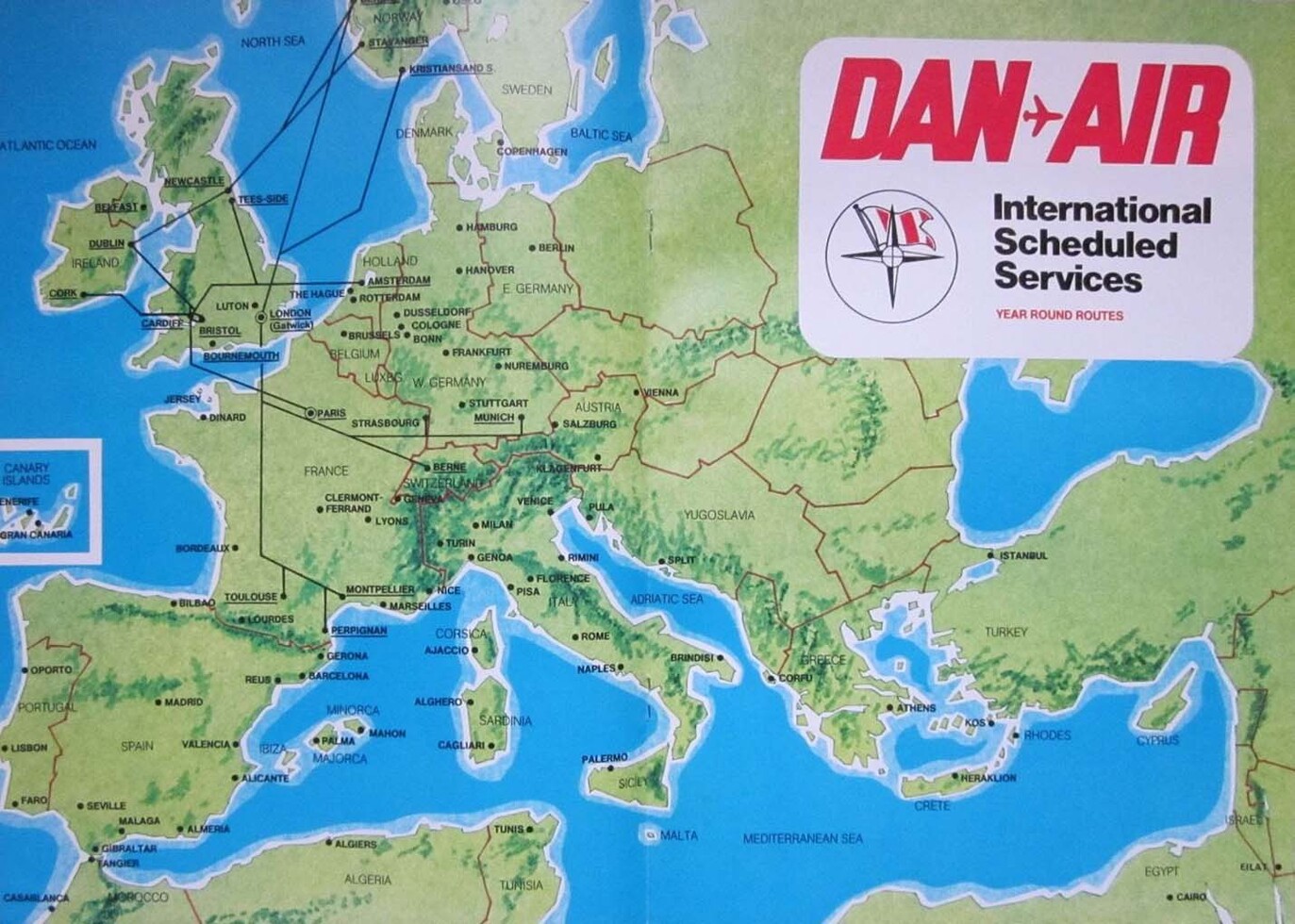 International Network 1980 with charter destinations shown with a black dot
1981
With the Comet now retired the fleet was evolving with the introduction of more Boeing 727 200 series, bringing the total to eleven. 17 BAC 1-11 of all types complemented them. The Boeing 737 fleet was doubled to two aircraft. Even more HS 748s were purchased. The type had become a work horse for the company on oil related work. The Viscount was down to one in number. A total of 3,226,000 passengers were carried. This was once again a reduction in the previous year's performance. It was still more than any other carrier apart from British Airways. They were the second largest airline in the UK in terms of passenger numbers and aircraft fleet size. As scheduled passenger fares were higher and therefore more profitable the reduction in overall figures was not problematic for the company as it had remained in profit. In January the Cardiff and Bristol to Paris service was closed due to poor loads. On 14th May a total of fourteen aircraft were chartered to carry passengers many of them V.I.P passengers for the official opening of the Sullom Voe Oil Terminal. The aircraft chartered were Boeing 727, BAC 1-11 and HS 748. Dan - Air suffered a further aircraft loss when a HS 748 on a mail flight was lost. The crew of three persished as the aircraft plumeted to the ground over Nailstone in Leicestershire. There had been plans for Dan - Air to take over British Airways' Highlands and Islands routes, however the airline withdrew it's offer. The CAA granted Dan Air a licence for a new Gatwick - Dublin service that would commence soon. Harry Goodman floated his ILG (International Leisure Group) on the stock exchange and made a sizeable return to invest in more aircraft. Laker Airways was in trouble. Dan - Air benefitted from the growth in ILG as they chartered more of thier aircraft. Although it had it's own airline in Air Europe it was still much too small to carry all it's own passengers.
New Routes:
West Berlin-Amsterdam and Tees-side-Dublin services started - April 1st.

Gatwick-Cork - Commenced April 13th

Aberdeen - Newcastle - June 6th

Newcastle - Jersey - June 6th

CAA licence granted Gatwick - Dublin - August 27th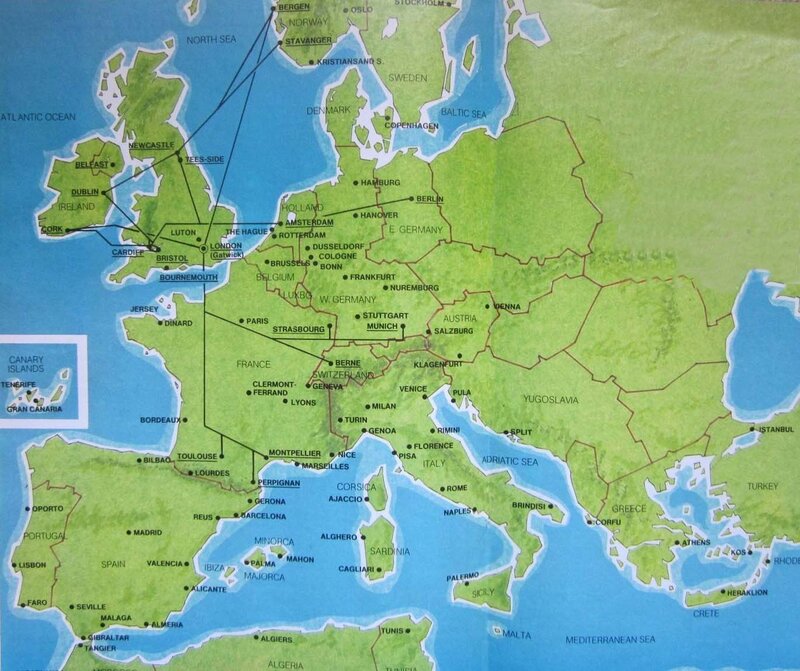 International Network 1981 - Charters shown with a black dot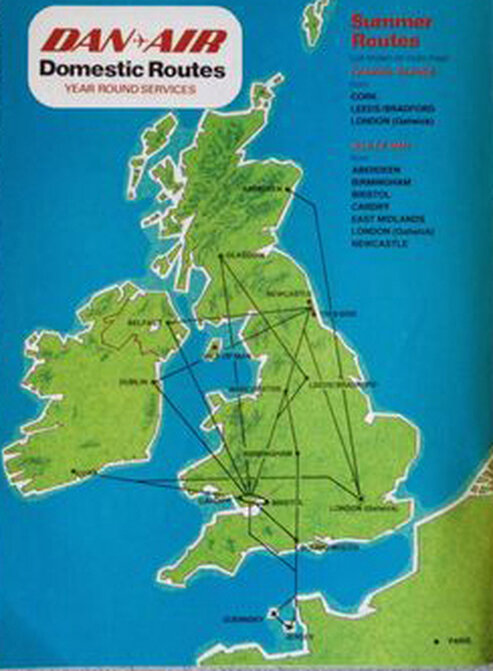 Domestic Network 1981
1982
There was an increase in passengers in 1982 when over 3,599,000 people flew with the airline. It was the largest number since 1979. Altogether 54 aircraft made up the Dan Air fleet. The number of Boeing 727s had increased to twelve. The 200 series was the preferred aircraft with it's increased capacity. The HS 748 fleet was slightly reduced to 19 and further reduced when three of the type were leased to British Airways Highland Division. The Boeing 737 fleet was doubled once more to four aircraft. These had proved an instant hit with the airline and passengers alike. The BAC 1-11 continued to provide superb reliability and performance. On
March 29th Metropolitan Airways, a small, regional commuter airline, took over the 'Link City' network between Newcastle, Manchester, Birmingham, Cardiff and Bournemouth, operating under the Dan-Air banner using Bandierante aircraft. The move is not popular. Despite this a new Bristol - Cardiff - Glasgow service begins on August 25th. The airline continued apace with fare reductions to increase it's scheduled service network. Reductions of 10% were offered on Norwegian flights. Dan Air becomes the World's launch customer of a brand new aircraft - The British Aerospace (BAe) 146. British Airways' London Heathrow - Inverness service was to cease in March the next year. On October 28th Dan - Air applied to take over the route - If it were successful it would be the first time the airline had operated a scheduled service of it's own into the main London airport, Heathrow. Meanwhile Laker Airways was in serious trouble in January. It had approached Harry Goodman at ILG and expressed a desire to sell off his Tour Operators. Terms could not be agreed and the sale was called off. Once again Harry Goodman was to benefit from a company's failure. He had aircraft reserved for when the collapse happened. Laker went bust in February. Thousands were without flights. Aircraft were grounded and staff lost jobs. Dan - Air did profit from Laker's downfall. It picked up passengers and it also secured some of the charters that were earmarked for Laker.
Gatwick - Dublin - Daily service started. - June 28th




Gatwick - Zurich - CAA Licence granted - August 11th

London Heathrow - Inverness - Route Applies for October 28th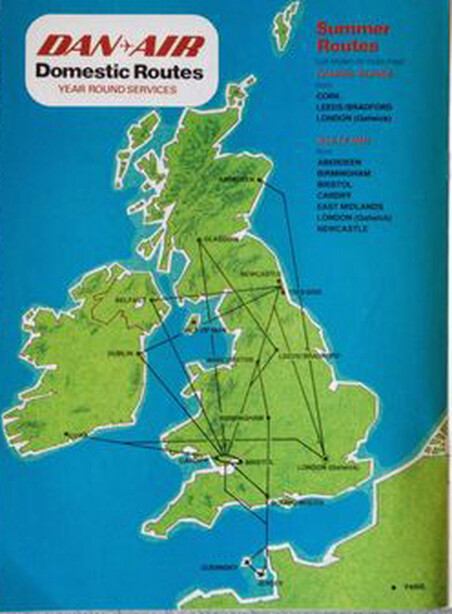 The 1982 UK Network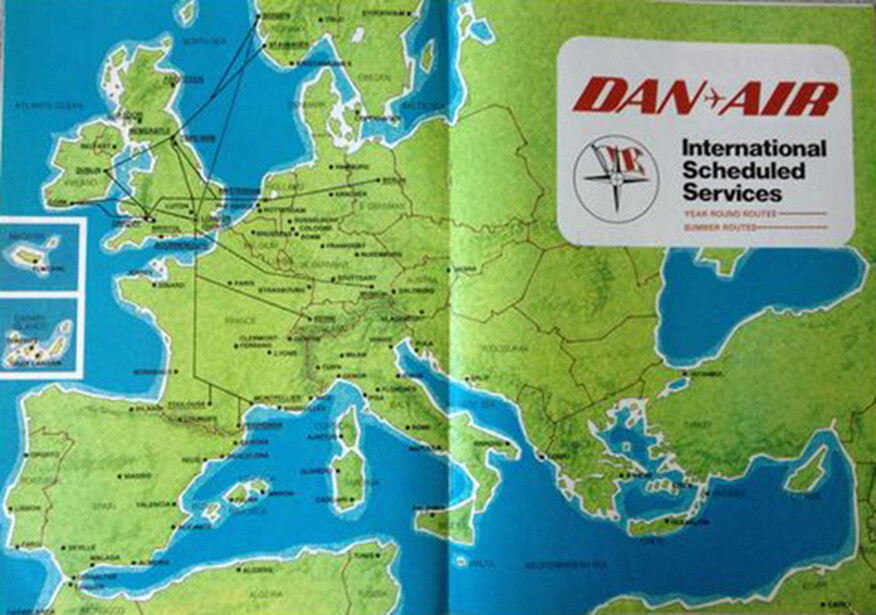 The International Network in 1982 - Charter destinations are displayed with a black dot.
1983
The fleet size had risen up to 59 aircraft in 1983. The size was reflected with the number of passengers carried. A record 3,702,000 passengers flew with Dan- Air. The BAC 1-11 totalled twenty models. 18 HS 748's still carried on with their oil support work and on medium density scheduled routes. Eleven Boeing 727 aircraft were employed exclusively for the charter market. While the Boeing 737 fleet was once again doubled to eight aircraft. Dan Air took delivery of it's first and second BAe146 100 series. They were to be used on the scheduled services network. Initially on the Gatwick - Berne, Dublin, Toulouse and Perpignan routes. Soon it was to feature on the Newcastle - Gatwick, Bergen, Stavanger fllights and the Leeds - Jersey route. The BAe 146 was the only jetliner able to land at Berne airport due to it's short runway. To increase reservations performance the company introduced the Travicom Reservations System. Laker had tried once again to get an ATOL licence. He was refused. His new brochures, TV advertisements and so on never came good. He was to use Dan - Air on his initial European Charter operation. British Airways' privatisation was delayed whilst it had to fight a court case in the US.
New Routes:
London Heathrow - Inverness - 27th March - (Taken over from British Airways)

Gatwick - Zurich - Daily from April 30th

Aberdeen - Gatwick - 21st May

Inverness - Gatwick - 21st May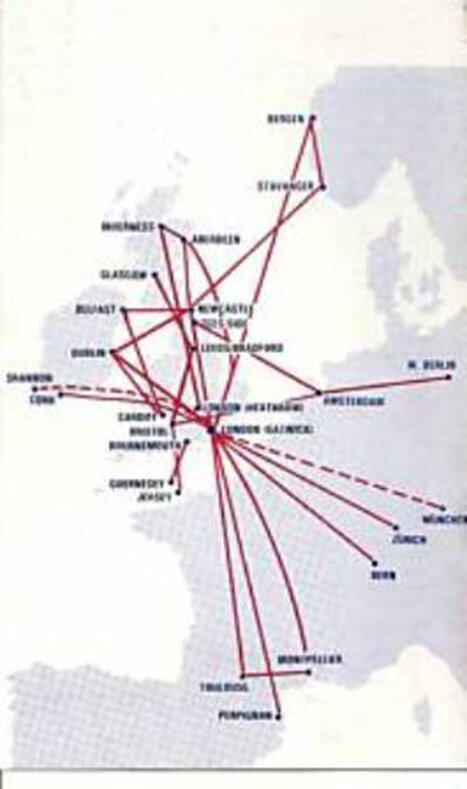 The 1983 Network
1984
For a short time in 1984 the company used a Handley Page Herald on it's scheduled network. This aircraft had to be leased in. There had been a large jump in passenger numbers this year. For the first time the company carried over four million passengers. In fact, 4,559,000 were carried, making 1984 by far the busiest for the airline. 19 BAC 1-11 aircraft played their part in carrying them. The Boeing 727 fleet stayed the same with eleven of them flying on the IT network. Seven Boeing 737 were in service. So popular was this aircraft that the airline ordered a newer model the Boeing 737 300. The BAe146 saw a third of the type joining the fleet. As usual the HS748 carried on as the work horse it had become. The Gatwick - Jersey route became all year round. As jet aircraft began to be absorbed into the routes where hitherto turboprops sufficed, the HS 748 was, for the first time, under employed. Three of them were leased to Phillipines Airlines as was a Boeing 727 this time to Royal Nepal Airlines. The Link City services between Glasgow, Leeds, Cardiff and Bristol were transferred to Metropolitan Airways to operate. The tie in between Metropolitan and Dan - Air had not been entirely successful. A third engineering base - this time at Gatwick received planning permission. Many of the routes that were established saw extra flights added, and newer, larger aircraft began to appear on existing routes. The approval of the Berlin - Saarbruken service was the second route to be operated from Germany which did not land in the UK. The airline had approval from the Allied Air Attache for the services. It was a major year in Dan - Air's evolution. It was also the year that most of the restrictions concerning charter flights were removed. Now there was total freedom of pricing, of destinations, of who they sold to, times, discounting and seat only selling. Only Cyprus within Europe refused to allow seat only clients. It felt that such a practice may lower the tone of holidaymakers.
New Routes & Improvements To Existing Routes:
The airline started a Saarbrucken-West Berlin service, taking over the contract TAT. - January 9th

Gatwick - Belfast (Aldergrove) - Taken over from British Midland.

Dan-Air operated twice daily until March 26th then 3 x daily jet service - introduced the lowest fares on the route. - 5th February

Gatwick - Zurich route now twice daily - 30th April

Berne services increased to nine weekly - 30th April

Manchester - Zurich - Daily service commenced - May 14th

Gatwick - Jersey all year round service commenced - May 30th

Newcastle / Tees-side - Amsterdam Commenced - July 16th

Tees Side / Newcastle - Belfast - Replacing Genair on this service.

Jet service to Guernsey from Bristol and Cardiff (Replacing HS748)

London Hathrow - Manchester - Approval granted. This service would be in direct competition to British Airways' Super Shuttle - Plans to commence services April 1st 1985

Inverness - Manchester - Route applied for - Hopes to comence April 1st 1985

Birmingham - Geneva - 16 Weeks ski flights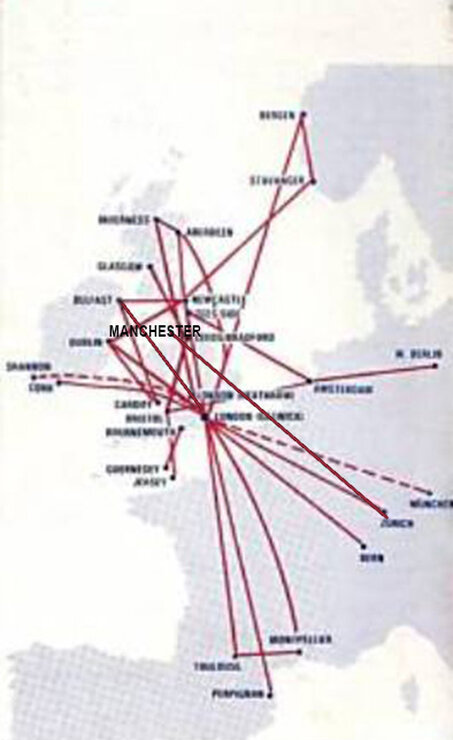 The Network in 1984
1985
For a British independent airline to carry more than five million passengers (5,007,000) was unprecedented. The company was second only to British Airways. It was two million more passengers than Britannia airways who claimed to be the largest charter airline in the World. In fact, Dan - Air carried more charter passengers in 1985 and many other years too. British Caledonian was no where close to Dan Air in terms of passengers carried on either scheduled or charter passengers. Two Boeing 727s had left the fleet in 1985 replaced by a Boeing 737 and a BAe146 bringing their total to eight and four respectively. 20 BAC 1-11 jets worked extensively thoroughout the year. The oil support flights had seen a down turn. This resulted in a reduction of the HS748 fleet, this was, in no small part, because several of the routes previously flown by HS748 aircraft could now be flown with more passengers with better fuel consumption using a BAe146 jet. The passenger appeal was undeniable. From an operational point of view they could reach the destination faster, carry more people and fly into airport previously inaccesable to jets. The Link City routes that had been handed over to Metropolitan Airways stopped when the company went into liquidation. It had been planning to take over a number of domestic Dan Air routes. New Portugese services were to feature heavily in Dan Air's plans for 1985. The London Heathrow - Manchester service in direct competition with British Airways lasted from April - August. British Airways used Boeing 757 aircraft on a route that was firmly established. Load factors were a disaster. When Dan - Air increased the number of flights each day, so did British Airways. They even added extra aircraft with departures timed ten minutes before the Da - Air flights were due to leave. 1985 was also a milestone in terms of scheduled passenger numbers with more than a million passengers carried on Scheduled Services for the first time. However company profits took a severe nosedive with profits of £3.1 million with a turnover of £242,000,000. It was announced this year that British Airways and British Caledonian were thinking of a merger. Naturally airlines complained to all the authorites.
New Routes & Improvements To Existing Routes
January - Applied for weekly Gatwick-Lourdes service - January.

London Heathrow - Manchester service commenced in direct competition with BA - April 1st

Manchester - Inverness

Manchester - Newcastle - Oslo service that connected at Newcastle with Bergen & Stavanger flights began

Gatwick-Lourdes commenced - April 6th

Gatwick - Munich services resumes 3 times weekly after break of 4 years - May 1st

Manchester - Montpellier service begins - May 24th

London Heathrow - Manchester service discontinued. August

Gatwick - Innsbruck service begins - December 15th

Dan Air applied to Civil Aviation Authority to serve Lisbon & Oporto from Manchester commencing 1987

The company appealed against a rejection for the flights to operate from Gatwick - Lisbon

Gained Civil Aviation Authority approval to operate London Gatwick - Santiago (Portugal) & Seville (Spain) subject to Portugese & Spanish government approval.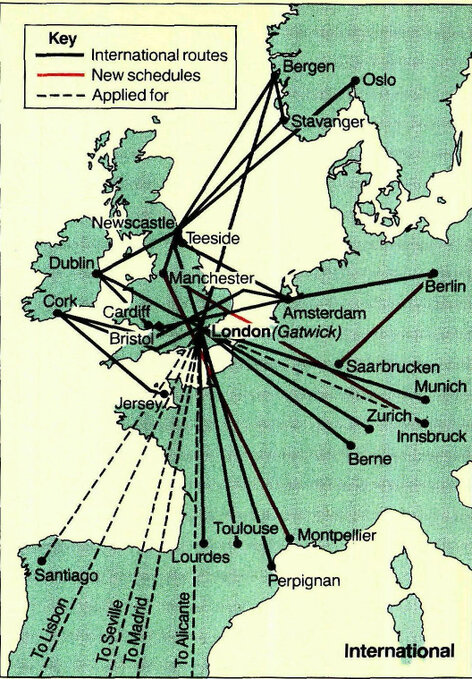 ]
INTERNATIONAL NETWORK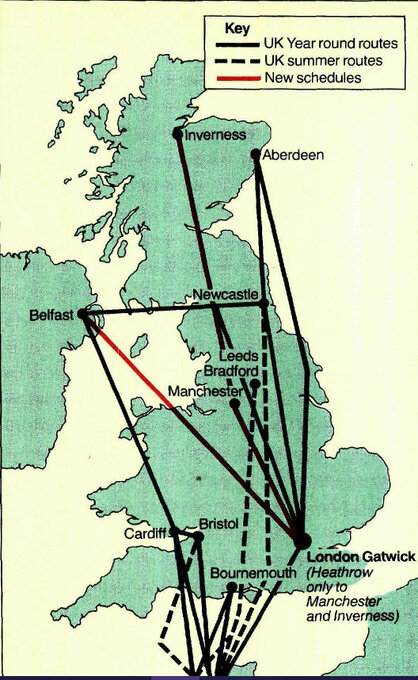 DOMESTIC NETWORK 1985
1986
Dan Air carried 5,309,000 passengers in 1986 - up several thousand from the previous year. The network of scheduled services was growing. This was in no small part to the UK government relaxing laws on how independant airlines could apply for routes.
Charter services were still regulated. For example, When UK airline Orion Airways applied to have 50% of it's charter aircraft seats sold as seat only, it's request was rejected. It was told to accept that it already had 15% of seats sold as seat only!! Since 1984 the oil support charters had began a huge drop. Most airlines had seen a massive drop in the charters. One exception was British Air Ferries who had secured a £3m deal with Shell, to take over from Alidair who had recently gone bankrupt. British Air Ferries was a relative new comer to the Oil charters. The drop in this work and Dan - Air's fleet renewal had seen the HS748 reduce it's presence within the airline. Now just 14 of the type flew with Dan Air. The BAC 1-11 fleet of 19 aircraft had begun to be fitted with Hush Kits. This was the preferred option to replacing the engines with Rolls Royce Tays. The hush kits did help with sound reduction and helped with fuel consumption. Not as much as the Tay would, but enough to make a vital difference. The BAC 1-11 had more or less the same fuel consumption of the Boeing 737. Ten Boeing 727 (100 & 200 Series) were used exclusively on the IT network. The BAe 146 fleet now totalled three and they had proved to be effective in the 100 seat market. This had presented opportunities for Dan Air to replace the HS748 with it on many routes. Over the last few years the airline had been considering new aircraft. Fred Newman, the company chairman, had stated that he was interested in the Boeing 757, stating that a 200 seat aircraft would suit it's style of operation on high density charter routes. Also considered was the McDonnel Douglas DC 9 Series 80. Both aircraft had massive fuel efficiency compared to the 727. In the end the Airbus A300 was selected. The first model was leased from Hapag Lloyd in Germany. The aircraft was an instant hit. British Caledonian was still in serious financial hot water. It was rumuored that a merger with SAS was on the cards. Harry Goodman owner of ILG had offered to buy the whole thing for £36 million. He wanted the routes. By now his compnay had started scheduled operations. It was followed by Britannia, Monarch and Orion who were all flying schedules on sunshine routes to destinations such as Alicante and Palma.
NEW ROUTES & ROUTE CHANGES
Gatwick - Aberdeen reduced to twice daily as a result of a down turn in Oil supply flights.

Manchester-Amsterdam service started - March 31st

A300 G-BMNA start to enters servics - May

Bristol-Amsterdam - Route cancelled after 8 years.

Luxor charter flights begin - May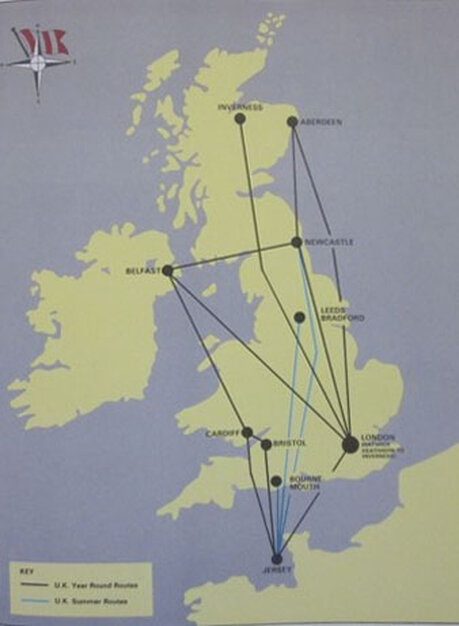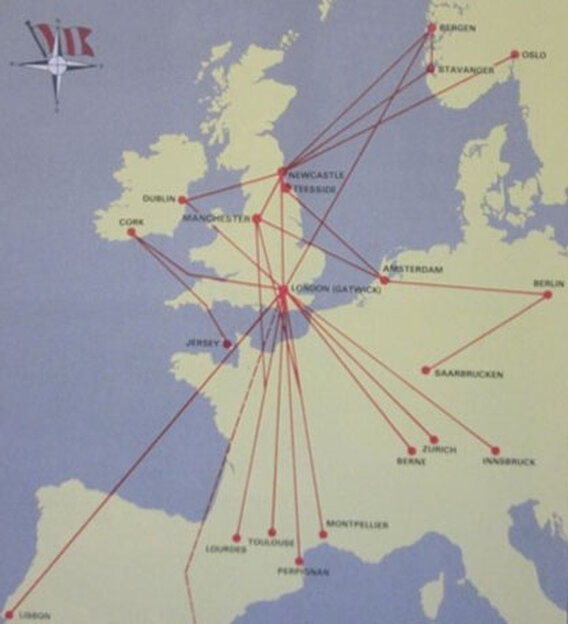 Above: The 1986 scheduled services networks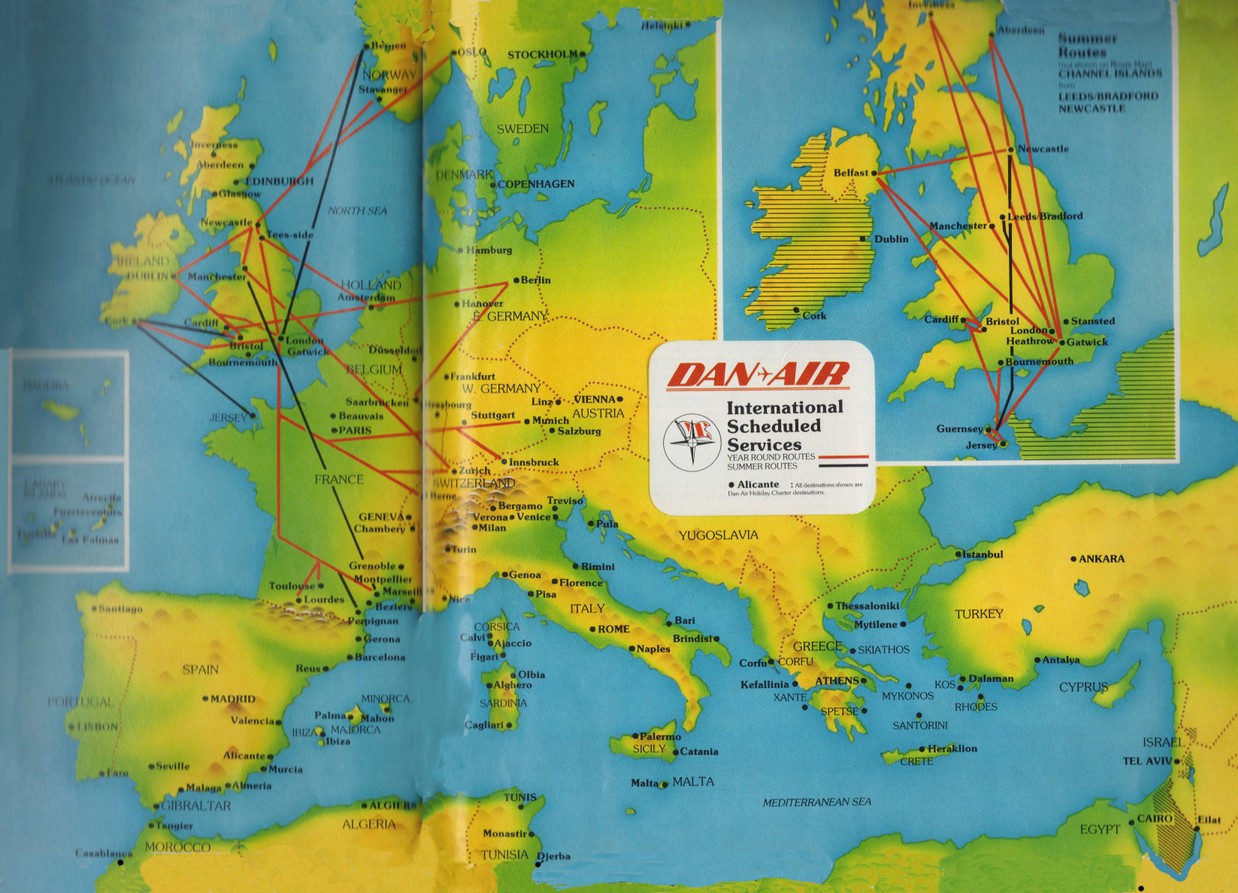 THE TOTAL NETWORK 1986
1987
Dan Air's Airbus A300 fleet was temporarily cut to one with a second coming the following year. Reading the
company history
one can see that the late 1980s will be remembered as a difficult period for aviation. Eighteen BAC 1-11s continued to give excellent service. As did the ten Boeing 727. The Boeing 737 fleet had expanded as newer 300 series aircraft joined the fleet. The HS748 was still being replaced with jets, but they continued to operate regional, domestic and feeder routes. A company called Fliteform was recruited to refurbish the current fleet. This involved new cabin walls and ceilings. The overhead luggage space was to be replaced with large modular luggage bins and the cabin seating was replaced with wide body look seats. Altogether, the fleet comprised of 54 aircraft. A new record of 5,481,000 passengers were carried. For the first time male cabin staff were recruited. This followed a court case which saw the airline in hot water for operating a strict female only policy. People within the company had the view that male cabin crew were often gay, were often promiscuous and therefore more exposed to the HIV virus. Whilst this view may seem ridiculous today, much less was known about the virus then. People within the company wanted to know if exposure to HIV could pose any risks to other crew and passengers. Of course, it posed no risk to anyone other than people who were involved sexually with those with the disease. Quite rightly, the airline was instructed to change it's policy immediately and employ male crew. Those that joined the airline served it in an excellent manner. It's decision seems today to be what it was - outrageous and unlawful and simply wrong. Dan Air joined IATA this year, giving them an enhanced sttus. British Caledonian merged with BA this year also. The merger was bitterly opposed by the vast majority of UK airlines. The CAA had recently given Air Europe several routed to Europe from Gatwick in direct competition to Caledonian. Their Transatlantic routes had suffered a downturn and routes that had hitherto been successful for BCal such as Tripoli had to be cancelled following an American bombing campaign. The Monopolies and Mergers Commission were instructed to oversee the takeover. BCal had then walked away from the merger. They had secret talks with SAS with a view to the Scandinavian Airline buying a major share. However the company was outside the European Union sphere at the time and the deal was halted. BA finally offered Caledonian a "
Take it or leave it"
Offer. As they were in such a poor financial position Bcal accepted. In response to the UK airlines opposition many of their routes and landing slots were awarded to other airlines including Dan - Air.
NEW ROUTES & ROUTE CHANGES:
4 April - Manchester-Lourdes service started - April 4th.

Gatwick-Lisbon service started - May 4th.

Gatwick - Toulon (South of France) Route approval

Gatwick - Perpignan becomes all year route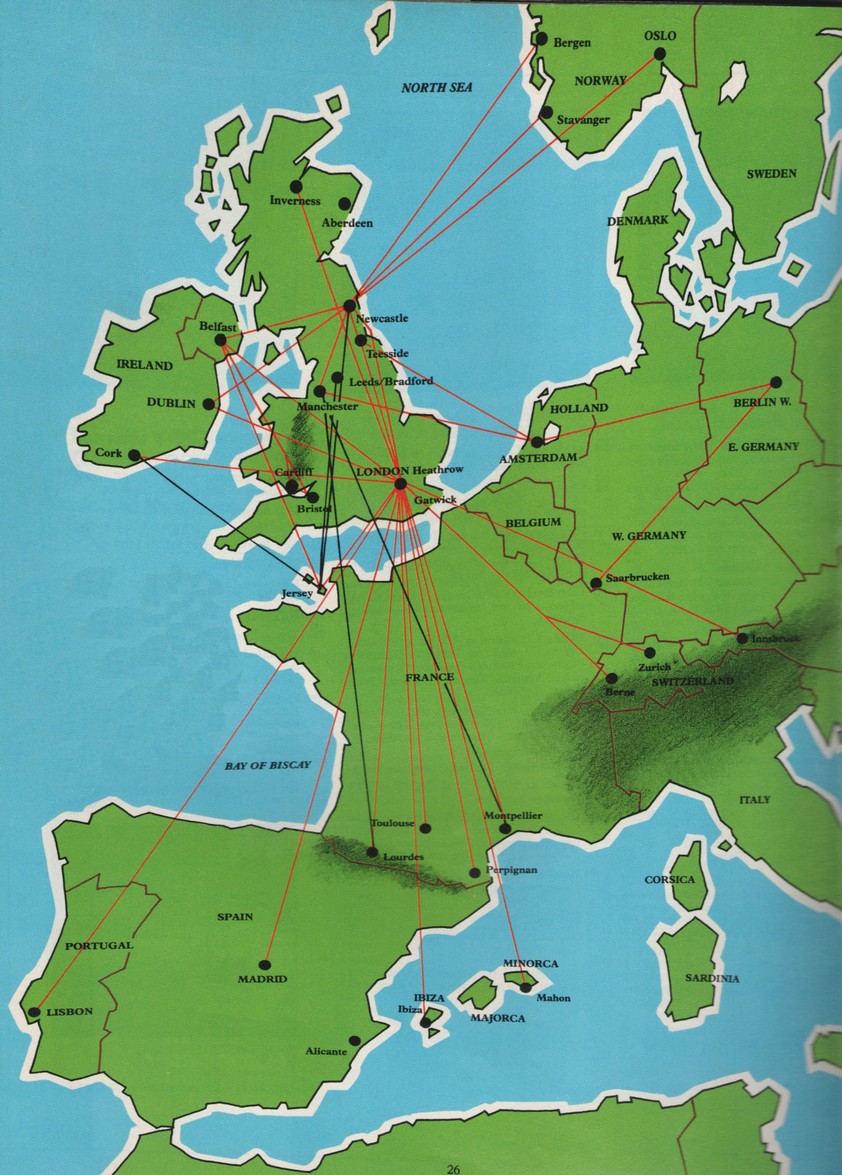 THE SCHEDULED NETWORK 1987
1988 - Aircraft in service – 19 x 1-11, 11 x 748, 10 x 727, 10 x 737, 2 Airbus, 3 x 146. Carried 5,809,000 passengers
Second A300 Airbus acquired.
£l0m hangar complex opened at Gatwick by HRH Princess Alexandra.
1 May - Gatwick - Madrid and Ibiza services started.
16 May - Gatwick - Mahon service started.
Refurbish 3 1-11s for use on 6 times a day Gatwick-Paris service due to start on 23 October.
23 October - Gatwick - Nice and Manchester -Aberdeen services started.
Gatwick - Charles de Gaulle service started.
Gatwick - Manchester service started
1 December - First Boeing 737-400 delivered.
Class 'Elite' business class introduced on Paris Charles de Gaulle and Nice service.
1989 - Aircraft in service - 17 x 1-11, 10 x 748, 12 x 727, 11 x 737, 2 x Airbus, 4 x 146. Carried 6,276,000 passengers.
26 March - Increase weekly services Gatwick-Dublin from 9 to 12.
16 April - Announce withdrawal from Gatwick-Cork service.
17 December - Manchester-Berne 146 weekly service between l7 December and I8 March 1990 for use of winter sports visitors.
'Class Elite' introduced on Gatwick - Dublin, Toulouse, Madrid, Lisbon and Zurich services.
1988
1988 saw the beginning of a bitter rivalry between Dan Air and Air Europe made public knowledge. Dan - Air had, for many years, been the major carrier of Intasun holidays' flights. When Intasun began its own airline in 1978 it did not pose much of a threat to Dan - Air. It did cause passenger numbers to drop initially, but as new charter contracts were found and scheduled services continued to grow both Dan - Air and Air Europe were able to live side by side. Air Europe had only two aircraft in it's first year and no matter how much you flew them, they could not carry all of Intasun's holidaymakers. Air Europe had, until 1987, been operating the majority of it's business as charter flights (
80%)
It started 1988 by changing it's handling agent at Gatwick from Gatwick Handling to Servisair. Gatwick Handling was half owned by Dan - Air. By 1988 Air Europe had grown in size, with a fleet of 30 Aircraft. Several more were on order including the MD11 and the Fokker 100 which would operate European Scheduled services from Gatwick. They had placed their orders early. This gave them high value. As soon as they were delivered they were then sold to leasing companies and leased back into the Air Europe fleet. Their modern fleet included Boeing 737 (including the latest 300 and 400 series). Already an obvious threat to Dan - Air's charter business, Air Europe was now threatening them on Scheduled Servies too.
British Airways had complained that it's market share was being eaten away by Air Europe. However the CAA pointed out that BA's Heathrow operation was entirely protected. At that time the CAA awarded Air Europe licences to fly on the Gatwick - Paris route in direct competition to Dan - Air. It also had an eye on many other routes. The Intasun brand had now become the second largest Tour Operator in the UK, its parent company ILG had several off shoot tour operators too including Cub 18-30, far too many holidays were sold than Air Europe could fly. Consequently as many as six aircraft were chartered by ILG to fly its holiday passengers. More was to follow with these two companies.
The Dan - Air HS748 fleet was reduced to 11. The Oil Support work had been reduced and the BAe 146 was able to operate into airports with short runways. IT was one of only a few jets that could carry 100 people and land on these runways. The BAC 1-11 fleet numbered 18 of all types. The 1-11 fleet underwent a major cabin refurbishment this year. Ten Boeing 727 and ten Boeing 737 were flown in Dan - Air colours. The 737 400 series was to join the fleet on December 1st. The operating costs of the 400 series were dramatically less than those of the Boeing 727s. The airline had to seriously look at consolidating the fleet into a more modern, fuel efficient type. The Airbus A300 fleet was back up to two this year and three BAe146s were widely used. More 146 aircraft were on order. This year the Gatwick hanger, that had cost £5,000,000 was
officially o
pened. The hanger was capable of providing maintenance on aircraft up to the size of Boeing 747. This brought the Dan - Air Engineering bases up to three in number. Dan - Air launched a major new brand this year - It's dedicated "Class Elite Service" This was a business class cabin that offered dedicated check in desks, the use of business lounges at airports, priority boarding, dedicated area of the cabin with centre seats replaced with a table. Improved seating was standard as was extra leg room, complimentary drinks including champagne and superior catering. There was to be a higher ratio of cabin crew per passenger and a frequent flier programme offering rewards to passengers. There was even a free taxi service from Gatwick. Air Europe then decided to follow suit with it's "Premier Class". Dan - Air's passenger numbers had risen to 5,809,000. Dan - Air was facing a difficult period ahead.This was further compounded when Horizon Holidays' and it's own airline Orion were bought by Thomson. Airtours, by now the third largest Tour Operator in the country ehind only Thomson and Intasun was Dan - Air's main charterer
Thomson was unquestionably the largest. operator. Of the top three only Thomson did not use Dan Air on any flights.
NEW ROUTES & ROUTE CHANGES
Gatwick - Madrid service commences - May 1st.




Gatwick - Ibiza service commences - May 1st.

Gatwick - Mahon service commences - May 16th.

Gatwick - Nice - service commences - October 23rd.

Manchester - Aberdeen service commences October 23rd.

Gatwick - Paris Charles De Gaulle - October

Gatwick - Manchester - Service Commences - October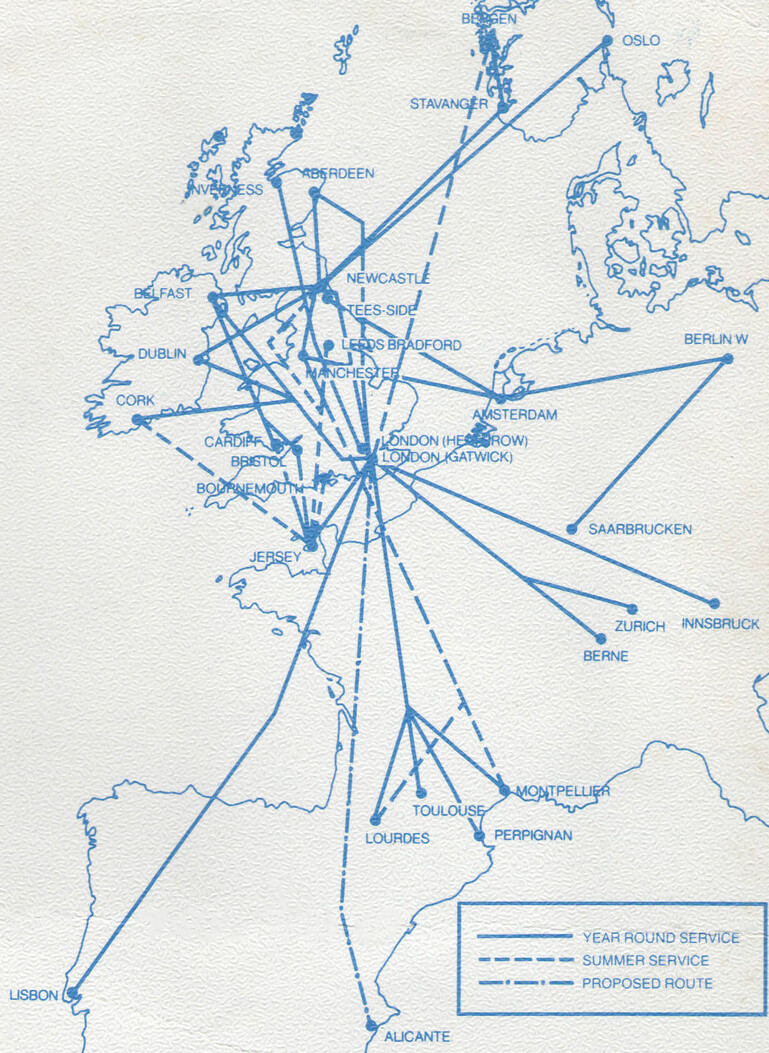 The 1988 Network
1989 - Aircraft in service - 17 x 1-11, 10 x 748, 12 x 727, 11 x 737, 2 x Airbus, 4 x 146. Carried 6,276,000 passengers.
26 March - Increase weekly services Gatwick-Dublin from 9 to 12.
16 April - Announce withdrawal from Gatwick-Cork service.
17 December - Manchester-Berne 146 weekly service between l7 December and I8 March 1990 for use of winter sports visitors.
'Class Elite' introduced on Gatwick - Dublin, Toulouse, Madrid, Lisbon and Zurich services.
1989
Two less BAC 1-11 were in service in 1988 and four fewer HS 748. But the fleet was boosted by the addition of two Boeing 727 200 and a new Boeing 737 400 series. The two Airbus A300 were put to good use on high density flights and the four BAe146 aircraft flew on the scheduled network. For the first time in the company's history more than six million passengers were flown (6,276,000)
'Class Elite
' was rolled out onto more flights, with Dublin, Zurich, Madrid, Toulouse and Lisbon now served.
In October, Dan-Air char
tered two Boeing 727-100s and
crews to the new Imperial
Air Cruising Company set up by
Target Marketing to offer a
highly luxurious tour service.
Three tours were offered: The
7 day cruise took in Paris,
Vienna and Moscow; a 12-day
trip called at Vienna, Istanbul,
Luxor, Cairo, and Rome and the
30-day cruise visited Cairo,
Luxor, New Delhi, Bangkok,
Beijing, Hong Kong, Singapore,
Phuket, Kathmandu, Tashkent,
Moscow, and Paris.
The aircraft were re-
configured with 75 executive
style seats instead of the normal
140.
All flights operated in
daylight, and the captain
hosted cocktail parties and formal
dinners on some of the longer
stopovers. The cruise service was
scheduled through to
May 1990. The threat from Air Europe grew even greater this year when it's parent company, Intasun, announced it was reducing the six aircraft it chartered from Dan - Air by half to just three. It stated in public that it did not wish to use Dan Air's "Old, gas guzzling jets". This was a severe blow to Dan - Air. Further pressure was applied when Air Europe withdrew it's engineering contract from Dan Air Engineering. Air Europe succesfully applied for several routes that British Airways had been forced to drop when it took over British Caledonian. It now went head to head with Dan - Air on the Gatwick - Paris route and Gatwick - Jersey service. Dan - Air had been successful with many of the route applications it had placed with the CAA. For the first time since 1981/82 the company made an operating loss of £3m, compared to a £10m profit the year before. But darker times still lay ahead.
NEW ROUTES & ROUTES CHANGES
Gatwick - Dublin - Increased weekly services from 9 to 12 - March 26th.

Gatwick - Cork - Service withdrawn

Manchester-Berne - Weekly service from December 17th - March 18th 1990 for use of winter sports travellers.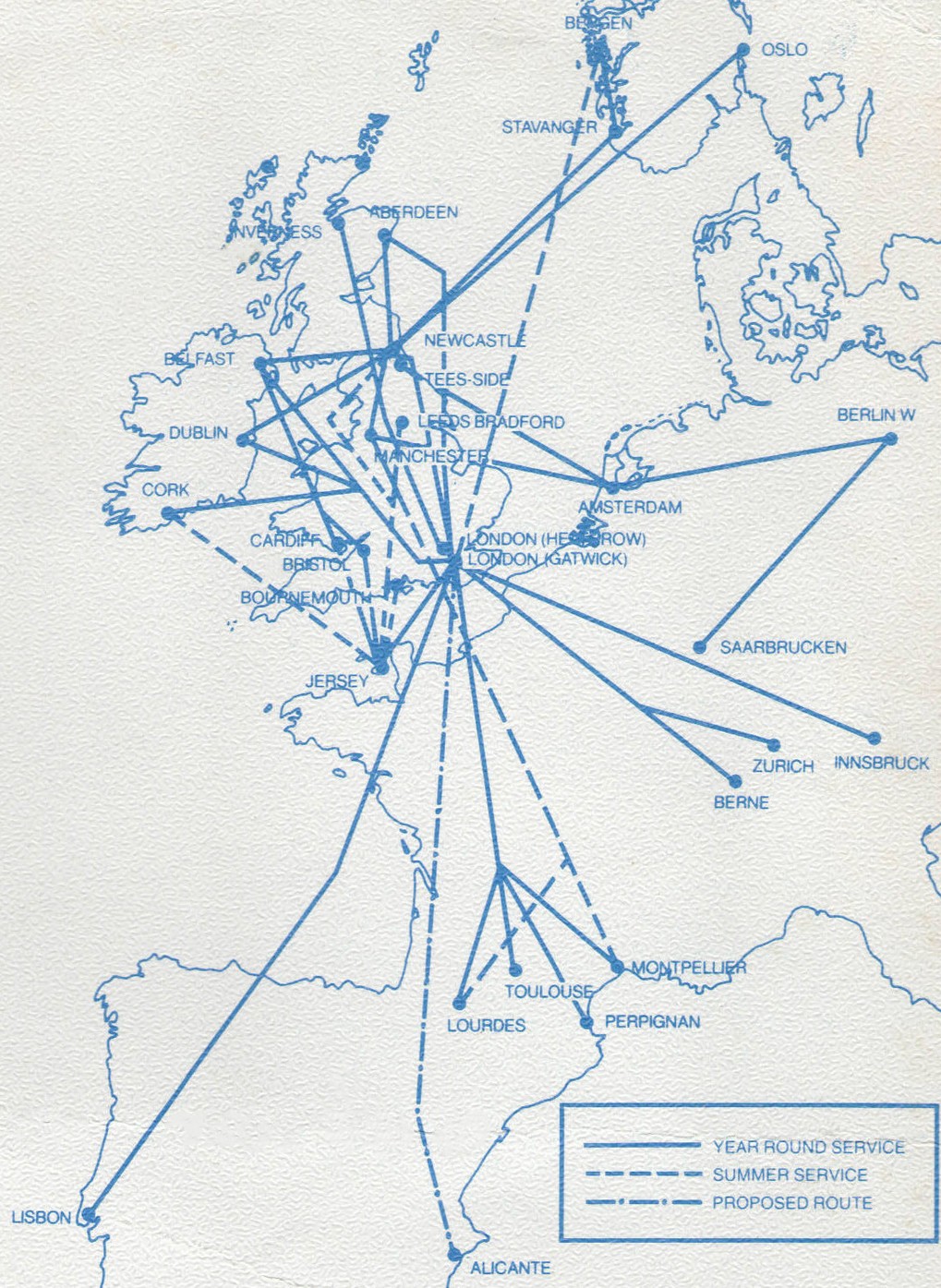 THE 1989 NETWORK