1960
The BOAC / BEA duopoly in UK aviation carried on throughout the entire decade. Each of the handful of domestic services that Dan Air had been awarded had to be fought for. Dan Air flew regional routes that linked towns and cities. The cities were close by with one round trip stopping at both Cardiff and Bristol, cities that were almost next door to each other. The services were all secondary routes that BEA did not want.
One of the main problems that independant airlines faced was the lack of available aircraft. Brand new aircraft were beyond the means of small companies like Dan - Air. Even the second hand market was was a minefield of obstacles.
The UK Government intervened with almost every aspect of the airline world. If a company wanted to import new foreign aircraft it would lean on the airline to choose instead a British equivalent. If the airline pressed ahead with its desire to import an aircraft for its fleet they found the order would come with a very heavy tariff. Nevertheless Dan - Air managed to increase is network, albeit slowly. Charter flights accounted for the majority of the carrier's work. A lot of cargo flights were carried out too. The inclusive tour (IT) package tour industry was beginning to emerge. Horizon Holidays continued to expand. Hot on their heels was Global who used Dan - Air on their first IT holidays. They were followed by Blue Sky and Henry Lunn. In 1960 Dan - Air carried 100,000 passengers with a mixed fleet of DC3, Avro York, Bristol Freighter, DH Dove. British European Airways were fortunate with their almost unlimited budget. They had decided to purchase the brand new Vickers Viscount. Marketed as the world's first Turboprop aircraft. They decided to sell their fleet of Airspeed Ambassadors. The Ambassador was a beautiful piston engined aircraft. The fact that they had relatively low use made acquiring them even more attractive. They could fly much faster and further than anything else in the fleet. They also had better catering facilites. Very quickly they were chartered for the whole of the Summer.
They worked on the Balearic Island routes and as the Spanish Costas developed, they too were served by Ambassadors. One the main grievances of the Tour Operators was the rule that they still were not allowed to sell holidays at a lower price than the scheduled air fare. The price would be the same if people only wanted to stay three or four days, or for a full week. Airports were often closed to charter flights as well. Barcelona was indeed served by BEA, so charter flights to Spain had to fly into Perpignan in France. After that they would board a coach for the two hour transfer to their resort. This of course pleased the authorites in France as the airport had been practically deserted. It wasn't until several years later that an airport was built at Alicante. Dan - Air were fortunate in 1960 to be awarded contract flights that they would operate on behalf of BEA to Rome and Milan.
In addition to the BEA London to Glasgow flight and the Blackbushe - Jersey scheduled service Dan Air operated for
BEA, freight contracts from London Heathrow to Milan, Rome and Brussels.
Two DH Doves were purchased to commence scheduled services from Bristol and Cardiff.
4 April – Bristol - Cardiff – Liverpool route started.




1 May - Bristol - Cardiff - Isle of Man route started.




31 May Dan Air moved it's entire operation to Gatwick following Blackbushe's closure.




18 June - Gatwick - Jersey service. (This followied the closure of the Blackbushe - Jersey route)




16 July - Bristol - Cardiff - Basle route began - Dan-Air's first international schedule.




IT charters charters from Gatwick to The Netherlands, Spain, France, Belgium and Germany. UK Armed Forces trooping contracts were obtained.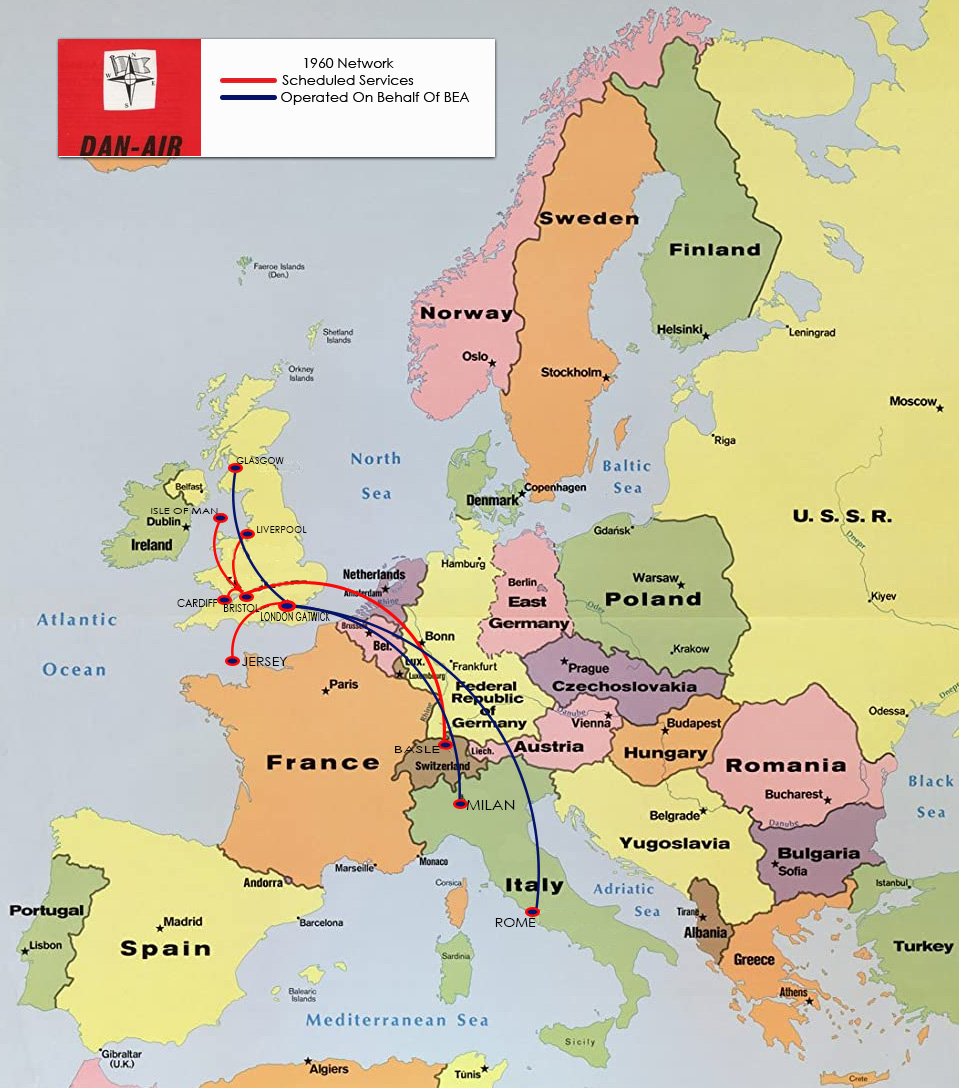 1961
The fleet in 1961 comprised of 3 DC3, 4 Avro York, 3 Bristol Freighter, 2 DH Doves and 3 Ambassadors. They were all employed at maximum utilization. The Freighter aircraft carried cargo as far away a Australia, Singapore, Iran, India and all points East. There had been no change in UK aviation law, but Dan - Air managed to increase its network. Fares on the Bristol - Cardiff - Liverpool route had been £5-3s to just £3-18s with the fare from either Bristol or Cardiff to Newcastle priced at £5-6s. Those fares were one way - the discount was not as generous on a return flight! At the time Fred Newman, the company chairman, sited the Ministry of Aviation were at blame as they had increased landing fees at Municipal Airports. Charter flights continued to increase. With new Tour Operators springing up everywhere. An average UK holiday would cost £20 and a Spanish Holiday around £40. Affinity flights had began this year. The system was wide open to abuse. Dan - Air had secured itself as a popular airline with Tour Operators. They had a reputation for reliability unlike many contemporary airlines that had now folded. Although competition was fierce Dan Air was strengthening its position.
4 January - Plymouth-Cardiff /Bristol-Liverpool schedule was extended to Newcastle.



27 May - Prestwick - lsle of Man route commenced. The Isle of Man also served from Bristol, Cardiff, Plymouth, Exeter, Staverton and Swansea.



7 July - Liverpool -Newcastle - Dundee route commenced, followed by Perth (Scone) - Prestwick- Gatwick and Perth-Newcastle-Gatwick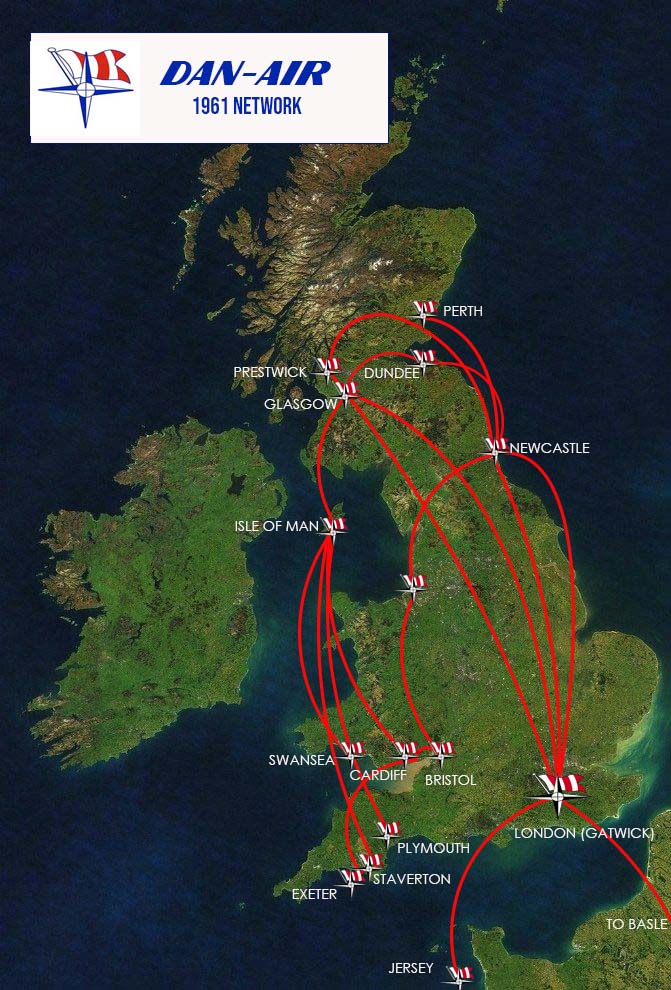 The Domestic Network in 1961
There was also the international service to Basle
1962
The fleet remained unchanged in 1962, and
a new international service was started when the Liverpool - Rotterdam route came on line. Bournemouth to Basle had been introduced the year before. Later this year Bristol to Ostend via Gatwick were introduced. There was a flurry of new Tour operators springing up. Some of them were very disreputable. Dan - Air were fortunate in working with Operators who were relilable. The previous year the Government had decided that ABTA (Association Of Britiish Travel Agents) would no longer be responsible for regulating accomodation abroad. 1962 had seen many of these tour operators selling holidays before they had even been given licences to sell them. There were stories of passengers stranded in terrible hotels, flights had been double booked and passengers had little means of redress. The Associated National Tourist Office Representatives brought out a code of practice to safeguard passengers. But 1962 was to be critical year for the charter industry. Laws were now in place to see that companies selling these holidays would have to be registered and scheme was in place that would see Tour Operators on a voluntary basis secure Bonds with banks or insurance companies to protect holiday makers should the company go bust. Rules were implimented to make brochures be more accurate. Double booking was outlawed and companies that merged would have to have approval.
Second international service commenced
NEW ROUTES
Bournemouth to Basle

Bristol and Gatwick-Ostend began.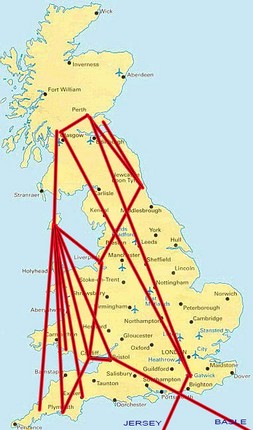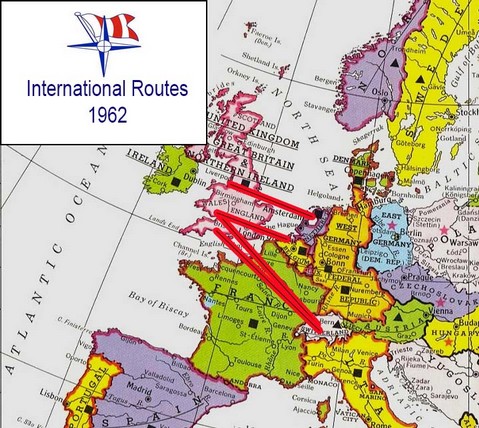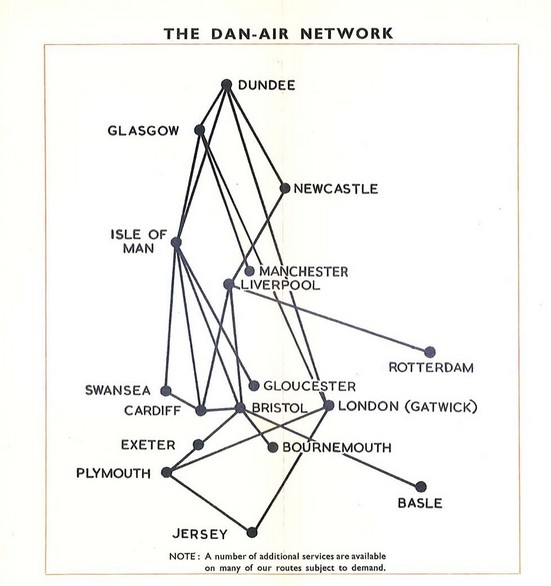 1963
All but one of the Avro Yorks were retired from service by the end of the year. Three Bristol Freighters remained in the fleet. Passenger numbers increased with the expansion of scheduled services and an increase in charter work. The increase in flights meant Dan - Air would need more aircraft. A DH Dove joined the fleet and the number of Ambassadors grew to six. There were no new scheduled services added this year as the stranglehold of UK law continued to thwart independant airlines. This year saw an increase in passenger numbers to more than 115,000. Of those numbers almost 36,000 were carried on scheduled services. One of the largest Tour Operators 'Fiesta' went bankrupt this year leaving passengers stranded in resort and those booked to travel were facing a cancelled holiday, and no provision to pay them back. The government were forced to make rules even tougher. Several angry passengers had protested outside Travel Agents. angry scenes followed. People did not fully understand that a Tour Operator, a Travel Agent and an airline were three separate companies. Travel Agents were only selling holidays on behalf of Tour Operators. Who had chartered aircraft from airlines. Travel Agents were innocent. From 1962 ABTA registered travel agents could sell scheduled airline tickets as well as as Inclusive Tours. From now though they could only sell holidays to ABTA registered tour operators.
1964
Only one Avro York stayed in service this year. The number of DC3's had now increased to four. The flagship of the fleet, the Ambassador, had now grown to in number to seven. The scheduled network continued to grow slowly. Kristiansand in Norway was served from Gatwick and Newcastle. Bournemouth - Basle Gatwick - Ostend and Liverpool - Rotterdam made up the entire international network! Jersey was serviced from Gatwick and Plymouth and a series of flights operated between the Isle of Man and Cardiff, Bristol, Prestwck and Gloucester. Restrictions on London airports meant that Heathrow was out of the question. Dan - Air could not use Glasgow either and so a route from Gatwick to Prestwick was started. The airline also flew from Gatwick to Liverpool, Bristol, Plymouth where the flights linked up for the Isle of Man.
The IT flights to European destinations continued to grow as more Britons began enjoying overseas holidays. With last year's regulation in place, the charter market was beginning to gain public confidence once more. Sir Henry Lunn's company acquired Polytechnic Travel Services which had been a seller of holidays to students. The new company name was
Lunn Poly
. It was a significant company and a long relationship with Dan Air and Lunn Poly began to flourish. Meanwhile Universal Sky Tours which was owned by Captain Ted Langton was proving to be very successful. His airline Euravia was formed in 1962. The tour operator, Universal Sky Tours, had initially been owned by Great Univeral Catalogue. Now, under Langdon's ownership, the company had set out to be different. He had aquired Lockheed Contellation aircraft from El Al, the Israeli airline. These were fairly new aircraft compared with other UK independants. They were faster, pressurised and could carry a hundred passengers. This was new style that other airlines and tour operators would have to match.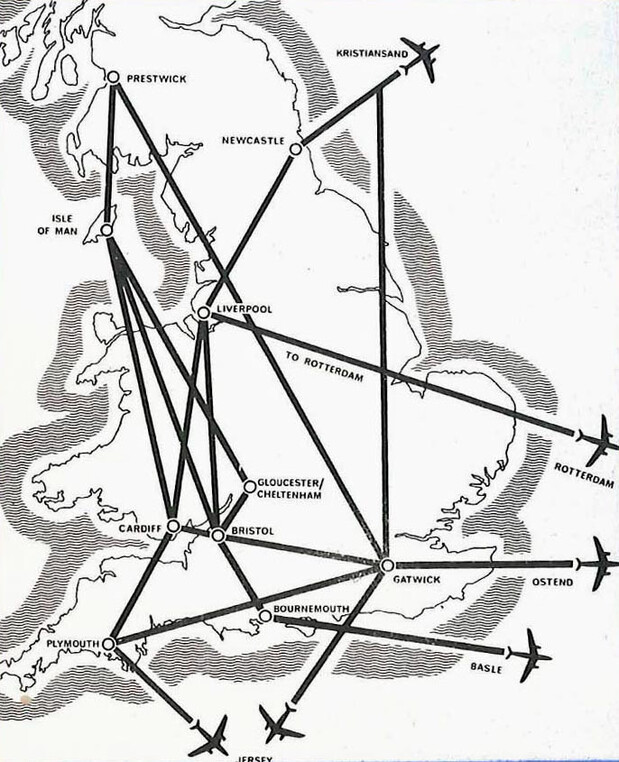 1965
A DC 7 and two DC 4 aircraft joined the fleet for cargo operations. The DC3 fleet was reduced to three. Euravia had now changed it's name to Britannia following the acquisition of four Bristol Britannia aircraft. Universal Sky Tours was sold to the Thomson newspaper and broadcasting organisation. This giant organisation would have very deep pockets. It could produce the best brochures and even advertise in it's own publications. The financial muscle meant it's own airline could also expand. This year Britannia carried 180,000 passengers. It was growing and posed a real threat to Dan - Air. Cunard then purchased outright British Eagle Aviation and named it Cunard Eagle. It turned out that this was a bad decision as the airline was on the verge of financial collapse. This year saw a relaxation of "Provision One" The rule for Winter holidays was, up to now, that the holiday would not cost less than the normal scheduled return fare to the nearest airport. Scheduled Winter fares were higher than Summer ones. This absurdity meant that a Winter holiday cost more than a Summer one! The rules were relaxed, but not without a fight from BEA. Who claimed that airlines like Dan - Air could operate the flights at a lower price. The tour operators could reduce their prices for Winter only from typically £48 to £30. BEA then reduced it night time Winter fare to £38 12s, which was a cut of £12. Cunard Eagle wanted to reduce it's fares to £25. That was rejected by the ATLB.
New services introduced were:
Tees-side -Chester -Cardiff service started, followed by Cardiff - Bristol - Amsterdam and Gatwick - Newcastle-Kristiansand services.



4 October - Liverpool - Amsterdam service began.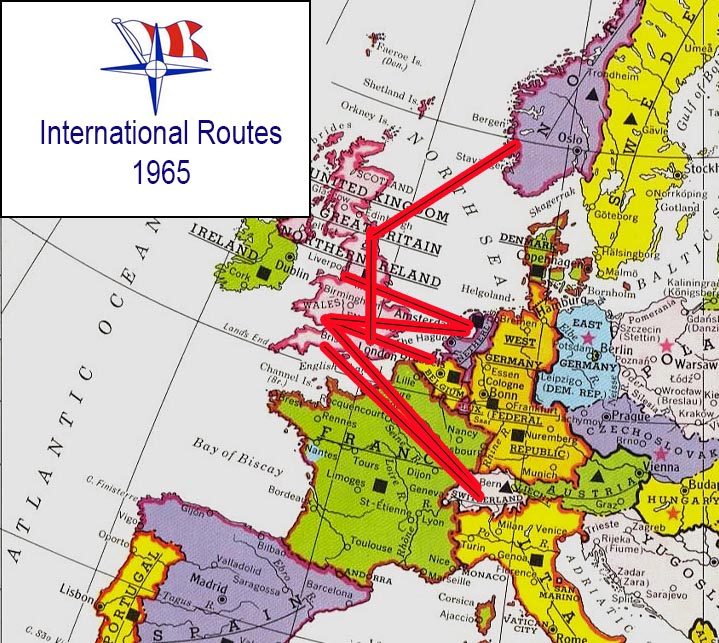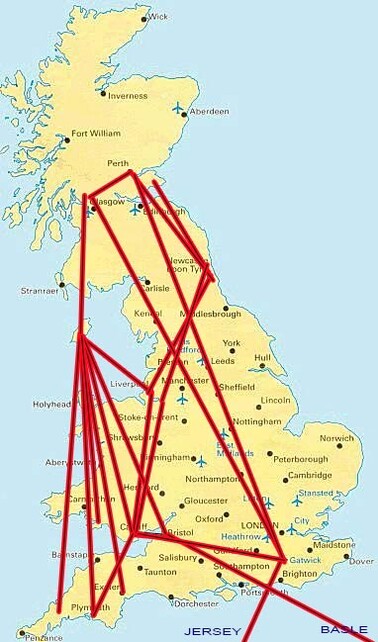 As one can see - the network was beginning to expand not because of UK government restrictions - but despite them
1966
The Heron and Doves were sold and the DC4 and DC7 were returned to their owner after their lease had expired. The Bristol Freighter soldiered on whilst the Ambassador fleet grew in size to eight. These aircraft seated almost 50 people in comfort. They, and the DC3s had massive passenger appeal. As the number of people selecting Dan - Air as their schedule service airline grew, the aircraft too had to increase in size. This resulted in the selling of smaller Herons and Doves. The Avro York aircraft were obsolete by now. Dan - Air became the second UK independant to purchase pure jet aircraft. Two Comets joined the fleet, purchased from BOAC. Dan - Air had now leap frogged over it's rival Britannia. The Comet was able to eat 119 passengers and fly almost twice as fast as their rival airline's aircraft. The Comet had to be refitted to suit Dan Air's style of operation. They needed to carry more than one hundred people. One of the Comets had been purchased by Clarksons Holidays and then leased to Dan Air. The UK authorities decided that independants could not have two classes of travel on UK domestic services using jet aircraft. This, they claimed, would protect the state owned Airlines. British United, who were now trying to compete directly with BEA had begun a long battle with the Authorities. Dan Air's charter flights were not affected with these regulations. More and more destinations were being served now as tour operators clamoured to offer their customers jet flights. When the Comet was introduced into service the following year, any destination in the world was within reach. The Labour Prime Minister, Harold Wilson, imposed a new restriction on holiday makers. They would now not be able to buy any more than £50 in foreign currency with children restricted to £30. Package holidays included the costs of the hotel, meals and reps, but excursions and additional food items had been dropped from their packages. MPs debated in Parliament and the ruling was amended to allow a further £15 to be added to the total, as holidaymakers were not expected to return home penniless. However, in actual fact there was nothing to stop people spending the money on whatever they chose. The Labour government also reduced the value of the pound. The Prime Minister Harold Wilson famously said on TV that this "would not affect the pound in your pcoket." This was met with howls of derision from the opposition and the travel industry. It may not affect the pound in one's pocket in the UK but overseas the sliding pound severely hampered what one could purchase abroad. It was inevitable that hotel prices would increase for tour operators. Tour operators were forced to pass on the increased prices to their clients. Scheduled airlines also increased theirs because of fuel price hikes. This surcharge was either to be paid for by passenger or the tour operator. However they could not decrease the prices that had been advertised in their brochures. So, the Tour Operators would have to take the hit that year. The Chancellor of the Exchequer, James Callaghan said that her did not think it was the right time for people who were being asked to take a decrease in their standard of living in the UK should then see other people benefitting by spending money that would go to other World economies. Major Tour Operators using Dan - Air included Clarkson's, Lunn Poly, Ellermann, Global, Cosmos, Gay Tours and Luxitours. Soon after the latter two were fully absorbed into the Thomson's organisation and no longer would they need to use Dan Air.
1967
More Comets joined the fleet bringing the total to four. They were hurried into service for the Summer Season. Dan - Air had become a major player on the Charter scene with aircraft being chartered to fly to Turkey, Tunisia, and other Mediterranean hotspots. The Ambassador fleet was reduced to six, whilst three DC3s remained, as did the Bristol Freighters. The Freighters had even been converted to carry passengers, rechristened as Wayfarers. They flew short haul services. Although they were never really suited to carrying passengers they did have large payloads and played a part in the growth of the airline. On the scheuled front a Carlisle to Isle of Man was started. International holidays centred on Spain with the markets mentioned ealier being introduced to travellers wanting something more adventurous. Greece was now featured as a new destination. Several of the islands were natural choices. The UK regulations once again gave a major headache to tour operators and charter airlines. Athens was the main airport in Greece. As the law stood, charter carriers could not fly there as BEA already did so. The Greeks were only too aware of the boom in Spanish travel, they wanted a a share of the available business. The Spanish Government had even provided financial assistance for companies to build hotels. They would pay back the government over time with very generous repayment plans. The Portugese market had begun to flourish. Previously passengers could only take holidays in Oporto. Flights to Lisbon were not permitted, because, you guessed it! BEA flew there. To get to the Algarve passengers would have to travel by coach from Oporto to Lisbon and then train to Faro. The Portugese Government built and international airport at Faro, opening up the Algarve, which boomed with new business. Vilamoura was the first resort with good hotels and gorgeous beaches. Tunisia had welcomed charter flights and had a bold and very well designed hotel infrastructure. Fortunately for the Tour Operators, BEA did not have a presence there. Even Romania and Bulgaria had welcomed British holidaymakes. More than two million of them were now travelling abroad. Hardly any of them though to Greece. The Greeks then were aware that the UK could not send visitors in vast numbers to any of it's islands. It was a ridiculous situation, even BEA passengers wanting to travel to Crete had to fly into Athens and then catch a ferry to the island. The Greek authorities built it's first airport on Crete this year and welcomed new visitors, many thousands of them were Dan - Air passengers.
NEW SERVICES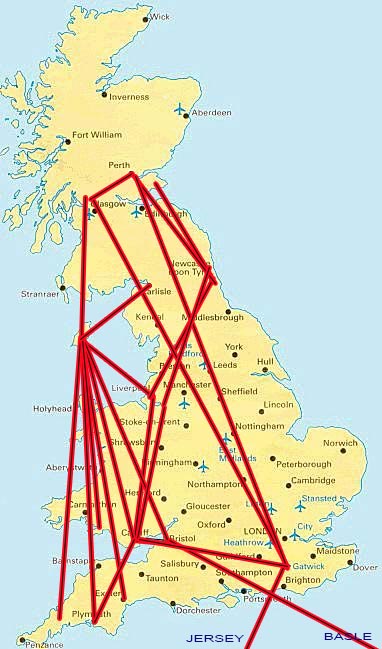 1968
Four Comets, six Ambassadors, three DC3s, two Bristol Freighters and a DC 7 carried an ever increasing number of passengers on IT routes, Cargo services and Scheduled Services. IT flights continued to be bulk of the airline's flying. Dan -Air was firmly established as a profitable, reliable and competant company. Apllications were made for more scheduled services, but as ever, the UK Government refused to stop the protectionist practice - Provision One - Any attempt by an independant to obtain a scheduled route was met with the response "Material Diversion Of Traffic" It is not without some irony that in pre 1992 days it was the Conservative governments who had been more reluctant to allow competition from independants than Labour ones. This was not the case in all business, but it was particularly true in civil aviation. The DC7 was put up for sale this year. Boasting that is was available as a 104 seat passenger aircraft or cargo liner. Check IV had been completed and the aircraft had radio, and radar - cost? £65,000 with spares extra!! Prices for a Bristol Britannia at the time were £325,000.
This year saw the end of the absurd rule that meant if scheduled airlines increased thier fare that Tour Operators would have to do the same. However when brochures initially were printed the rule was still the same. The holiday in total must not cost less than BEA's standard return fare. So, passengers were somewhat protected now from surcharges. They were also more safe in the knowledge that ABTA registration for travel agents and tour operators was essential. The Edwards Committee commenced. It proposed a lot of changes. Most significally that the Tour Operators should be allowed to sell their holidays for the same price as two standard single BEA tickets. That would mean that a weeks holiday to Majorca would now cost £30 7s instead of £35 3s.
1969
The end of the decade saw a huge increase in the number of Comets joining the fleet. They now totalled eleven! The jet fleet was further improved with the introduction of two ex American Airlines BAC 1-11 aircraft. They would very quickly join the Charter fleet. Only one Bristol Freighter remained, largely carrying cargo as did the DC 7, the sale of which had not materialised. The Ambassador fleet was further reduced to just three. A sole DC3 carried on in Sterling fashion on the UK link city network that had not grown for a couple of years so the introduction of a new Gatwick - Newquay service was a welcome addition. In total 509.000 plus passengers were carried this year. Of that more than half a million, at least 119 of them flew to Trinidad on the company's first transatlantic flight. That aircraft, naturally, was a Comet! Also new to the company this year was the opening of a base in Berlin, where the company would base aircraft for the next twenty three years. The protectionist "Provision One" did not apply to Germany and major benefits were to be had by Dan Air. Other airlines followed suit. The Edwards Committee report was published this year. It was approved by the Department of Trade. Now airlines could now operate a Package Holiday for the same price as two single one way flights with BEA. The Board of Trade also allowed the Charterers not to increase their fares from the previous year even if the state airlines increased their own fares. This was a major breakthrough. The glaring problem of holiday duration was overlooked. Holidays that were of different duration did not come any cheaper. People were now wanting shorter holidays and holidays of odd durations. However the Board of Trade made a few recommendations that would change the air travel world forever. It recommended that the CAA be formed (Civil Aviation Authority) and that a "Second Force" airline be established to compete in UK scheduled air services. This would have little, if any impact on airlines such as Dan Air, but it was the start of a new concept and would, ultimately allow freer competition
NEW ROUTES