When we think of flying one of the first things we imagine will be the Cabin Crew. They are the people we see most of during our flight. As ambassadors for any airline the Cabin Crew have to look the way the airline wants people to think about their airline. In the very early days potential stewardesses at Dan -Air were interviewed at Blackbushe Airport, then referred to head office in London. Others had applied directly at head office. In both cases, once at head office they were hand picked by Alan Snudden, the Airline's managing director. They would then attend training at Blackbushe. The chief stewardess in 1953 was Val Fraser. Joan Murphy became Chief Stewardess afterwards. The very first uniform was dark grey. "RAF Grey" as one cabin crew mentioned.
The third Chief Stewardess, Liz Allen had several roles besides her cabin duties. She was responsible for training, cabin services and a host of other duties. It standard ractice to retire stewardesses at thirty years old. Some of the lucky cabin crew went on to jobs within the airline, on the ground. Others did not!
Galleys were not sophisticated on aircraft like Dakotas. Safety was, as today the main priority. The number of cabin crew on each aircraft is determined by the CAA and not the airline.As newer aircraft came on stream new standards had to be met, safety features of a Dakota would not have been as complex as the ones of a Boeing 727. The salary of £8 in 1954 was a respectable wage. With bar comission boosting salaries. The main advantage of flying around the World on one of the old prop liners was that crew members could be away for a longer period. European charters that followed saw crew members flying to a destination and back at all hours of the day with just a couple of hours down route for the turnaround. Dan - Air Stewardesses could be on round - the - World trips staying with the passengers and flight deck crew wherever it may be. The life of a Dan - Air Stewardess was interesting. The girls were offered temporary contracts, usually during the busy Summer months. If they had displayed their suitability they would haved a reduced Winter programme before returning to full time hours in the Summer as a permanent member. Usually girls were checked out, or trained on two types of aircraft. Some requested to be on a particular type. When aircraft were retired from the fleet they would progess onto other aircraft. By the 1970s the training had become very intensive, with the girls not only having training on the safety features of the aircraft, but also in cabin service, first aid, immigration proceedures. They would have lessons on hair hand make up to pefect their image.
One of the roles of the Chief Stewardesses was also to help 'design' the uniform. Sandra Mackness who flew during the 60s pointed out when it was mentioned that Stewardesses all looked the same recalls. 'Ours in the mid 60s had sky blue summer uniform. Our winter uniform wasn't navy blue though, The story was that Liz Allen, chief hostess before Joy Moore, chose a rather unusual blue/grey shade as she was a redhead! T'was a lovely colour."
Ann Hood explains "
Our Summer uniforms were sky blue, made of cotton. The dress was button through (M&S?) ... you had to put the gold Dan Air buttons in each hole, they were secured like cufflinks/earings."
Another of the early hostesses says "It was a charcoal blue skirt and jacket with a white blouse. We had a hat that I called the open pea pod. the white blouse I am sure came from M & S.. We had to have white gloves in Summer and black ones in Winter. Black court shoes finsihed the look off. I think it was a lovely uniform and I think it distinguished us from all the other airlines."
Those fond memories show a fledgling airline in the 1950s. Trying to present itself with a smart, stylish look. Today when an airlline decides to have a new uniform it can cost millions of pounds from design to actual service. In this section of the website we will go through the years of Dan - Air's uniforms. The web master has talked with several stewardesses who have helped with identifying dates when uniforms came online. There are, where possible, notes for each design. That should help the reader. Finally on this page we are showing some technical information. We have been sent various items that identified crew duties on various types of aircraft. Those who are currently working as cabin crew, expecially on no frills airlines will be shocked at the level of service and the high standards that Dan - Air insisted upon. We can hopefully throw a great deal of light on the subject of Dan - Air's fabulous Cabin Crew. I would like to thank Sandra Mackness, Lorraine Geogheghan, Julie Delmore, Hilary Searle, Debbie Wilcos, Vivian Taylor, Heather Kaan, Janis Wood and Pat Martin - Who can always be relied upon to come up trumps
Several crew mambers can be seen on the
help up identify page
- these are generally pictures sent to us that people are looking for. It also helps keep our Dan Air Directory in fine shape. Why not head there to see if you can help!
1953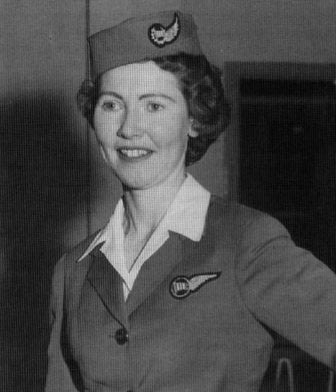 Joan Murphy was one of the airline's first Chief Stewardesses. There are no colour photographs of any of the uniforms for quite some time in our time line. It seems that this uniform was worn by all stewardesses (Dan Air did not employ male stewards until the 1980s) The colour we are told was Navy Blue. The shirt was white cotton and the look was complemented by white gloves and black shoes.
The Dan Air magazine from 1983 celebrating thirty years of flying had a mantage sketch of Dan Air aircraft and staff. The picture shows stewardesses in the pale blue summer dresses with slightly darker hats. You can see the larger picture by clicking on the small picture. If this is true, this outfit lasted well into the 1960s.
1965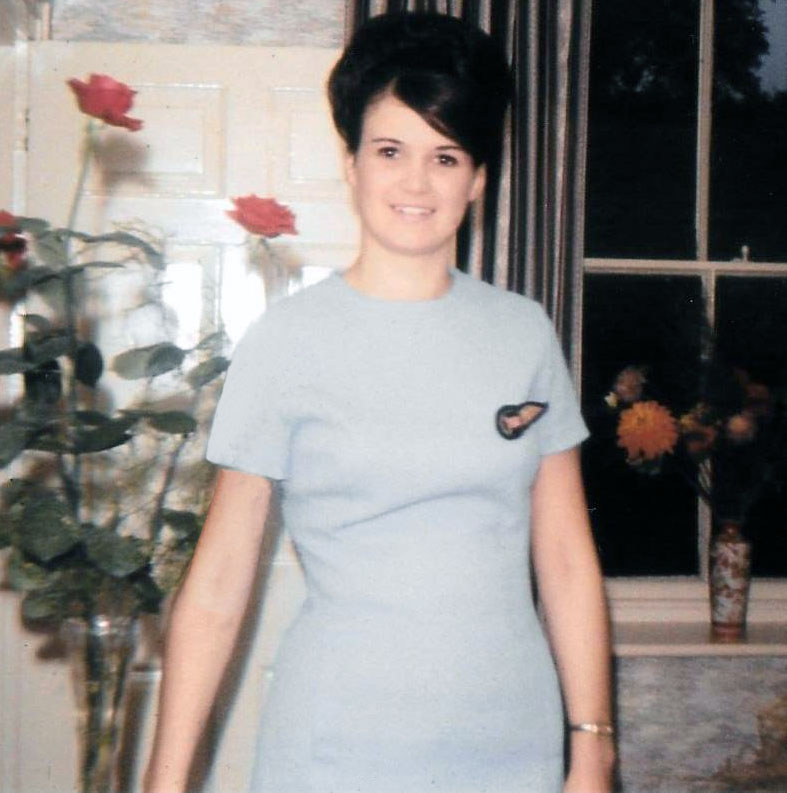 On the main picture Jean Broadbent is wearing the 1965 Summer uniform. Judy Jacobs who was made a fleet stewardess displays the Winter uniform, which we are told was a "Blueish charcoal colour"
1967-1969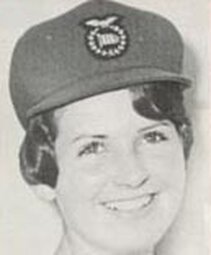 The 1967/68 uniform was still in charcoal blue. The only feature that had been changed it. seems was the hat.
1970-1973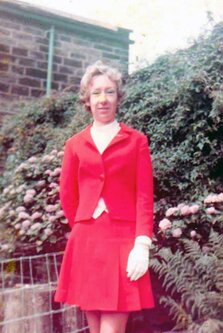 1970 saw the intorduction of a brand new uniform. The airline had decided to have a look unique to it's girls. We are not sure of the designer, but names put forward have been Mary Quant and Mansfield. This uniform was popular as it was very fashionable. Perhaps it was too fashionable as by the time it was replaced just three years later it had become out of style. The hat may appear to look black, but was in fact a dark blue.
1974-1976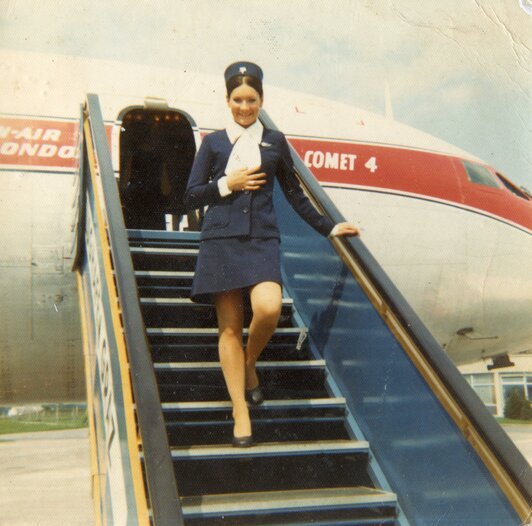 When the 1974 uniform was presented, it was saw the company revert to blue as the main colour. This time it was described as "French Blue" On first appraisal it could be seen as a classic design. However, of all the comments we have had - this uniform is the one that is constantly derided. Chceck out these comments!
"The white neck tie that we

had

to wear when the aircraft was on the ground was a nightmare. When you opened the door it flew in your face. As it did outside at the first hint of a breeze."

"Oh I hated that blouse. It was such a funny material. If you were in a hot country the hotter it got the more sticky the blouse became"

"The blouse was vile, if you were in the galley the big, flouncy sleeves were always dropping into something, food, drink, (Wine and Coffee being the worst)"

"I hated the skirt, it was an awkward length. neither a mini nor a knee length, I took mine up two hemlines and was brought into the office when I was spotted."

"The whole thing was horrible. I think it was crimpolene. If you were in Palma in July with that on with your tights as well, it stuck to everything, it never breathed."

"That blouse was never out of soak. You couldn't get half of the stains out of the arms, and there were many - it always dipped into things - We got dry cleaning tokens for our suits but had to do the blouses ourselves. I don't know if people officially complained, but I don't know of anyone who liked it."




I never liked any part of it - the sleeves were too baggy, the neck tie flew everywhere, the material was awful, I even hated the hat. I stitched a hair comb in the front and back to keep it in place. It flew off at gatwick and landed in a filthy puddle. I tried to steam the grime off with a kettle. It sort of worked but the hat was then mis shaped. I was brought in because of that, and told to be more careful as replacememts were expensive!"
1976-1978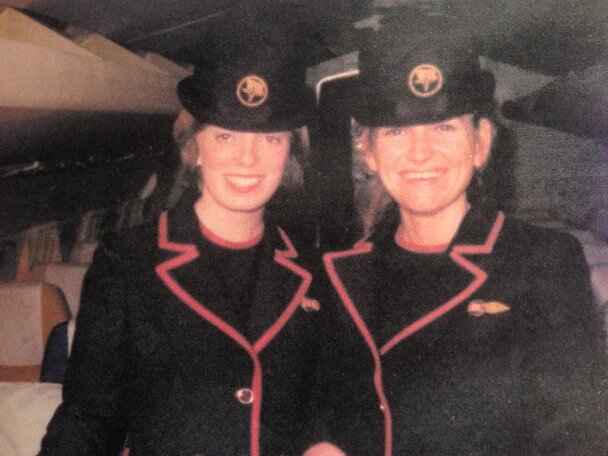 As much as the 74-76 uniform was critisized. The 1976 replacement was complimented. The staff had a choice of two colours with the blouse, red or blue. There was a short sleeved option for summer as well. The house of Mansfield came up with the design. Although the uniform looks black on most pictures, it was, in fact the darkest blue. By having such a dark blue the uniform matched the aircraft. One critisism came from one steardess who said "I always thought the had was a lit on the high side! I prefered the blue one that came after it. now THAT was a uniform." Other comments included
"I felt so prooud wearing that uniform. I even drove to work in the hat."

"I thought everything about that uniform was stylish. It fitted well and was cool in hot climates. The blouses washed well."

"I've still got mine. I can't fit into it mind you - But it still hangs beautifully on the hanger. My daughter tried it on and it still looked lovely."

"One of the girls from Monarch I knew came over to me at Manchester and said how she hated her uniform. She thought we looked like hostesses and that they looked like a walking banana."
1978-1986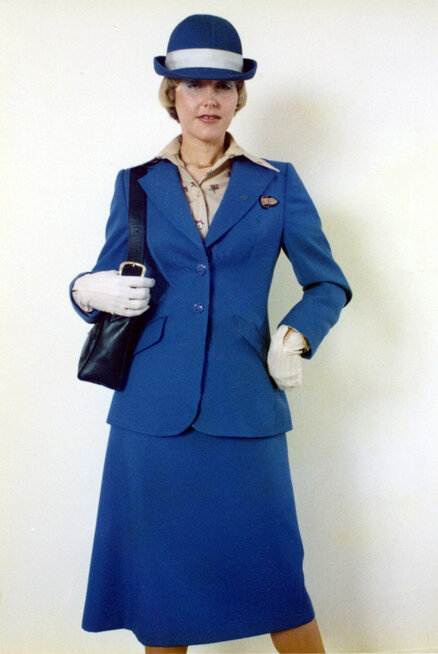 In some respects it's slightly misleading to say that this uniform lasted 12 years. But in many ways it did. There were slight changes to it, but the jacket, hat, skirt and hat stayed unchanged. Some of the girls preferred trousers, but they stopped being a part of the uniform in the late eightes. There were some changes too in the overcoat. The cream option was dropped in favour of the cornflower blue one that had always been one of the options. This uniform was called "Mix and match" at the time of its conception. The designers, the house of Mansfield had initially chosen a brown uniform. This was quickly shelved. Tank tops or jumpers were an option too. In 1978 the uniform was launched. The blouse and dress in lemon had the company's compass and flag logo as a pattern. Shortly after the girls began wearing it they realised that at normal washing temperature, the whole design 'ran' this in turn made the lemon background a rather dull colour. It was changed in 1979 to a pale lemon, available in a blouse or dress. The outsize collars on this lasted until 1983 when a new look was debuted. The 1985 more changes had been introduced. This time, a white short or long sleeved blouse complemented the look. Comments included.
This was my favourite of all the uniforms I ever wore

How I hated that hat

The coat was just awful - it buried eveyone who wore it

I felt ten feet tall walking through the airport with this on.
1986-89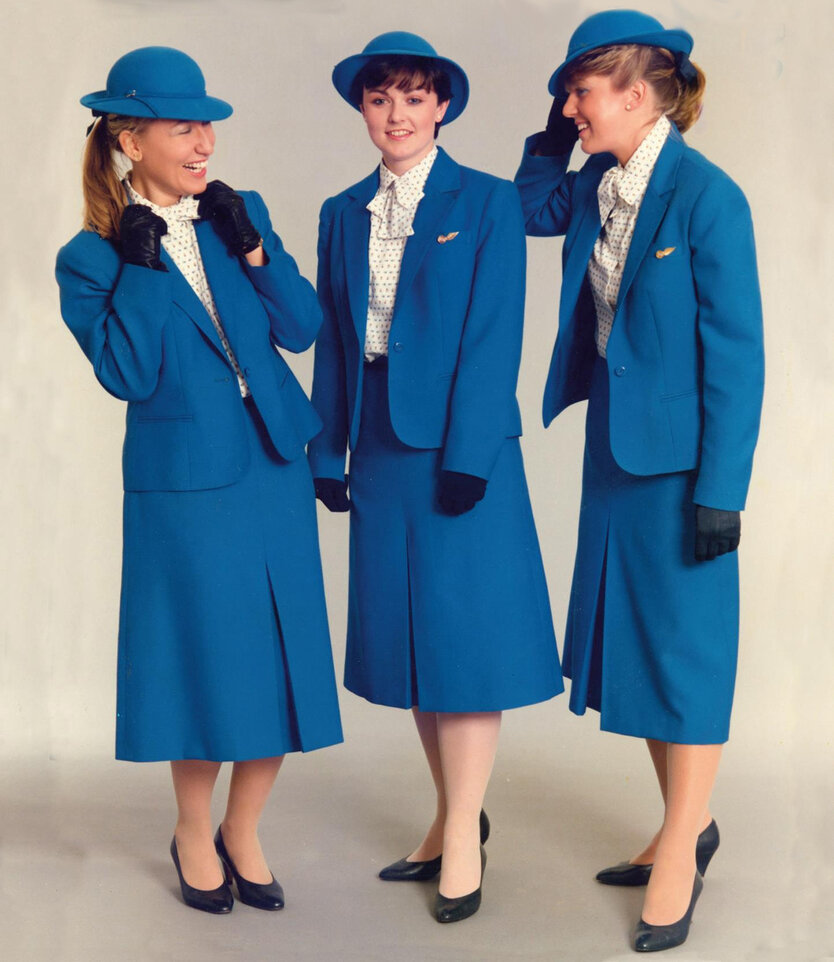 Once again the House Of Mansfield was called in to work on the design for a new look. The bowler style hat was dropped in fabour of a felt hat. Cornflower blue remained the colour. The uniform was more tailored. The skirt length had increased. the kick pleat at the front was also to stay. A new, dotted pattern appeared on long and short sleeved blouses.This was available as a Summer dress too. The tank top was changed to match the blue of skirts and jackets. A much neater bow was introduced which was allowed to be worn in four styles. Comments included.
Never liked the hat it was floppy and looked a mess if it got wet - which it did - A lot!

The blouse was cheap and nasty

The blouse was lovely - good quality cotton much better than what I wear now.....

The tank top was lambs wool - good quality

The uniform store was not the friendliest of places if you had ruined your hat - as I did more than once.
1989-91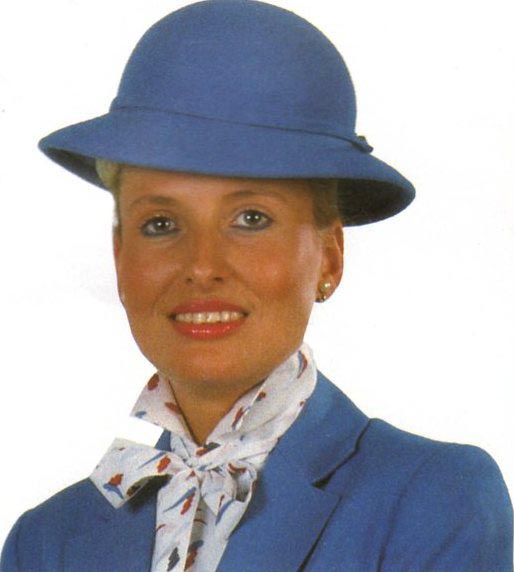 Very little changed in the 1989 uniform apart from a slightly lighter blue on the fabric. The main change was the introduction of a bright, bold print on the white blouse and Summer dress. Seen up close it can be seen to bear some resemblence to a bird in flight. The prnt fatured the red and blue that adorned the aircraft in the fleet. By now the airline wanted to present itself as a smart schedulted airline aiming itself at business travellers. The cut of the jacket left the 1980s giant shoulder pads out too. A significant streamlining in style had been achieved. By now men were working as cabin crew and a simple grey trouser balck blazer uniform designed. This saw a white shirt with company tie and pin as accessories.
Now that was a uniform

No matter how much I complained they wouldn't change that bloody hat

I put a little bit of eight on and they didn't have my size - I was told to make sure I fit in the skirt quickly

I think we looked better than a lot of our contemporaries.

I think the passengers liked this one - I was told by a few regulars who had noticed the change straight away.
1991/2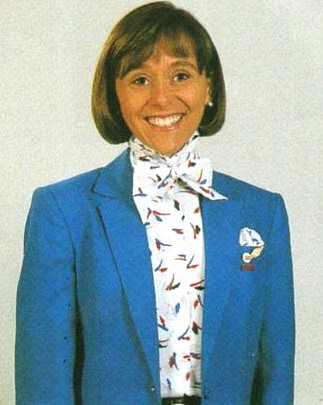 The uniform that came on stream in 1991 was hardly a change at all. The hat had been dropped, causing relief to some, but consternation to others. It is worth noting that ground grew who worked with Class Elite passengers wore a black uniform. All other ground crew had worn the same uniform as cabin crew. Except at Gatwick where the familiar brown uniform was worn.
The hat - thank God it was dropped

We were not given the option to wear a hat - were were just told to stop
Whilst we were looking at the pictures of the cabin crew and what they wore - it is worth also mentioning the hard work that they had to do with the airline. In a lot of cases those early flights were at very unsociable hours. To do the job when you did not live near an airport could mean reloacting to a place where one did not know any other people. Many did just that. The crew had to work long hours under a great deal of pressure. They were very well trained, not least in safety proceedures. They had to engage in training in water as well as in mock ups of aircraft cabins. Far from being just a waitress in the sky the crew would have to deal with cash and stock and to satisfy customs requirements. This would mean ensuring that bonded stores had to be sealed in readiness at the UK. On flights that were very short the airlines would add extra touches to lure customers. A full cooked breakfast on a flight of less than an hour from London to Glasgow was not an easy task for more than a hundred passengers. Add in a complimentary drinks service and a hot drinks service and you eally had to work fast. Some of the crew who worked in the 1960s often had to work several sectors in one day. A shift pattern that saw Gatwick - Jersey - Gatwick - Guernsey - Gatwick - Ostend - Gatwick was not uncommon. Dan - Air did commence long haul flights in the early 1970s. This would mean that crews would disembark at the US end and wait a few days for the next incoming flight to work their way home. Later on the company concentrated on European charters and schedules. On occasion this would mean a 5.5 hour trip to Eilat or Luxor with a turn around and working flight home. When one considers that crew had been at the airport for briefing perhaps two hours before a flight and after it returned for debriefing and cashing up, once can see that it was a gruelling life. That said, the crew were renowned for their spirit and their sense of fun. All the stories I have heard lament the passing of the airline and most pepple tell me that their days at "Dans" were the best of their life.
Let's have a look at some company documents to demonstrate just what they had to undertake on each flight. Viewing the documents will give the reader an insight into how much more cabin crew were expected to do than today. The standards were exceptionally high. Today it is not unusual to be handed a drink with the bottle inside the glass. Cans handed to passengers is normal on airlines like Easy Jet - this would never happen with Dan - Air - have a look at these and next time you fly - observe and you will see why, the secret WAS service.
BAC 1-11 CABIN SERVICE MANUAL