1970
The faithful DC3 and Ambassador carried on into the new decade. Although they numbered just one of each type. The Comet fleet had increased to 12 whilst the BAC 1-11 fleet had increased to four. The airline decided it needed to replace to DC3 and so the Nord 262 was evaluated. Sadly a Comet crashed into mountains at Arbucias in Spain with the loss of 105 passengers and seven crew. The charter market was now dominating Dan - Air's activites. 1970 saw the first year that Dan - Air had carried more than a million passengers in one year. The stranglehold of UK scheduled air routes carried on with very limited opportunities presenting themselves to independant airlines. Dan - Air had dropped some of it's domestic services, concentrating on the more profitable routes. If one considers the routes that Dan - Air had tried to establish. Carlisle - Gloucester and Bournemouth do not spring to mind when one is thinking of mass air travel. SImply put - independant airlines did not stand a chance. Many of them that were around at the start of the 1970s would not be operating at the end of the decade. By 1970 Rhodes had joined the Greek airports served by Dan Air charters. A fairly new type of package tour was beginning to become popular: Skiing. Very quickly destinations in Austria, Switzerland, Italy and Yugoslavia were found by Tour companies. This helped with year round utilisation of aircraft. Inghams and Neilson were heavy users of Dan - Air aircraft in this market. Crystal Holidays were interested in using Dan - Air on their North Atlantic services. As the Edwards Committee Report had suggested the year before; a "Second Force" UK airline would be given preference amongst other independants. Two airlines; Caledonian and British United were put forward. Caledonian had been flying for ten years and had a great reputaion for in flight service. It had been a major player with "Affinity Group" charters accross the Atlantic carrying more passengers that Aer Lingus, Sabena and El Al to the USA. It had been using very old DC 7c aircraft on these routes before obtaining second hand Boeing 707 jets in 1968. British United had been established a long time by way of a merger of several small and medium sized operators. It was not in a good financial position. The two airlines merged when Caledonian bought the ailing company. Now called Caledonain/BUA with the intention of becomming British Caledonian by 1973. The new airline would have seven Boeing 707 and four Vickers VC10 as well as BAC 1-11 jets for European services. It had been applying for several scheduled services which had been largely rejected. As it stood 90% of scheduled routes by a UK carrier were carried out by BEA or BOAC, this was about to change.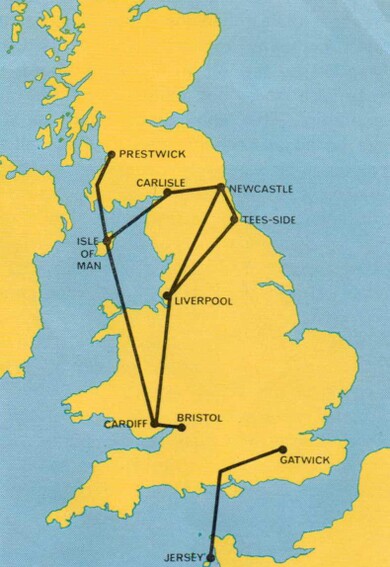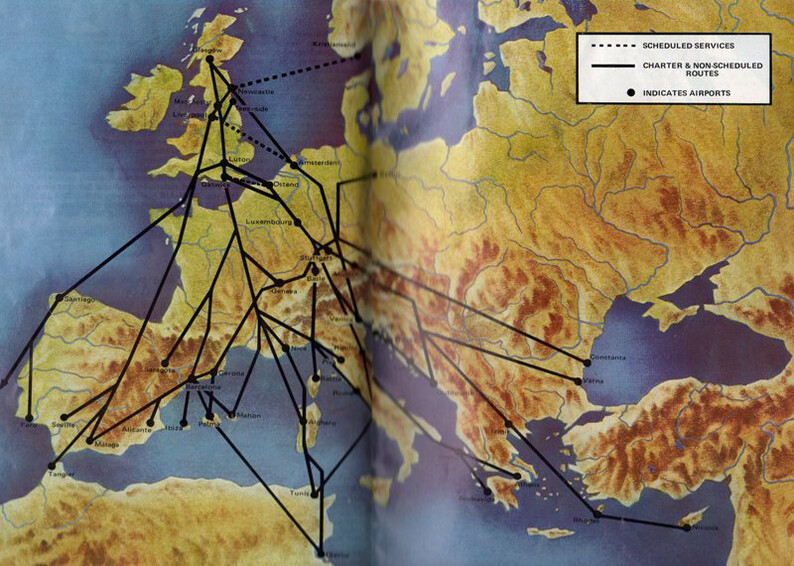 1971
The sole Ambassador in the fleet was the last turbine engined aircraft the airline had. Finally a replacement to the DC3 was found with the addition of the Hawker Siddeley 748. Dan Air had begun evaluating the Nord 262, and the British Jetstream, they were not suitable and, would later be returned to their manufacturers. Passenger numbers increased to 1,129,000, giving the company the largest number of passengers in a single year so far. Two more Comets were added to the fleet, bringing the total to 14. The BAC 1-11 fleet was also increased to 5 and an ex Pan Am Boeing 707 was acquired. This addition enabled Dan Air to offer maximum payloads of 189 passengers. They would now be able to compete with other UK carriers, mainly Caledonian on the "Affinity Group Charters". A large charter programme was started from Birmingham, carrying holiday makers to European destinations for Horizon Holidays Midlands and Lunn Poly. The Ambassador was phased out in September this year. BEA had started a charter division in 1969 called BEA Airtours. Started to counter balance BEA reduced presence in the holiday market. The company announced this year that it was going to replace it's entire fleet of Comets with Boeing 707's to enable it to compete on the North Atlantic trunk routes. Independant airlines instantly resented BEA Airtours as it seemed like the State owned airline wanted to not only restrict the independants from getting into the scheduled service sector, but now eat into their market without any restrictions. British Airtours also
was funded by the state. It was another carrier that had parents with very deep pockets. Great Universal Stores now had gained a major shareholding in Caledonian. Britannia was backed by The Thomson Organisation. Monarch Airlines had been founded in 1967 with financial backing from the mega wealthy Mantegazza Family who also owned Cosmos Holidays. Donaldson International Airways and Dan Air were two of only a few stand alone airlines who had no Tour Operator backing. Donaldson had been formed in 1968 and leased Britannia Aircraft. By this year they had started operating Boeing 707's leased from Pan Am to join the increasing number of carriers on the North Atlantic Affinity Charter operation.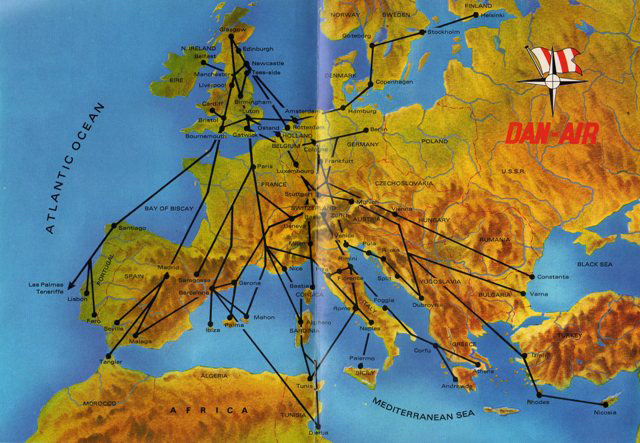 The 1971 Charter & Scheduled Network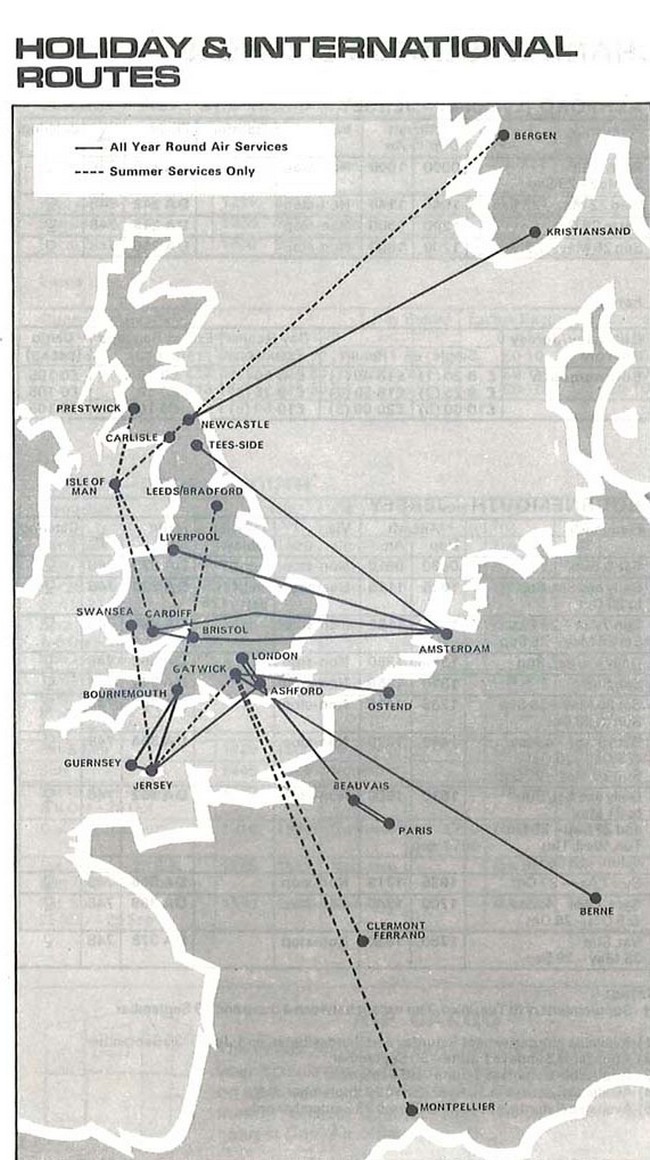 1972
1972 was a big year for Dan Air. The Comet fleet had grown to nineteen, they were obtained from BEA Airtours and Channel Airways. The BAC 1-11 fleet remained unchanged, with five models. A second ex Pan Am Boeing 707 joined the fleet. Early in February the company bought up the regional airline Skyways International. Their four HS 748s joined the fleet, a further two were acquired from BOAC taking the total to six. The purchase of the airline also saw it's routes integrated into Dan Air's network. Services to Montpellier, Beauvais and Clermont Ferrand were commenced. Skyways had flown them from Ashford in Kent - they were transferred to Gatwick. That wasn't without problems form the Ministry Of Aviation who were reluctant to allow Dan Air to make the transfer from Ashford to Gatwick. Dan Air called the MoA's bluff and an agreement was made. Meanwhile BEA Airtours continued to operated at a loss, as did the two state airlines BEA and BOAC. The Conservative Government decided that the two companies would merge the following year.
Davies and Newman went public with a floatation on the UK stock exchange. It raised £5 million and was able to use the funds to purchase more aircraft. This growth resulted in 1,741,000 passengers being carried. The Berne service was the first direct air link between the UK and the Swiss Capital. Dan - Air also made an announcement that it was planning to order up to six Boeing 737 200 aircraft in a 140 seat configuration for use on charter flights. That did not happen when the airline decided its flagship jet was instead going to be the Boeing 727. In Lancashire Albert and Ivy Roberts used their initial to form a Tour Operator "AIR" Tours. They had several Travel Agencies in the county and had branched out into Tour Operating. They used Dan - Air on all their charters. The company was to grow into a major organisation.
Horizon Holidays began a new concept in Package Tours. The brand, "Club 18-30" was launched. Horizon had been having difficulties integrating younger passengers with families and older travellers. The concept was to secure exclusive usage of hotels and flights for these travellers to destinations that would have particular appeal to the younger holiday maker. Benidorm, Magaluf and Tenerife became popular destinations. Dan - Air became the leading carrier on these holiday flights. The company was a headache for Horizon who had aways prefered to promote itself as an upmarket brand. Rowdy travellers disrupting the slow pace of many resorts saw an increase in fighting, accidents, missing passengers and bad behaviour on aircraft meant the brand did not sit comfortably with Horizon. It was put up for sale and snapped up by ILG Intasun - more about that in later years.
New services were:
Bournemouth - Birmingham - Liverpool / Manchester - Newcastle - 10th April

Luton - Leeds - Glasgow - 11th April

Swansea - Jersey & Newcastle Carlisle - Jersey - 26th May

Gatwick - Beme service started. 5th June

Bournemouth - Guernsey / Jersey 1st July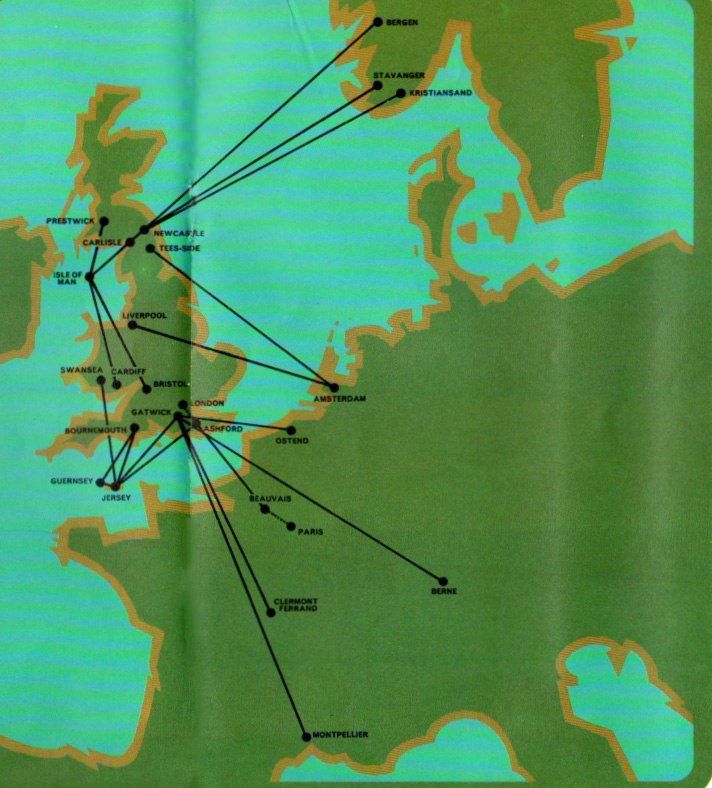 Above: Scheduled Services 1972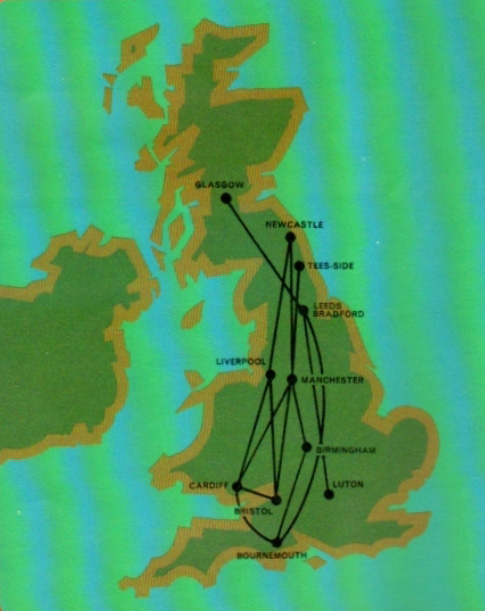 The Link City Domestic Network 1972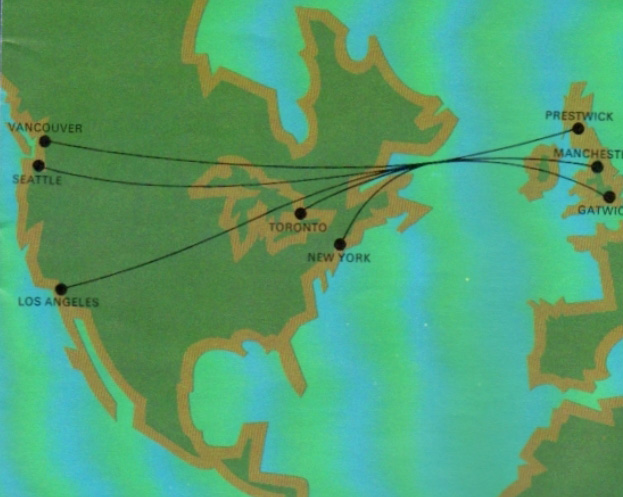 Transatlantic Charter Services 1972
1973
Dan Air's Comet fleet had now grown to a total of 22 aircraft. All of them were used on charter and IT market. For the first time the company carried over two million passengers (2,157,000). The HS 748 fleet grew to seven aircraft. These were used on the scheduled service network, including the Link City UK domestic routes. Dan Air became the first UK airline to introduce the Boeing 727 onto the UK register. The 727 (100 series) would be used exclusively on the IT and charter market. It's first revenue flight for the company was Manchester to Alicante on April 13th. They had to be adapted to suit the company's needs. These included adding extra emergency doors as the new aircraft would be carriying betwen 142 and 151 passengers. The aircraft also had new fuel tanks added to permit the aircraft to fly none stop to Tenerife from the company's Berlin Tegal base. The BAC 1-11 fleet was unchanged with five in service, two of which were based in Berlin. The two Boeing 707 aircraft were used on affinity charters across the Atlantic. Legacy carriers had opposed charters to the USA and Caledonian succeded in a US court case in allowing affinity group travel. The charters were aimed at getting groups of membership of the 'group' was capped at 20,000, and the travel agent would have their commission at a maximum of 5%. Groups sprang up on both sides of the Atlantic - 'Friends of Clan Albion', 'Anglo-Scottish-American Group', 'Anglo-American Families Association', 'Rose and Maple Amity Club', 'Paisley Buddies', 'British American Club', 'Canadian US Pacific Association' were just a few.
Passengers were supposed to have been a member of the "Group" for a least six months, making a supposedly legitimate booking at a discounted price. However, the scheme was wide open to fraud. Groups caiming to be "Bird Watching clubs", "Ballroom Dancing Associations" and "Car Appreciation Groups" were not uncommon. Travel Agents were known to tell people to 'Form a club' before making their booking. Many UK airlines took part in the Affinity charters. Some carriers were more strict than others at adhering to the rules. What travel agents didn't not always say was that staff patrolled airport check in queues to route out the bogus clubs. Some were denied boarding. Their airline was fined if a passenger was deemed to not qualify to travel.
Dan Air had to pay $100,000 to the American Authorites for violations.
Most airlines faced a similar charge.
As the charterer was responsible for paying for the aircraft's entire capacity regardless of whether all seats were filled, there was a great temptation to let people, who were not eligible to travel under the affinity group rules, take the seats of other, eligible travellers who had cancelled their bookings. As a result, there were numerous occasions on which the airlines got into trouble with the authorities on both sides of the Atlantic. This made the system increasingly unworkable.
The ATLB had been abolished and made way for the CAA (Civil Aviation Authority) in 1973 and from this year the CAA made a new regulation concerning Affinity Charters. From now on passengers did not need to belong to one of these groups. If passengers wished to travel on a charter they could. Provided it was an ABC (Advanced Booking Charter) flight. The rules required passengers to book with at least 90 days notice. Affinity charters were still operating but with this new system the need was diminished.
This year saw Dan Air launch a
new "Coach Air Service" This was the cheapest way of getting between the UK and French capitals. Passengers would board a coach at London's Victoria station, travel to Ashford in Kent where the passengers would baord a Dan - Air flight. The flight to Beauvais was just a short trip. Upon landing passengers boarded a coach which would take them to the centre of Paris. The cost of the whole trip was £11-05. The year was also the year of the Arab Israeli war. The Saudi's imposed restrictions on oil and there was a Worldwide fuel crisis. Dan Air's and most other airlines saw massive drops in passengers as people could not afford the cost of a holiday. The UK economy had suffered as a result and strikes saw the economy hit harder. Power cuts were the norm. Finally, UK public sector workers were reduced to a three day week. Holiday bookings suffered but despite this
Dan-Air's production of revenue passenger-miles in 1973 was 2,200,000 and was up 26-8% on the 1972 total. It was 78% over that of British Caledonian and 110% of that of Britannia Airways. In terms of passengers it was Britain's second-largest carrier, with a total of 2.22 million compared with the BCAL total of 2.1 million and the Britannia total of 1.95 million.
New routes:
Tees-side added to the 'Link City' network. 1st March

Tees-side-Amsterdam service started. 2nd April

Ashford (Lympne)-Jersey services started. May 1st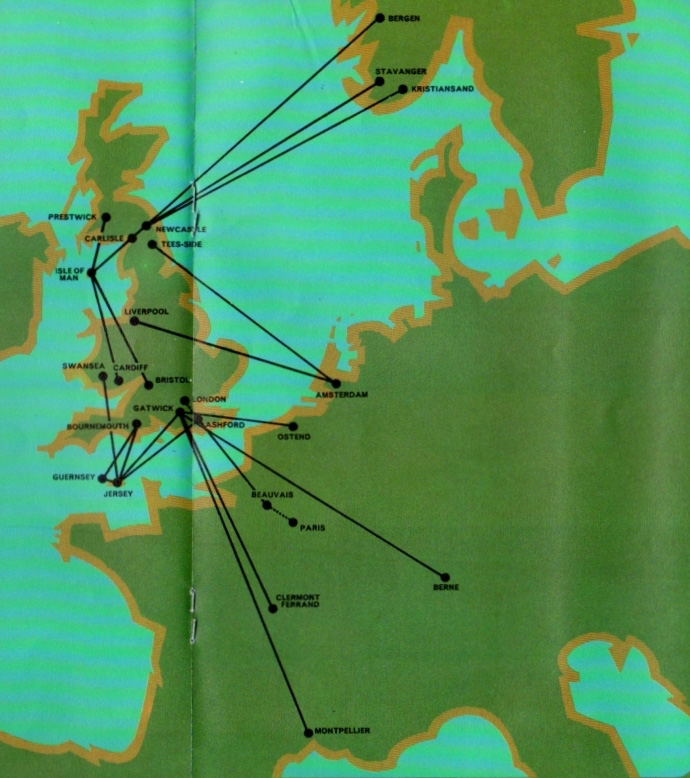 The 1973 Scheduled Network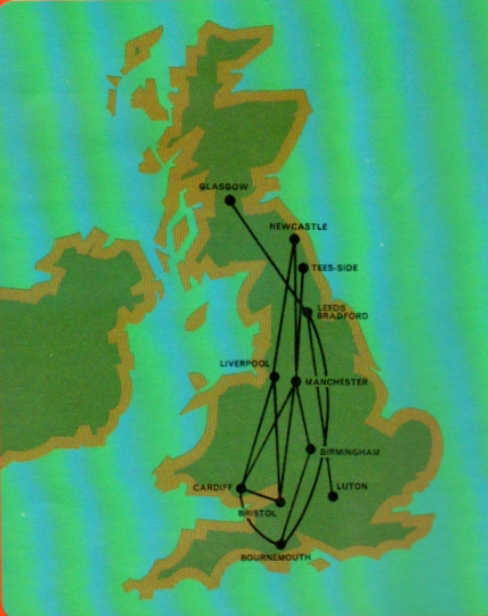 UK "Link City" Domestic Network 1973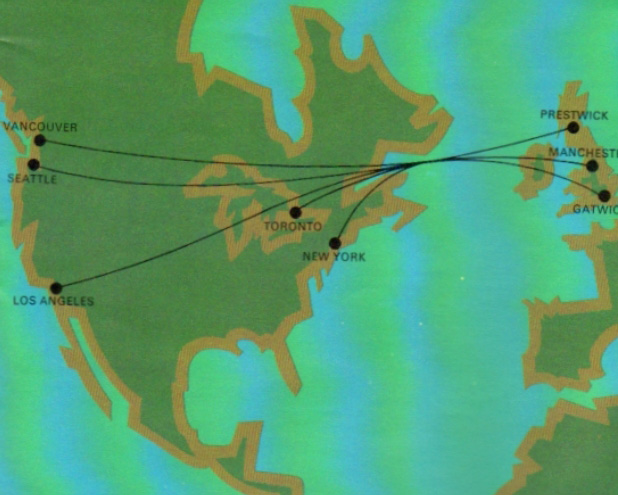 Affinity Charter Network 1973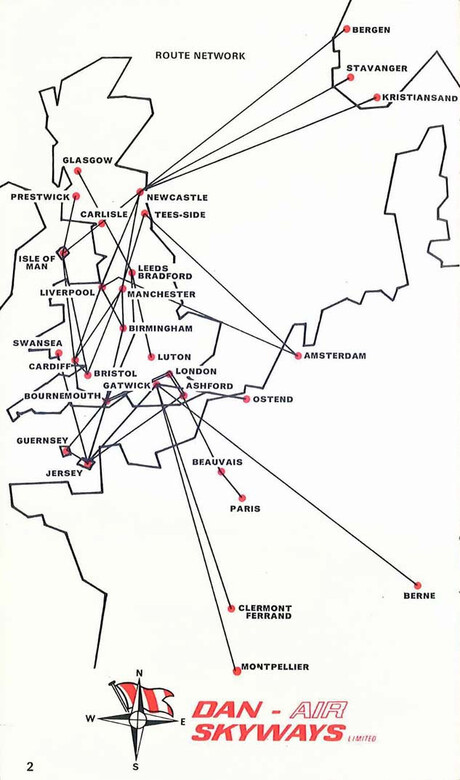 1974
Comet aircraft were, for the first time, reduced in number. This was partly due to the fuel crisis the previous year. The Comets were notorious gas guzzlers. By 1973 it was noted that a Comet carrying 119 passengers burned as much fuel as a DC10 carriying 345. However, on some international scheduled routed Dan - Air began using Comets, as well as the introduction of a Comet jet on the Gatwick - Newcastle service. The Leeds - Luton service was dropped. In it's place, a Leeds/Bradford - Bournemouth servce was introduced. In total 2,193,000 passengers were carried. It's largest number to date. The HS748 fleet remained the same with seven models and the Boeing 727 number was increased to five. Oil industry charters were to become a large part of Dan - Air's operations, And so, a HS 748 was based permanantly in Aberdeen to serve the Shetland and Orkney Islands. New Affinity routes included Hong Kong which was a first for the company after they had secured CAA approval. Jetave was the largest charterer of Dan - Air aircraft on Transatlantic and now Worldwide ABC flights. The Newcastle - Isle of Man was restarted after an absence of several years. One of the biggest shocks in the Air Transport world was the collapse of Clarksons and Court Line. The company was managed by maverick executive Tom Gullick. He had used Dan Air extensively with his programme, as well as Court Line which was the rebranded name of Autair. Clarksons were hell bent on dominating the Package Tour Industry. It is widely believed by Clarksons that they would be able to see off all competition. When that was complete the company could raise prices to an affordable level. In some respects it worked. Many DID go out of business. The company worked along the lines of "Pile them high and sell them cheap" Something never attempted on such a grand scale. Gullick had built hotels in Spain, imported donkeys for holidaymakers to ride on and even obtained an egg farm when local firms began charging too much. Not many people actually foresaw what was happen. In a very short time Clarksons had become the second largest tour operator in the country. Despite the company losing money, and facing bankruptcy, Court Line bought Clarksons in 1972. The formula remained the same even during the Arab Israeli War, the UK three day week, devaluation of the pound, and the fuel crisis of 1973. Horizon Holidays had suffered and was by 1974 in a mortally wounded state. AIH, the parent company of Clarksons bought Horizon and jobs were safe. The two companies could not have been more different. Horizon with a first class reputaion and Clarksons with a poor brand image. A new real time computer system was installed with great fanfare. It turned out to be hopeless at just about everything it was anticipated to do. Invoices were late and passengers were actually returning from holiday without having paid anything. The subsequent chasing up of funds was costly and time consuming. Still Clarkson's carried on. Undercutting all competitors. Airlines were so desperate to have Clarksons charters that they bought aircraft solely on the provision that they would be chartered by Clarksons. There had been several attempts to buy Clarksonos and all had been resisted. Court Line bought the firm in August 1973 for a nominal £1. With this they obtained an in house tour operator, all the hotels and shares that Clarksons had in all it's companies. It also inherited it's liabilites. Despite all of this the group acquired brand new, state of the art, 400 seat Lockheed Tristars and began flying them to European destinations. Something never attempted before. the group then purchased ATLAS which was a consolidating company that allowed customers to be able to purchase charter flights in many combinations, bypassing many of the UK regulations. It all came crashing down in August 1974. In the middle of the Summer Season. Dan Air and other companies flew an estimated 35,000 stranded passengers home. Many thousands more who were yet to travel would lose out. The Secretary of state Peter Shore was critised for "Hiding behind the CAA" and Tony Benn was mauled for misleading people with a statement to the house saying that Nationalisation of the parent companies' ship broking business would secure business. Dan - Air was also hit because it carried many passengers on Clarkson's Holidays charters.
NEW ROUTES
Newcastle-lsle of Man weekend service started - 14th April

Cardiff - Bristol - Amsterdam - 14th April

Twice daily Gatwick - Newcastle - 29th April

All cross channel flights were transferred from Lympne to Lydd 31st April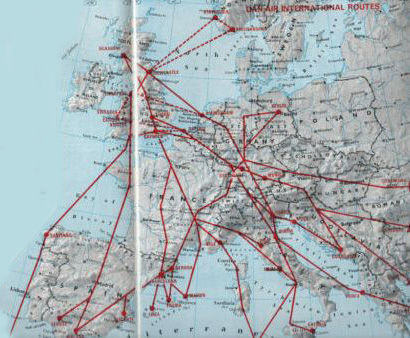 International Charter & Scheduled Services 1974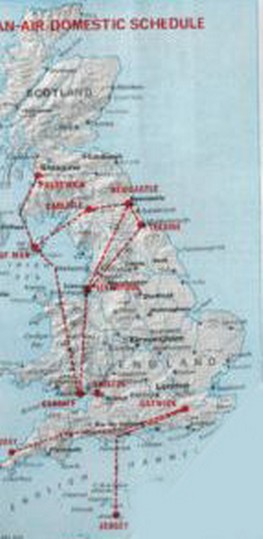 UK scheduled services 1974
1975
More Comet aircraft either rejoined the fleet or were purchased, bringing the number to 19. There was a major acquisition of BAC 1-11s seeing the fleet swell by six aircraft to 11. They were purchased from Zambia airways and Court Line. The latter having dramatically collapsed the year before. Although IT work was lost by the Clarkson's failure. Lunn Poly siezed the avaialble IT trade and chartered more Dan - Air Aircraft. The Clarksons collapse was followed by the introduction of the voluntary ATOL scheme. Tour operators would pay into the scheme, the funds would then be available if any airline or Tour Operator collapsed. Initially it was suggested all companies pay the same. But in a later agreement smaller Tour Operators were enabled to pay less. It would also mean that Tour Operators would have to give the CAA access to their accounts. If a company did not have a sufficiently good set of trading figures, licences would not be given until the company had an injection of funds. That system is still in place today. The government also set up the Air Travel reserve fund. That fund was to be repaid by Tour Operators with a 1% levy on all package holidays. The scheme was also extended to all ABTA travel agents. Harry Goodman had set up a company called Sunair in 1966. It had purchased Lunn Poly which it then sold to Thomson. Eventually he sold Sunair to Cunard. His next move was to start a budget brand Tour Operator called
Intasun
. In it's first year Intasun carried just 4,000 passengers. Goodman also sought to capiitalise on
the crash of Clarksons / Court Line.
He had had two jets on standby and used them to pick up the pieces of Clarksons' failure. By this year he had carried 50,000 holidaymakers and made a profit of £300,000. His operation was similar to Clarkson's in as far as he wanted to sell holidays cheap. He had based his business on high loads of aircraft. He mainy used Dan - Air. The laws were again relaxed a little by the CAA. Now Tour Operators did not have to charter a full aircraft. As long as the airline had the licence to fly on a particular day and time it could sell seats as ful aircraft or in blocks to multiple tour companies. Many Tour Operators took advantage of this. If, for example a Dan Air Boeing 727 had 141 seats and Ellermann Sunshine chartered it to fly Palma with a request for 100 seats each week, then 41 were available for other Tour Operators to fill. Intasun often waited until all the charter flights had been completed and then filled up the available space at a reduced rates. Where it did charter whole aircraft it did so on late night flights that were cheaper to fly as landing and take off fees as well as aircraft parking charges were lower. The arrangement worked well for Dan - Air. Other companies using Dan - Air included Cosmos, Exchange, Inghams, Neilsons and a newcomer on the block; Airtours.
Three Viscounts were leased or purchased and the HS 748 fleet increased to 9. In total 2,582,000 passengers were carried in 1975, a further year on increase. Following the increase in passenger numbers Dan - Air was able to offer pure jet services on many of it's scheduled services, most notably the Gatwick to Ostend and Jersey services and the Newcastle - Bergan route. The Newcastle to Kristiansand route expanded to a daily service, as did the Gatwick - Berne service.
New Routes
Tees Side - Isle Of Man - 24th May

Aberdeen - Isle Of Man - 24th May

Gatwick - Isle Of Man - 24th May

Gatwick - Perpignan - 1st June

Gatwick - Belfast (Cargo) 1st June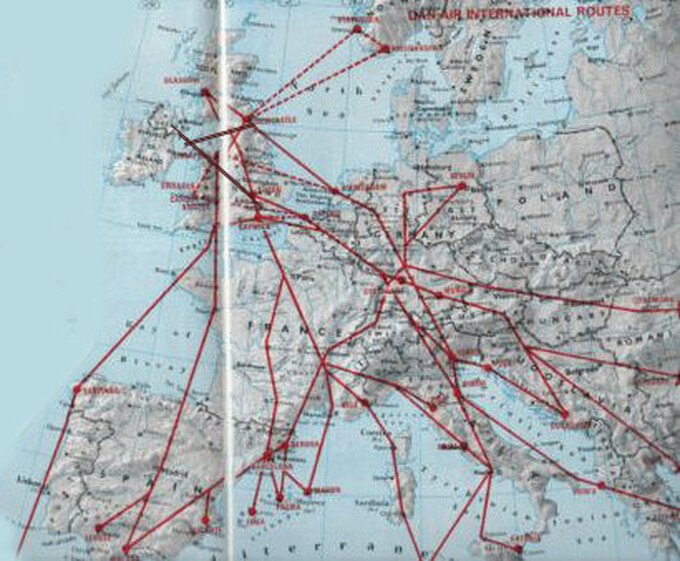 1976
A total of 18 Comet were flying in Dan Air colours in 1976. they were complimented by 14 BAC 1-11, 6 Boeing 727 (up one) Four Boeing 707 and 11 HS 748. Together those aircraft carried a record 2,846,000 passengers. Early in January the second engineering base was opened at Manchester. It would service the company's HS 748s and BAC 1-11s. British Airways which had been formed in 1973, following a merge with BOAC and BEA continued to protest at any new route applications the independants applied for. The new government had relaxed some of the aviation legislation. Finally,under pressure abolished the minimum fares on charter flights was abolished. It had been tried with success in previous years over the Winter programme with a slight reduction in fares. Now there was no minimum all year round fare on any route. Of course all Tour Operators were bonded with ATOL and ABTA and all airlines were licenced with the CAA so no one foresaw any problems arising. The new rules did not apply to discounting. If a holiday was advertised in a brochure at, say, £70; it could not be reducted at any time that season. Dan - Air's scheduled service network grew, but the charter division saw substantial growth with Israel added a regular destination. Two new initiatives emerged from the new laws; Whilst Tour Operators were not allowed to discount on brochure prices, the first innovation saw "Allocated On Arrival" accomodation - The Tour Operator could sell holidays to a destination at it's agreed price. Tour Operators could then, as the name implies, put guests in hotels that had spare capacity. This could be a higher star rating or a lower one. Lucky holiday makers could find themselves with a holiday that could cost a great deal more. They would only find the name of their accomodation at the destination airport. If they did not know where they were staying, how could they know if they had been given a discount or not? This led to a huge boost in Dan - Air's charter flights. The second, equally innovative idea was "Seat Only". This was the one ruling that worried that National carriers the most. Until now, only flghts that operated as a scheduled service could sell flight only tickets. All charters had to offer accomodation. As the 1970s had progressed people became more affluent and had started to purchase holiday homes, time shares and began renting privately through newspaper lets. To get around this, the Tour Operators handed out accomodation vouchers with these seat only deals. The accomodation provided was of the lowest standard. Usually in hostels or shared dormitories. Only on a few occasions did people actually use them. One person complained officially that the accomodation provided did not exist he was provided with a refund. The small print on bookings and brochures pointed out that the accomodation was poor and it was entirely up to the ticket holder if they used it or not. British Airways reacted furiously. They saw it as further erosion of their territory. British Caledonian had returned to the charter market following the substantial downturn in it's own scheduled network in recent years. Caledonian had spent the last few years boasting about it's own service and rubbishing charter carriers. Some of B Cal's routes had become unworkable, in particular it's Tripoli service. Now it wanted a piece of the charter market again. In Dan - Air's case further progress was made with the awarding of a Ministry of Defence contract from Gatwick to Gibraltar.
New Routes
Bristol - Cardiff - Leeds - Glasgow service commenced with HS 748s - 6th January

Boumemouth - Dinard service commenced - 17th April

Carlisle-Jersey service began - 18th April

Newcastle - Stavanger service opened - 28th May

Gatwick - Perpignan and service started - 20th June

Gatwick - Kristiansand - service opened - 20th June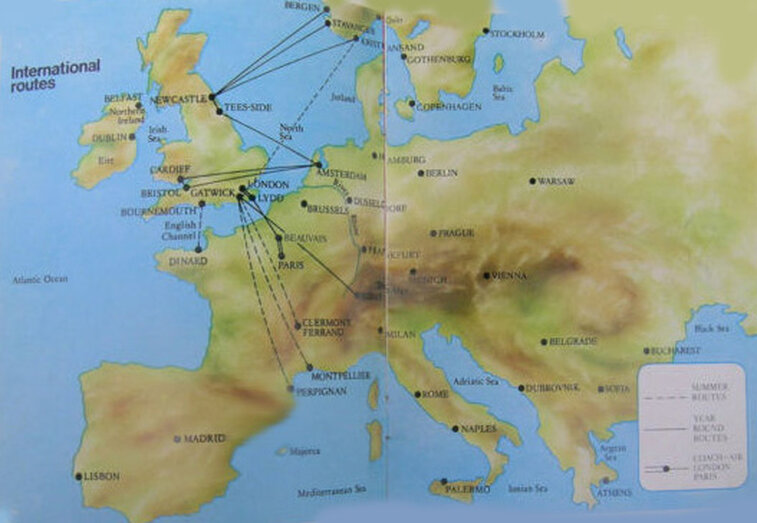 European Scheduled Services 1976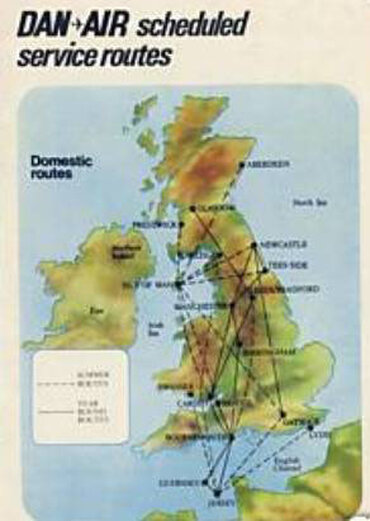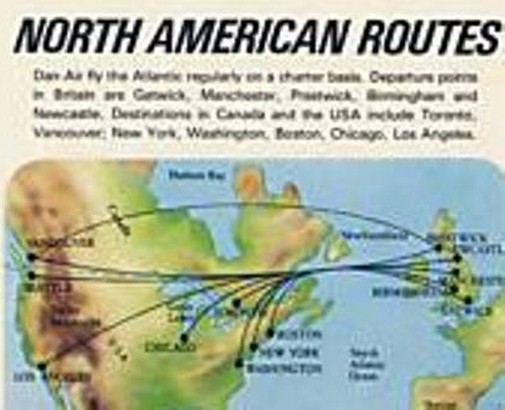 Left: UK Scheduled Services - Right: Transatlantic Services
1977
For the first time the company carried more than three million passengers. (3,591,000) The Boeing 727 had proved to be popular with passengers and the fleet had now grown to eight of the type. The Boeing 707 fleet also contunued to grow with an extra model purchased, bringing the total to six. 14 BAC 1-11, 17 HS 748 and 17 Comets making up the fleet, now totalling 61 aircraft. Fred Newman had decided that the Boeing 707 did not have a long term future with the airline. Most of them suffered regular technical problems. The advance booking charters hads started to decline. Many of the 707s were operating cargo flights. They were fuel thirsty too. They were beginning to become obsolete.
Dan - Air was now established as a successful scheduled airline and was able to apply for routes with sound financial backing. As UK MEP's and their delegation had to commute it was logical for Dan - Air to gain a foothold in that market. Dan - Air was successful with it's application for a Gatwick - Strasburg service. On the Domestic front, a new service linking the Midlands airports of Birmingham and East Midlands to the Isle of Man. The Isle of Man was well connected to the UK mainland thanks to Dan - Air. Over the years more and more airports were added to the Isle of Man network.These flights provided an important link to both holidaymakers and the many business people working in the Islands financial sector.
Sadly, one of the fleet's Boeing 707's was lost in Lusaka whilst on lease to I.A.S - six people died in the accident. There had been a further sterling crisis in 1976/77. Bringing misery to the airline industry who famously operated on very low margins. The Tour Operators were forced to impose surcharges on holidaymakers. The CAA reacted by saying that they were forbidden from issuing surcharges after tickets had been issued. That didn't stop them adding surcharges on holidays after they were booked. Tickets were usually issued six weeks before travel. The CAA
also claimed that the surcharges had been the result of Tour Operators cutting prices too aggresively. They anounced that they were considering reintroducing minimum pricing. They said shortly afterwards, that they had deferred judgement on the matter.
Tour firms thenwere forced to petition the Banks to ask for an extension of how far in advance they could purchase foreign currency. The CAA rejected their requests. Cosmos holidays claimed that the rich - poor and the poor - rich swing had altered. Now they said that bookings of the upper and middle classes had dropped by 10%, while booking from the blue collar workers were up 40%. Cosmos saw a gap in the market and announced, with great fanfare, a new feature. They said "All holiday costs including deposits would be returned if a customer was made redundant". The public reacted positively to Cosmos' offer Ensuring a surge in their bookings. Cosmos' own in house airline Monarch was a fairly small airline in terms of fleet size.
It consisted of just three Boeing 720s and four BAC 1-11. It was not in a position to carry all these extra people. Cosmos had to charter many more aircraft and they chose Dan - Air as their preferred airline.
Meanwhle Intasun and Airtours continued to see their own businesses grow. Laker Airways recently acquired Arrowsmith Holidays and a considerable amount of it's booking went Dan Air's way too, as Laker Airways had a relativelysmall fleet. Other regular charterers included Ellerman, Inghams, Lunn Poly, Owners Abroad, Neilson, Jetsave and Horizon Midlands which had now been renamed Horizon Holidays. This was a separate company to the original Horizons. It had been set up by Vladimir Raitz who had founded Horizon. It survived the collapse as it was a different entity.
Gatwick - Strasburg - 1st Apri

Bristol - Cardiff - Cork - 4th April

East Midlands - Birmingham & lsle of Man . 21st May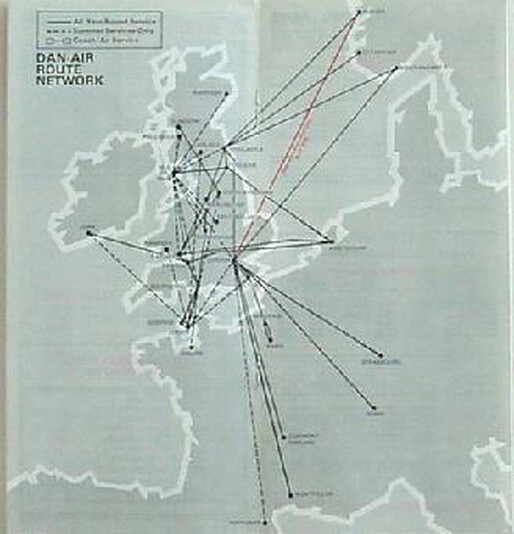 The whole network in 1977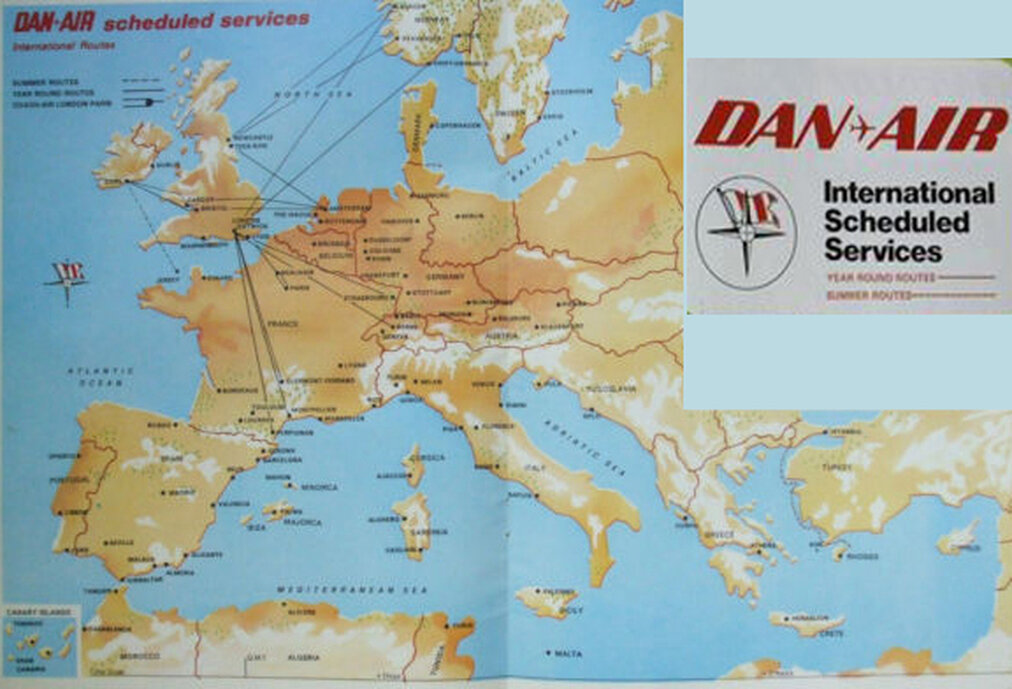 Charter flights are shown with a black dot.
1978
1978 was Dan Air's Silver Jubilee year. It was a bumper year in terms of passengers carried. For the first time in its history more than four million passengers were carried (4,010,000). The Comet fleet was fast becomming obsolete and a gradual phasing out was commenced. Still, 13 of the type carried on working on both the scheduled and charter networks. Dan - Air used a system that each aircraft type in the fleet would operate independently of each other. Their costs could be analysed separately. It was apparent that a replacement for the Comet had to be found.
The BAC 1-11 fleet had grown in size to 14. The 1-11 fleet consisted of the 200, 300, 400 and 500 series. This was seen as a great benefit - Dan - Air could offer Tour Operators varied layouts with the 200 series seating 89 passengers with increasing payloads up to 119 on the 500 series. The Boeing 707 was now also slowly being phased out with one being leased to Air Malta the year before. There had been a further decline in Affinity (ABC) Tours. Laker Airways had been awarded licences to operate low cost transatlantic scheduled services, as had British Caledonian. This meant that Dan Air were not in a position to compete. They saw no reason to attempt to enter the scheduled long haul market. The oil industry work had grown substantially, accordingly, the HS 748 fleet had grown to 19 and they were widely used in the Scottish Highlands. They were also used extensively on low density routes throught the domestic and international networks. The Boeing 727 had become the flag ship of the fleet with aircraft being based in Berlin as well as in the UK. Bases at Luton and Manchester were growing. The Unfair Contract Terms act came into force this year. The law was resisted by the operators who had always included exemption clauses in their terms and conditions. This covered all external suppliers, such as airlines, hotels and transfer coaches. If a person died as a result of fire or a coach crash the liability was passed onto the Tour Operator. The CAA also announced new measured designed to please consumers , they would also displease Tour Operators. Firstly Travel Agents were no longer given restrictions on travel incentives. From this year they could offer things such as Beach Towels, Bags, and even sun cream as an incentive to entice holiday makers onto one firm or another. The tour operators would provide these incentives. The other was to be far more wide reaching. In July of 1978 it gave approval for a Danish Tour Operator, Tjaereborg to start selling directly to UK customers. For the first time people could book an international holiday without visiting a travel agent. A huge TV campaign followed providing a telephone numer to call for a brochure. Once the customer had chosen their holiday they could then phone the call centre at Tjaereborg who would advise on price and availability. Travel agents had traditionally sold on behalf of Tour Operators with a commission of between 10 and 15%.
It's owner, Elif Krogagor, also owned his own airline; Sterling. It sold 600,000 holidays a year to Scandinavians and Germans and was now attempting to take a share in the UK market. It was quickly followed by Swedish company Vingresor which had cornered about 40% of the Swedish market. The new concet was quickly accepted by UK consumers but the industry was not so keen. Some of the flights were flown by Dan Air so they were happy. The Touor Operators in the UK were furious and a row quickly ensued. Appeals to the CAA fell on deaf ears. Initially tour operators were worried that these direct sales companies were certain to take some of the business from the established UK Tour Operators. Initially they had been caught unaware, and very quickly it had to have a similar operation of their own. Portland Holidays, an established company within the Thomson Group began direct selling of holidays. They had to work hard to keep their market share.
Portland had been a charterer of Dan - Air aircraft and the airline would have to wait to see if they would be using as many Dan - Air aircraft as they had in previous years.
In a very short time it seemed there was indeed enough room for these two types of Tour Operators. The travel giants didn't see it that way. Vingresor was quickly bought out by Thomson and Tjereborg was swallowed up by Owners Abroad in 1987. Harry Goodman's ILG and Intasun continued to carve a sizeable market. Dan - Air's
Commercial Director Errol Cossey and Chief Executive Martin O'Reagan had being trying to get Fred Newman to place orders for the Boeing 737 200 Advanced. This would have allowed Dan - Air to leap frog over rival Briannia who operated the 737 200. Newman rejected repeated appeals. Crossley and O'Regan then joined forced with Harry Goodman. The three carved out plans to launch a new airline. Several of Dan - Air's staff were poached including Chief Air Stewardess. The commenced operation this year with a Single Boeing 737 200 Advanced with more on order. They were small compared to Dan - Air but it was to be a major headache for them in later years.
New Routes
Gatwick - Bergen- Commenced - April 1st

Gatwick - Jersey Commenced - April 15th

Bournemouth - Isle of Man Commenced. May 27th

Jersey - Cork - Commenced May 27th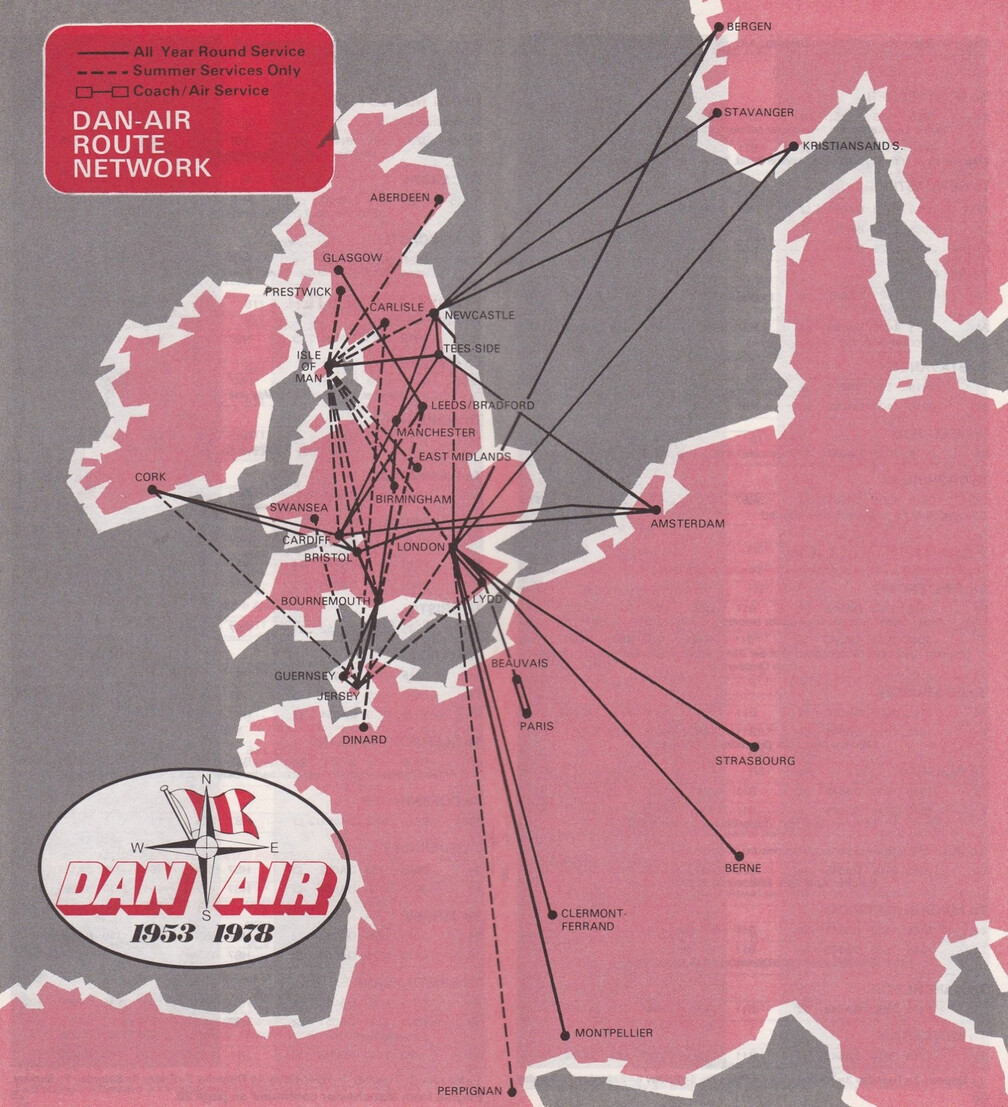 The 1978 Scheduled Service Network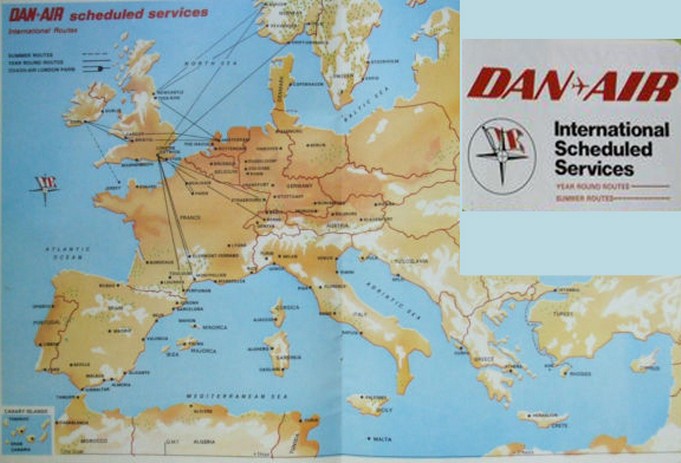 Charter destinations shown with a black dot.
1979
The phasing out of the Comet was almost complete with just seven remaining at the start of the year. More would be retired as the year went on. The BAC 1-11 fleet grew by one model and two Vickers Viscounts were obtained, primarily for use on the Channel Islands Services. Just one Boeing 707 was in the fleet in 1979. Altogether 21 HS 748s were flying and the flagship Boeing 727 stood at eight in total. Several of the directors of Dan - Air had left the company to start their own airline - Air Europe the year before. Dan - Air's chairman reluctance to purchase new aircraft was not a good move. Despite the changes in the board room and a new airline operating on it's doorstep 3,591,000 passengers were carried. A new agreement with Intra Airways was signed allowing each airline to use each other's aircraft on the Carlisle, Staverton and Swansea to Jersey and Guernsey. Tragedy struck on 1st July when HS 748 G-BEKF crashed on take off. The aircraft overran the runway and crashed into the sea. 2 crew and fifteen passengers perished in the freezing waters. The sole cabin attendant was awarded in the Queen's Honours List for helping to save the lives of 29 passengers. By the end of the decade people were travelling further and more often. It was also clear that people were now opting to take self catering more small hotel holidays. People were more comfortable eating local cuisine in restaurants of their choice. The role of the in resort representatives was changing as well. People were becomming less reliant on them.
Smaller Tour Operators, offering a more personalised service were complaning that the giant companies were deliberately trying to undercut them with huge, loss leading discounts on their holidays. The smaller companies could never compete with them. Dan Air were being chartered by more and more of these smaller companies. It was vital that they retain their working relationship as the entered a new decade.
New Routes:
Gatwick - Dijon - Commenced May 1st

Newcastle - Birmingham - Isle of Man - Commenced May 23rd




Gatwick - Aberdeen - November 1st (Taken over from British Airways)

Gatwick - Toulouse - December 16th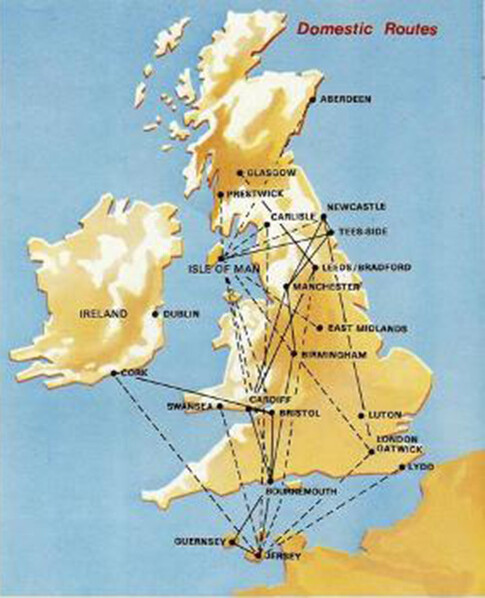 The Domestic Network 1979
International Scheduled Services (Charter flights shown with a black dot)