1990
In a record year Dan - Air carried 6,276,000 passengers. 4,472,000 on charter flights and 1,804,000 on Scheduled Services. They had a fleet of 51 aircraft that had flown 68,903 flights. Of those 35,560 were charter flights and 34,343 were scheduled flights. In terms of it's network, all flights covered 72,666,000 aircraft km. Forty scheduled Service destinations had now been added to the network and in total 220 airports had been visited.
More HS 748 aircraft were sold bringing the total in servce to nine. The BAC 1-11 fleet stood at eighteen. The 1-11 was beginning to be a problem. Some of the older aircraft would not meet the noise reduction targets of the EU. They were also not fitted with CAT III technology. Some were fitted to CAT I. Although this was not thought to be a problem on charter routes that had generally good weather. When they were placed on Northern European Scheduled Services some of them were problematic if weather was bad. The airline's strategy was to replace the aircraft and consolidate the fleet on just two types. The Boeing 737 and the BAe146. Ten Boeing 727 were used whilst the Boeing 737 increased to twelve. One Airbus A300 had been sold and the BAe146 had increased in number to five. Air Europe continued it's campaign to smear Dan Air and tried to finish the company off by saying that it would not be chartering any Dan - Air aircraft this year. They had just two years prior, used six aircraft. The following year only three. They went on to say that they had no plans to use any Dan - Air aircraft in future. They plunged the knife in further when they announced that they were no longer going to use the services of Dan - Air Engineering. There was no doubt,
Dan Air was in deep trouble. The banks that Dan - Air had used for its entire history refused to extend their overdraft facilities. The company, unlike Air Europe, was asset rich. The banks gave Dan - Air credit with many attached conditions. One being that Company Doctor David James be employed. Arrangement fees were staggering. One of James' first moves was to replace most of the Board Of Directors at Dan - Air with those he had chosen. Many had no experience in aviation. He told the press and the industry that he saw no reason why Dan Air could not be turned around. One of his next moves was to sell off Dan Air Engineering. He had a share option which raised funds allowing the airline to carry on. This is explained in great detail in the company history section of this site.
James had the idea that the company would re finance and concentrate on becomming a stand alone scheduled airline with a fleet renewal programme. The General Manager - Europe - Vic Sheppard announced that in 1990 they "Would be phasing out our smaller aircraft and thinner routes" These would be replaced by newer, quieter and more economical jets on high density routes such a Paris which was to now be offered from Gatwick up to nine times a day. Sheppard was aware that people had only seen Dan - Air as a cheap, charter airline "And all that goes with that" He went on to say that "When people have tried our scheduled services, in particular the 'Class Elite' they are often plpeasantly surprised at the level of service we offer. Our market research show this and it shows that they are highly likely to come back for more." In 1990 24% of the scheduled passengers were travelling on business class, 40% of flights were on the scheduled network and the plan was to take that to 60% in 1991. The six domestic services into Gatwick offered other airlines 'Interlining". In particular, American carriers were impressed with Dan - Air's ability to bring passengers into Gatwick to join one of their flights Stateside. Dan - Air had no ambitions to enter the long haul market and the agreements worked well. The Gatwick - Dublin service was discontinued due to low yields and strong competition from Aer Lingus. As Europe prepared for the deregulation of the airways in 1992, Dan - Air found itself having BA as a direct threat on it's Gatwick - Toulouse route. It also wanted to get back into Paris, but was restricted by only being permitted to fly into Paris Orly. At the start of March the airline replaced one of it's Berlin based HS748 with a BAe146. It also took over the Gatwick - Amsterdam feeder route from British Airways.
NEW ROUTES AND ROUTE CHANGES
Gatwick - Amsterdam feeder route - March (Taken over from British Airways)

2 April - Gatwick-Berlin service commenced - April 2nd

Gatwick-Dublin service discontinued - April 4th

Gatwick-Vienna service started - May 2nd

Gatwick - Ibiza - 'Class Elite' introduced. May

Connecting flights introduced between Manchester, Newcastle, Tees-side and West Berlin. October 29th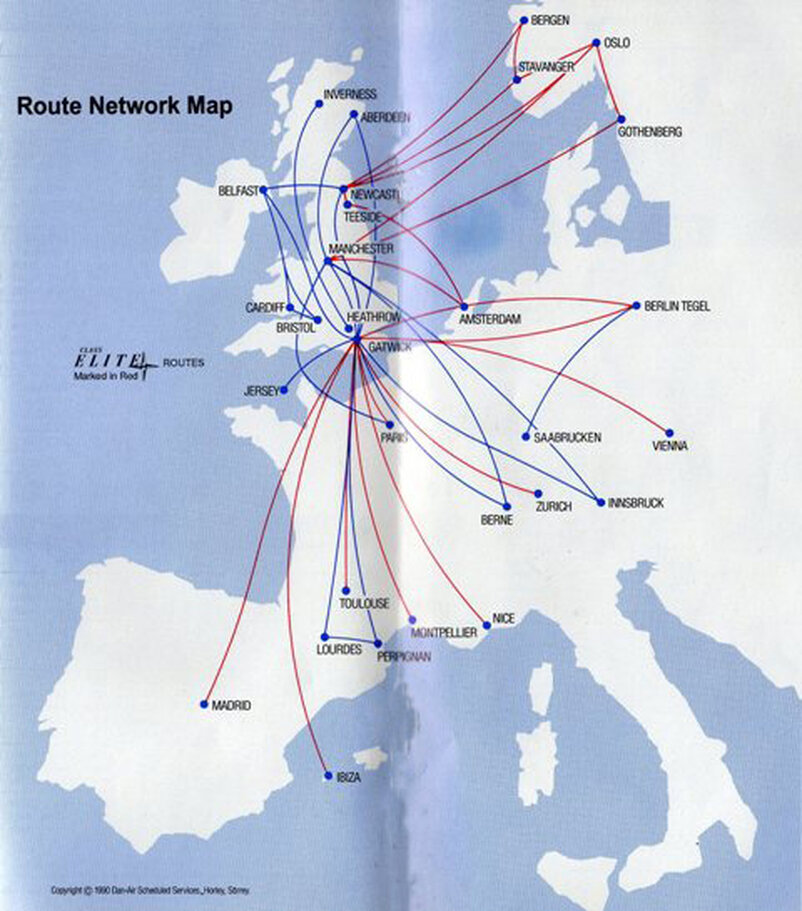 THE 1990 SCHEDULED NETWORK
1991
All but six of the HS748 aircraft had been sold by 1991. A sad move saw five of the Boeing 727s being disposed of from the charter fleet, leaving just seven aircraft. The Boeing 737 fleet had increased drastically to 16 aircraft and the BAe146 total was five aircraft. The BAC 1-11 fleet was down to fifteen. Of the forty nine aircraft in the fleet nineteen were in the charter fleet and 30 aircraft were now carrying scheduled service passengers.
The plan David James had was to carry two million charter passengers in 1991 and two million schedued passengers.
James had managed to refinance Dan - Air, the sale of Dan Air Engineering had raised £27m. James said the cash would be used to balance the bank accounts and to go towards new aircraft. Lloyds Bank decided to call in debts from either Air Europe or Dan - Air; it was the banker for both airlines. Dan Air had considerable real estate, routes and slots, and it owned most of it's aircraft. Air Europe had few assets it's aircraft were leased and it's properties rented. Air Europe collapsed in March this year. Following Air Europe's demise Dan - Air began assuming most of the failed carrier's scheduled routes from Gatwick, starting with Gatwick - Brussels and Gatwick - Oslo. Dan - Air's rival's collapse also enabled it to increase frequencies and introduce larger aircraft on the busy Gatwick - Charles de Gaulle and Gatwick - Manchester routes. At the start of the 1991 winter season, Dan - Air increased the frequency of its Gatwick — Charles de Gaulle Airport services to nine return flights per day and Gatwick - Manchester to eight daily returns. The airline replaced BAC One-Eleven 500s with Boeing 737s on both routes. From then on, Dan - Air carried more scheduled passengers than British Caledonian had ever carried in one year throughout its existence. Total losses for the year were £35m.
NEW ROUTES & ROUTE CHANGES
Gatwick - Brussels - Route commenced - April

Gatwick - Oslo - Route commenced - Twice daily except Saturday - November

Gatwick - Paris Charles De Gaulle - Increased to nine flights daily - May

Gatwick - Manchester - Increased frequency to eight flights daily. - May

Gatwick - Gibraltar - May

Manchester - Gothenburg (Proposed Route - CAA Granted Licences)

Gatwick - Athens

(Proposed Route - CAA Granted Licences)

Gatwick - Cairo

(Proposed Route - CAA Granted Licences)

Gatwick - Malta

(Proposed Route - CAA Granted Licences)

Gatwick - Palma

(Proposed Route - CAA Granted Licences)

Gtwick - Istanbul

(Proposed Route - CAA Granted Licences)

Gatwick - Stockholm

(Proposed Route - CAA Granted Licences)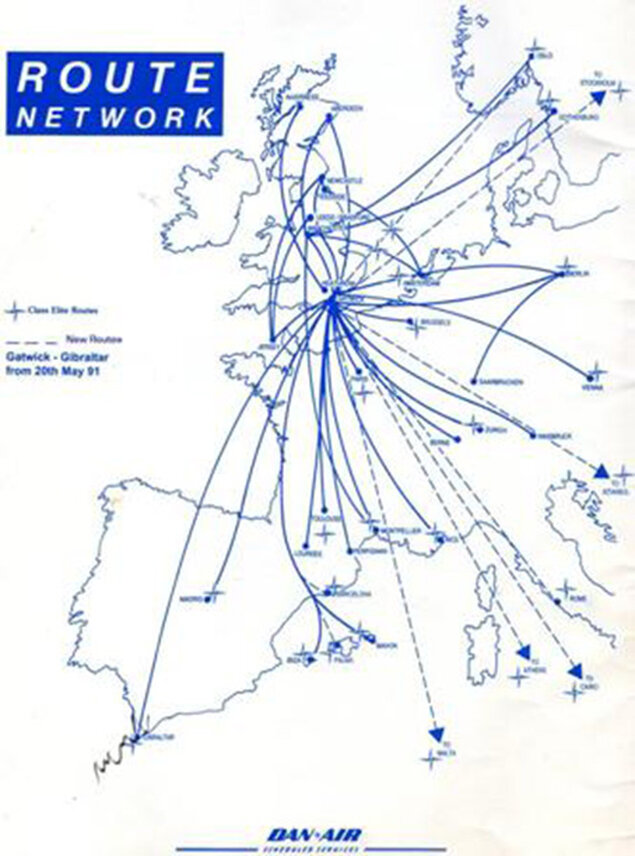 The 1991 NETWORK
1992
Dan Air's final year of airline service saw just four HS748 in the fleet. The BAC 1-11 fleet was reduced to 12 models. The Boeing 727 which had dominated the charter market for so long stood at seven. Nineteen Boeing 737 aircraft of 200/300/400 type flew, primarily on scheduled services and four BAe 146. Several of the BAe146s were on order but never arrived. In the aftermath of the Air Europe collapse several things had happened. The beginning of the deregulation of the airways had begun in earnest with airlines now free to fly on any route of their chosinig. Malta for instance, a small island in the Mediterranean was suddenly served by Air Malta, Air Europe, British Island Airways and British Airways. Both Air Europe and British Island Airways had gone bankrupt. This left the stage clear for Dan Air to apply for and obtain several routes in 1991. By 1992 they had not fully started. Dan Air had sold its share of Manchester Handling in January. David James, the Chairman of the company said "From nowon Dan Air will be an airline - just an airline." The new board intended every route Dan - Air flew to be a high density, business or leisure route. Thier plans included greater frequency on the most popluar routes, a much more scheduled service approach and a fleet that was to be consolidated to two types; the Beoing 737 and the BAe146. The Gatwick - Stockholm / Rome / Barcelona routes all started. Route testing and appreciation could take two years. In the pre deregulation days this was possible. Now, Dan - Air was faced with massive competition. The Barcelona route closed after just six months. The expansion of Dan-Air's scheduled operation at Gatwick continued throughout 1992, resulting in the resumption of the former Air Europe route to Stockholm Arlanda in February and Rome Fiumicino in April. In addition, Dan - Air launched Gatwick - Athens in March and re-launched Gatwick - Barcelona in May. During that period, Dan - Air became Gatwick's largest resident, short-haul scheduled operator controlling 18% of all slots, and 21% of all morning peak time slots between 8am and 9am.
Anyone who knew the aviation industry should have known that these routes were worth a small fortune. As was the spare parts in Dan - Air Engineering's three bases. Further huge assets remained with the real estate in Horley and London City. Gatwick Handling was a major company with large profits. When Air Europe collapsed not only were its scheduled routes up for grab, but a substantial charter programme. The board at Dan - Air rejected the chance to try and take this work. Instead concentrating on the schedules. The financial problems continued and Dan Air began talks with other airlines with a view to a potential merger. Virgin was the preferred option for Dan Air, they wanted to use the airline as a feeder for their international routes. Talks with British Midland broke down early.
Dan-Air's decision to embark on a major expansion into scheduled services from Gatwick at a time when the UK economy was still mired in the early 1990s recession made the financial position worse. The economic conditions in the UK meant that actual revenues fell short of budget in Dan - Air's 1991–1995 business plan, which aimed at sustained profitability by 1995 with a £42 million profit. This meant an injection of £49 million of additional working capital into Dan - Air's parent company from a successful share issue in 1990 was insufficient to fund the airline's needs. The funds raised through new shares were insufficient to standardise Dan - Air's fleet on the Boeing 737 300/400 series and the Avro RJ115 (marketed but never built).The funds were also insufficient to finance transformation from a cheap-and-cheerful charter carrier with a collection of poorly performing, "low visibility" regional scheduled routes into a top quality, "high visibility" mainline short-haul scheduled operator plying trunk routes.
Dan-Air's chairman, David James, said weak marketing and its charter mentality, even after the decision to make high-profile scheduled services the focus of commercial activities, was the reason it failed to achieve results. That meant that instead of making Dan - Air the airline of choice for high-yield business travellers on prime scheduled routes where it had become a major force in the wake of the demise of British Caledonian and Air Europe — such as Gatwick to Paris Charles de Gaulle — through carefully targeted marketing and publicity, Dan - Air continued selling the bulk of its scheduled inventory to consolidators and discount travel agencies, in the way it had sold its charter inventory to package tour operators. The airline saw this as risk minimisation to fill seats on scheduled services. However, Dan-Air surrendered control over its scheduled seats to third parties whose sales were volume-driven. This deprived Dan - Air of the opportunity to boost the profitability of its scheduled operation by concentrating on maximising revenues from high-yield travellers.
Following inconclusive talks with various airlines to save Dan - Air in return for an investment of £10 million, the airline was sold to British Airways in 1992. British Airways paid a nominal £1, in return taking on financial commitments of £50 million which included debts of £37 million. For its part, British Airways got 12 of Dan-Air's most modern Boeing 737s, a similar number of short-haul scheduled routes from Gatwick, the Heathrow—Inverness feeder service and about one-fifth of its 2,500 workers. Dan-Air was absorbed into British Airways's Gatwick operation. On 27 November 1992, the company's name was changed from Dan Air Services Ltd to British Airways (European Operations at Gatwick) Ltd. This rump of the former Dan-Air formed the nucleus of what British Airways intended to be a low-cost short-haul feeder for its Gatwick long-haul scheduled services, with the aim of helping to return British Airways' loss-making Gatwick operation to sustained profitability. The spares at DAE had a value of £20m alone - With the slots at Gatwick being worth millions and their office space and headquarters also. It is staggering that the airline failed. Or was allowed to fail.
NEW ROUTES AND ROUTE CHANGES
Gatwick - Stockholm - Twice daily, except Saturday. February 24th

Gatwick - Rome - Daily service commences February24th

Gatwick - Athens Daily service commences - March 26th

Gatwick - Barcelona - Daily service commences - May 18th

Gatwick - Barcelona service closed. October 2nd
THE 1991 SUMMER ROUTE NETWORK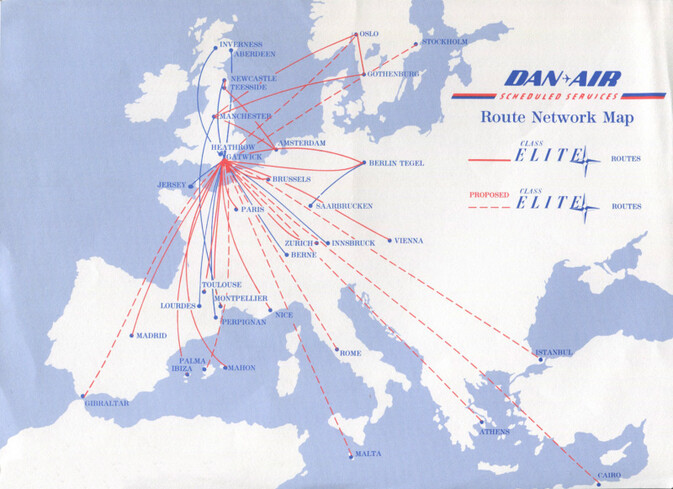 THE FINAL ROUTE NETWORK