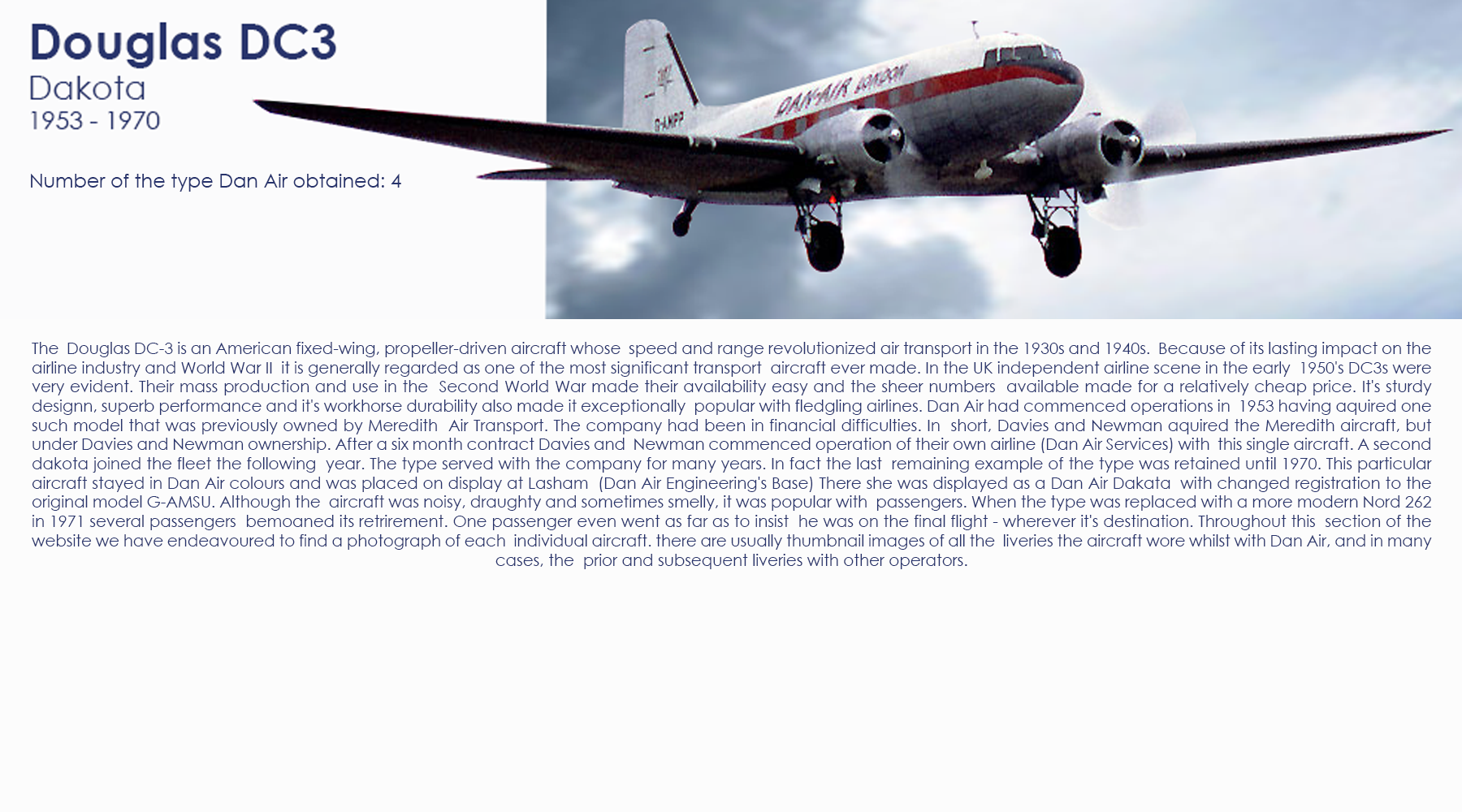 G-ALXK
Type: C47 B Mk 4

Serial Number: 32828

Entered Service : February 1964

Last Flown : 11/10/66

Obtained From : Capitol Finance Company (In Colours Of Meredith Air Transport)

Photo Credits:

Top: Ken Fielding
Bottom - Phile Dale & Ian Keast (North West Aviation)




G-AMPP
Type: Douglas C47 B Mk 4

Serial Number: 26717

Entered Service : March 1961

Last Flown : September 1970

Obtained From : Scottish Airlines Ltd

Notes: Manufactured 1944 -To Lasham later preserved as G-AMSU




G-AMSS
Type: Douglas C47 B Mk 4

Serial Number: 32840

Entered Service : February 1954

Last Flown : November 1968

Obtained From : William Dempster Ltd

Notes: Manufactured in 1945 - Sold to Air Taxi Ltd, Tehran, Iran

G-AMSU
Type: Douglas C47 B Mk 4
Serial Number: 33548
Entered Service : May 1953
Last Flown : 24/03/68
Obtained From : Meredith Air Transport
Notes: Manufactured 1944 - Scrapped at Lasham 1972 - Aircraft manufactured in 1944 for the USAF
G-ALXK
G--AMSU - A Mystery Explained!
Dan Air's first ever Aircraft was registered G-AMSU You will see that the aircraft was scrapped in 1972 having completed it's last service in March 1968. The sole surviving DC3 in Dan Air colours was G-AMPP which was retired from active flying in 1970. The aircraft had been retired earlier whilst Dan Air evaluated other aircraft, most notably the Nord 262. Dan Air decided after evaluation that the Nord was unsuitable, in fact passenger resistance had been strong to the type, favouring instead, the DC3. It seems that the Dakota, whilst noisy, cold, draughty and unpressurised, was preferable. After MP was brought to her believed final resting place at Lasham she was allowed to fade away until the engineering staff brought her back to life in non flying condition complete with a new registration G-AMSU. The preserved aircraft did steal it's starboard wing from G-AMSU which, as we said earlier, was scrapped. She was allowed to enjoy her retirement basking at Dan Air engineering's headquarters until the company sold off it's engineering division to FLS. "SU" was then sold to Aces High Ltd in November 1991who sold her to Euro Disney in Paris via North Weald. Once again she was proudly on display. She was on the move again in 2002 when the Dutch Air Force salvage team moved her to the Wings of Liberation Museum Park Best in the Netherlands. There she stayed until February 2005 when when she was sold to Teamwork Television & Film GmbH and moved to Berlin to be used in a film about the Berlin Airlift "Die Luftbrucke". The pictures show a very poorly "SU" being set ablaze for the film. Just when it was thought that the aircraft could not be used any more she was moved again, this time to Wroclaw Poland where in 2005 she was again filmed again for more scenes. Finally all that was left of her went to the house of Przemyslaw Pawlowicz where they remain to this day.

DISCUSS THIS SUBJECT
29 Apr 2022
Hi,
i have seen and taken some pics of this particular aircraft here in Berlin in May 2005. At that time it was in bad condition and stored dismantled in
a old factory hall in Spandau (northwestern part of Berlin). However these fake USAF colors were only painted on its left side and on the right side it was still with the red cheatline and faded Dan Air London t/l. I'm proud to offer those pics for free use on your excellent website. So don't hesitate to contact me.
18 May 2020
Hi
I have been scanning some old transparencies and discovered a photograph go G-AMSU at Prestwick Airport. Not a great angle and no exact date the photo was taken. Suspect it must have been 1967 if it was lat flown 68. I can send photo if you are interested.
regards.