1960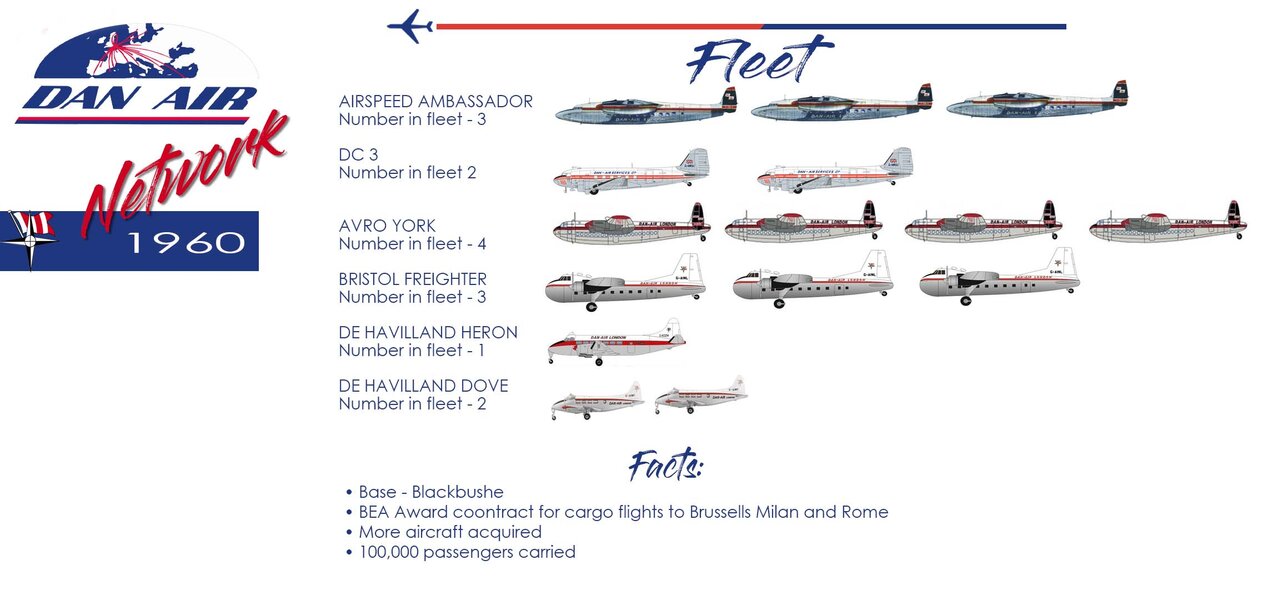 The BOAC / BEA duopoly in UK aviation carried on throughout the entire decade. Each of the handful of domestic services that Dan-Air had been awarded had to be fought for. Dan-Air Dan-Air had to be content with flying second tier regional routes linking towns and cities., many of them close to one another. The second UK scheduled service added to the network was one such example. The Bristol - Liverpool service had to include a stop at Cardiff - Literally a few minutes flying time. The flights would depart from Liverpool on Mondays, Wednesdays and Fridays at 8:20am.Returning at 5:40pm. These secondary routes often carried business travellers on flights as short as fifteen minutes - Only seven of those were spent in the air.
The flights were flown by DH Dove and Heron carrying between 9 and 20 passsengers. The flights were timed to suit business travellers, but those very people would be denied
connecting flights to Heathrow for onward world wide flights with other airlines. Dan-Air's best hope was to link cities to Gatwick and Manchester where onward flights could be connected.
The next link city service added was to Plymouth for the Summer months. Flights would make the four airport link thrice weekly using two recently acquired DH Dove aircraft. As it appeared to be successful, Dan-Air planned to introcuce a DC3 aircraft on the route.
An additional problem facing independent airlines
was the lack of available aircraft. The independents were still not financially strong enough to purchase brand new aircraft. Finding suitable second hand aircraft was also tricky. Tariffs were imposed on the import of American aircraft. The UK Government strongly urged carriers to purchase UK built aircraft. Naturally, airlines were still free to go ahead with a foreign purchase - provided they paid the tariff.
The UK charter sector was tiny when compared to what it would soon become. Despite efforts to get a foothold on scheduled services, the majority of Dan-Air business was charter. Cargo flights were undertaken and scheduled services were a small part of the airline's business.
The inclusive tour (IT) packages tour industry was beginning to feature more in the minds of British citizens. Horizon Holidays had continued to expand its business with package tours now being offered to Palma and Barcelona as well as Corsica. Horizon had managed to lobby the government to change the rules on who could buy these package holidays. Tour Operators could now sell their holidays to everyone. It was ridiculous that British people were being denied travel unless they were rich enough to fly by scheduled services. The Government was still insisting that the price of a holiday could not be lower than the basic scheduled air fare. On top of that - the Government even restricted how much cash a person could take out of the country for spending money.
Tour Operators including Lunns, Global, Leroy, Arrowsmith and Frames all joined the package tour market in 1960. Some offered packages that included scheduled air fares. These were more expensive, but twould feature better accomodation, meals and transfers. Horizon added Tossa De Mar, Portugal and Sardinia to its brochures. For the really adventurous Tangiers could be visited for 41 Guineas for a 15 day holiday. Most Brits visited Belgium, France and Italy.
Southend based airline BKS had an advantage over Dan-Air in that it had been able to secure licences to fly out of Newcastle to Ostend, Dublin, Bilbao, Stavanger, Rotterdam and Jersey from Newcastle. BKS' successes however, proved the point that independents couldn't get into Heathrow!
A man who would become well known to air travellers from Somerset, Gloucestershire and Bristol took a new post at Bristol Airport in 1960. Mr. Rex Matfett, was appointed station traffic manager for Dan-Air he was be responsible for the airline's scheduled services to the Isle of Man, Liverpool, London (Gatwick) Plymouth and Cardiff and for Dan-Air's growing local charter business.
Tour Operators faced more red tape when choosing destinations. Charter flights could not fly a service that was already being flown by a scheduled carrier - which, in Europe, basically meant BEA. This was less of a problem from regional airports. British European didn't have quite the same presence at Gatwick as they had at Heathrow, instead preferring to link UK cities directly into Heathrow for onward flights.
Nevertheless Benidorm, which was fast becomming a favoured destination, did not have its own airport. Passengers aiming for Benidorm would have to fly to Perpignan in France, once deplaned, the passengers would be ferried to Benidorm by coach. Barcelona was much closer to the resort, but couldn't be used because BEA operated scheduled services there already!
The Benidorm situation did however please the authorites in France. Perpignan's airport had been practically deserted until then. Several years later a new airport was built at Alicante, which, fortunately for the charter carriers, BEA did not wish to use.
Dan-Air were awarded contract flights that they would operate on behalf of BEA to Rome and Milan in
addition to the London to Glasgow flight and the Blackbushe - Jersey scheduled service Dan-Air operated for
BEA. This year also saw freight contracts from London Heathrow to Milan, Rome and Brussels. (Only sub contracted flights could use Heathrow)
In October Dan-Air applied to operate a new service, wanting to fly up to four times a week from Liverpool to Basle in Switzerland. Their application to the Air Transport Licencing Board (ATLB) stated that t
hey would use either the Dove, Dakota, Ambassador or Bristol 170 aircraft, depending on demand. Dan-Air also applied to serve Newcaslte, Liverpool and Dundee from London Gatwick.
Dan-Air Engineering continued to expand and were recuiting Engine Fitters, Instrument Merchanics, Radio Mechanics, Airframe Fitters and Engineers for a fleet of fifteen aircraft.
4 April – Bristol - Cardiff – Liverpool route started.




1 May - Bristol - Cardiff - Isle of Man route started.




31 May Dan Air moved it's entire operation to Gatwick following Blackbushe's closure.




18 June - Gatwick - Jersey service. (This followied the closure of the Blackbushe - Jersey route)




16 July - Bristol - Cardiff - Basle route began - Dan-Air's first international schedule.




IT charters charters from Gatwick to The Netherlands, Spain, France, Belgium and Germany. UK Armed Forces trooping contracts were obtained.
1961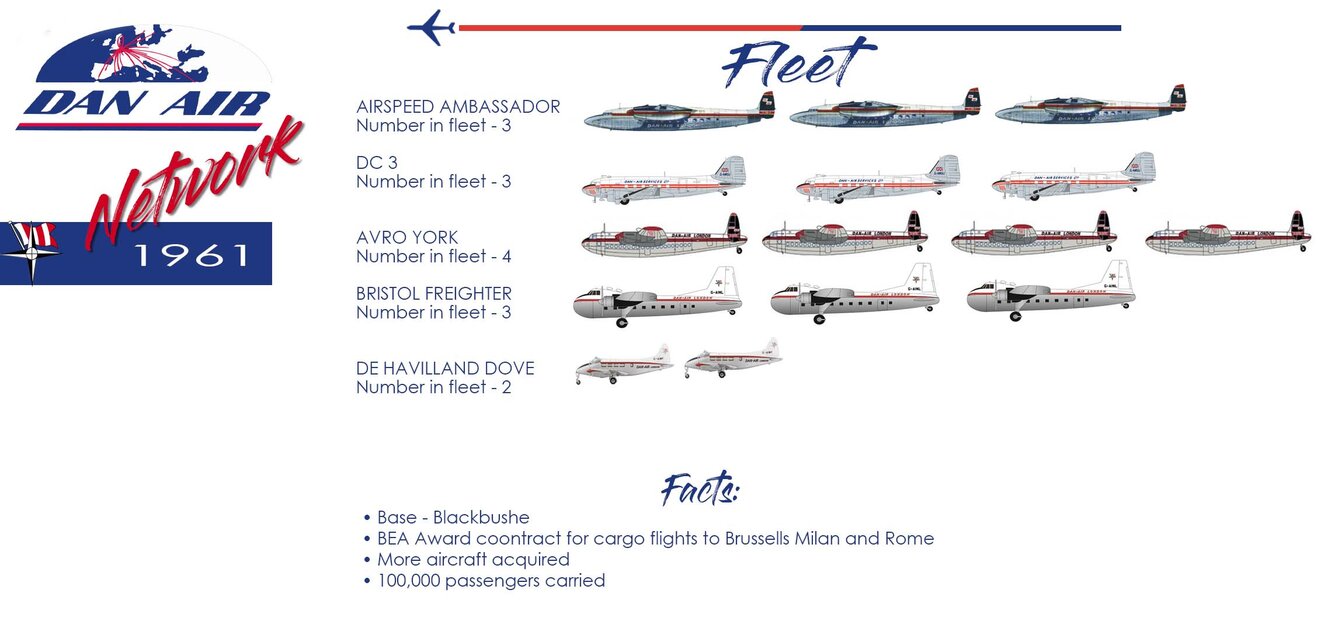 Dan-Air's Bristol Freighter aircraft carried cargo as far away a Australia, Singapore, Iran, India and all points East. Aviation law had not changed to allow independent carriers to fly more services, despite this
Dan-Air managed to increase its network. Fares on the Bristol - Cardiff - Liverpool route had been reduced from £5-3s to just £3-18s with the fare from either Bristol or Cardiff to Newcastle priced at £5-6s. Those fares were one way - the discount was not as generous on a return flight! Early in 1961 Dan-Air could boast that their scheduled services in Liverpool had increased by 61%.
For a mere £5 10/- Monday-Thursday £6 12/- Friday and Sunday and £7 5/- on Saturday you could purchase a return fare from Glasgow to the Isle Of Man. These simple fare reductions had to have the approval of the Air Transport Licencing Board (ATLB) who not only decided if an airline could fly a service, but the fares that were charged. International fares were fixed by the licencing bodies of the two destinations. No wonder airlines either disappeared or failed to grow.
In January Thornton Travel, Lunns, Thomas Cook, Middleton Travel and Traveller's Joy all joined forces to charter Dan-Air Ambassadors for a series of flights to Switzerland from Swansea and Cardiff, prices would be from £22 two shillings return. Motors Travel Ltd chartered Ambassador aircraft to fly from Gatwick to Nice every Saturday for the Summer.
Fred Newman, the company chairman, sited that the Ministry of Aviation were to blame for increasing fares on many routes, as they had increased landing fees at Municipal Airports. The only way for Dan-Air to grow was to continue to provide excellent charter flights, with flixibility so that Tour Operators' requirements could be met.
New Tour Operators began to appear on the scene, often in the form of Travel Agencies who had begun to put package holidays together, and then selling them to their customers. One such example was Airtour,s who went on to become a large Dan-Air client.
An average UK holiday this year would cost £20 compared to a Spanish Holiday costing around £40. A new type of charter flight took to the skies this year - Affinity flights. Tour Operators could now charter aircraft to flights to destinations that British European Airways and BOAC flew schedules to. The stipulation being that all the passengers were members of a specific group. For example, bird watchers, or railway enthusiasts. Provided they could show that the group was a real group, and that the member had been a member for at least six months, these passengers could book the flights.
The system was wide open to abuse. It was long before computers stored this kind of technical data. Would be holidaymakers were given membership cards to clubs and groups, that they had no interest in. They were assured that no questions would be asked, and that they should just get on with their holidays.
Many Tour Operators already had a poor reputation, often as a result of chartering aircraft from airlines with woeful operating practices and aircraft with a raft of technical problems.. Horror stories began to emerge where pasengers had been stuck in dingy airports for many hours before being ferried to other airports. Hotels were reported as being unfinished and of poor standards.
Competition was fierce, Dan-Air had proved to be exceptional amongst UK carriers. The Dan-Air fleet had now grown to 15 aircraft. - Tour Operators could choose
aircraft ranging from a nine seat Dove to a 55 seat Ambassador. Scheduled services were still carrying very few passengers. This year the airline carried just 336 people from Liverpool in a full month - Those passengers could fit into just one Airbus A300 that Dan-Air would fly in twenty five years time!
Undaunted by the ATLB's failure to grant Dan-Air any new services, the carrier made a licence application to serve Paris and Rotterdam from Liverpool in October 1961. Of course, British European Airways (BEA) objected, even though BEA didn't fly the route themselves! The ATLB rejected Dan-Air's application.
Mr. L. E. Moore, director and general manager of Dan-Air complained on October 18th stating,
"Insufficient attention had been paid to the legitimate rights of the densely populated Merseyside area in regard to air transport."
The board reserved their decision on two applications by Dan-Air for flights out of Liverpool direct to Paris and Rotterdam. British European Airways and British Overseas Airways Corporation objected to the Paris application. BEA and the British Transport Commission objected to the Rotterdam application. The two state airlines had argued that because BEA operated from Manchester to Rotterdam and Paris that the cities already had sufficient air transport.
Mr. Moore said he thought it wrong that Liverpool should be linked with Manchester, when one thought In terms of areas from which to draw traffic. Liverpool Corporation were supporting Dan-Air's application on the ground that there was a proven demand for a direct Liverpool-Paris service. Giving evidence on the Rotterdam application, Mr. H.W.G. Andrews (air representative of Liverpool Corporation) spoke of the close ties between the British and Dutch cities, and referred to the constant movement of ships' crews, stores and equipment between the two places. For BEA Mr. Collingwood said there would be diversion of traffic from their Manchester-Amsterdam service, even though different cities were involved. After an appeal Dan-Air was awarded the rights to fly into Rotterdam on November 1st. Experimental services commenced in December. They were given the right to fly twice weekly but would not use both flights unless the service was a success.
The French authorities refused Dan-Air's application to serve La Baule from Liverpool and Dan-Air reacted with anger. Claiming that it was 'Unfair'. The blow was softened with the Rotterdam success. When questioned about the aircraft Dan-Air would be using Dan-Air retorted that they had several options. Going on to say that there was no use putting an Ambassador on the route if it was going to be practically empty. Dan-Air stated that they would choose a suitable aircraft when they saw how bookings came in. The route would commence in January which was traditionally a poor month for air travellers.
Dan-Air announced that fares would be in keeping with that of the Manchester-Amsterdam service: £11 2s.Od - single tourist; £2O return tourist. While details of the service were being planned, it is understood the company was still awaiting approval by the Dutch Government, though,a company official stated, it was not expected that there would be any difficulty from that quarter. Nevertheless it was a formality that had to be awaited. Dan-Air still remember the refusal of the French Government to allow the company to operate flights to the French resort, La Baule. In any event, the service was delayed until January 1962. Dan-Air was "Urged" by the Liverpool Council and the Air Transport Licencing Board (ATLB) that it should consider revising times or offering a day return service. As it stood, the flight left at 12pm and returned at 2pm. This wouldn't give businessmen enough time to conduct business in Rotterdam, there should be a second flight later they said.
4 January - Plymouth-Cardiff / Bristol-Liverpool schedule was extended to Newcastle.



27 May - Prestwick - lsle of Man route commenced. The Isle of Man also served from Bristol, Cardiff, Plymouth, Exeter, Staverton and Swansea.



7 July - Liverpool - Newcastle - Dundee route commenced, followed by Perth (Scone) - Prestwick- Gatwick and Perth-Newcastle-Gatwick
1962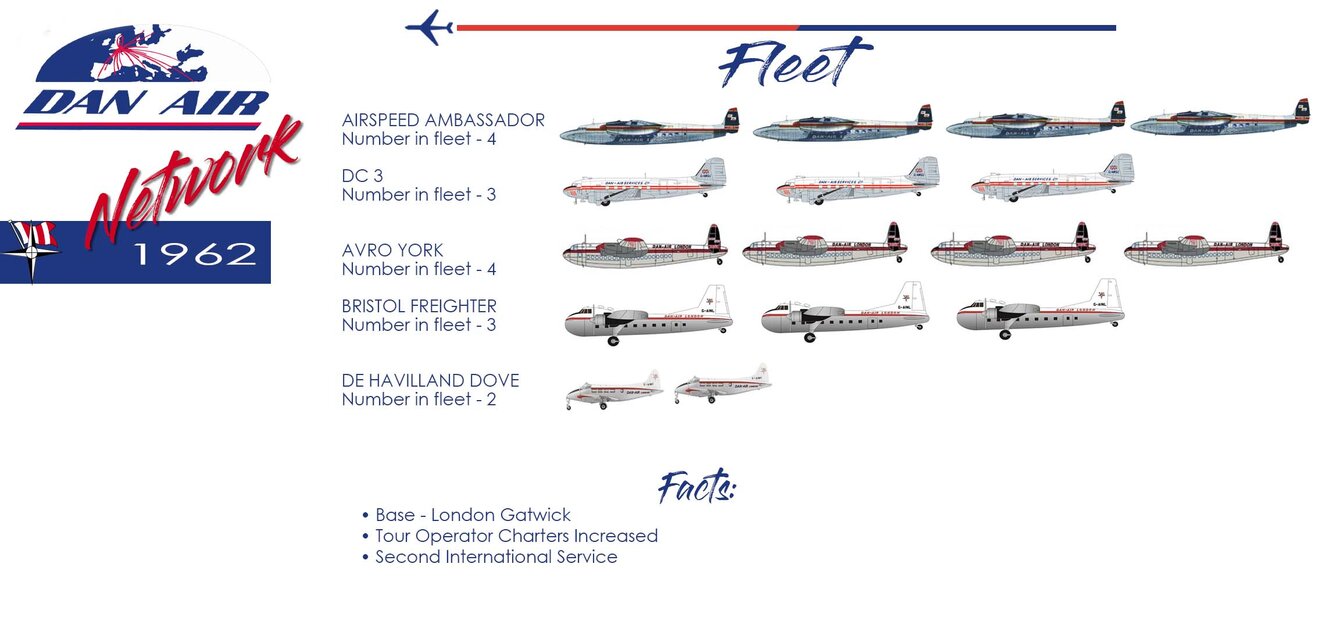 More passengers than ever before were carried in 1962. The fleet was enhanced with the addition of a fourth Ambassador. Three Dakota, two DH Dove, four Avro York and three Bristol Freighters made up the rest of the fleet.
After delays the new international service to Liverpool commenced as did the Liverpool-Rotterdam service. International Services were vital to the airline's growth the Gatwick - Basle service was joined with Bournemouth - Basle,Bristol/Cardiff - Basle and Bristol - Ostend via Gatwick. The initial flights were hampered by severe fog at Liverpool
Domestic flights were increased too with

flights operated thrice weekly from

Newcastle - Liverpool

, Bristol/Cardiff and Rotterdam

. The service initially used an eight seat Dove aircraft, but quickly it became necessary to use 36 seater Dakotas. Flights were established at 7:55am

on 9th January. The aircraft took off from Bristol, calling at Cardiff and Liverpool.

Return Passengers from Newcastle would already have arrived by another aircraft.

The flight to Holland would take two hours, 20 minutes. On the return flight the aircraft would call at Liverpool and Newcastle.
Cargo was a vital part of Dan-Air's
early 1960s business. One such flight was carrying 115 pigs bound for Bucharest and Prague. The Bristol Freighter took of from Stanstead shortly after the pigs broke a barrier and ran wild in the cabin. Captain Warren Wilson said "They generated a terrific amount of heat. When the barrier broke they ran about the aircraft. Sadly two of the pigs died because of suffocation as they all piled on top of each other."
Liverpool saw record growth for an airline at the North West Airport. Thanks to the Rotterdam service the airline carried 411 passengers in January alone, an increase of 277%.
In June Dan-Air commenced a service to Jersey from Gatwick. Flights would depart on Fridays and Saturdays. In April the airline was able to add Dundee and Perth to its list of airports. With flights bound for Liverpool. From there you could connect to Rotterdam, Bristol and Cardiff. Now known as 'Link City' Dan-Air's domestic network was growing. In June of 1962 the airline was granted permission to carry on the Liverpool-Rotterdam service until 1969. The flight times were changed to allow better connections from other airports. The flight from Liverpool now could leave at 9.35 am making it possible to leave Cardiff at 7.55 am and travel to Rotterdam via Liverpool, arriving at 11.55am The return flight by the new schedule left Rotterdam at 4.35 pm arriving at Liverpool at 6.25 pm and at Cardiff at 8:30 pm.
Dan-Air had the priviledge of flying £2m worth of oil paintings from Milan to Gatwick in a hush hush operation. The paintings were then escorted by police from Gatwick to London. Whilst numbers at Liverpool had risen again to 711 in September.
The move to Gatwick was swift and successful. One such success was the approval by the ATLB of Dan-Air's service to Jersey. Dan-Air wished to transfer the existing service from Blackbuse to the Channel Island. Glasgow Airport (Prestwick) joined the network.
Something that could never happen today occured in October... A stewardess was taken ill just before she was about to fly to Rotterdam. She was taken to the airport hotel to rest. Meanwhile, Lynne Kilroe, a junior receptionist at Dan-Air's office took her place. She was given a quick run down of safety drills, told to read the announcements from a sheet and serve drinks to the two passengers booked on the Dakota flight. She made the return trip too. At the end of the year Dan-Air could boast it had carried more than 6,000 passengers from Liverpool.
At a hearing in June the ATLB extended the six months license to operate Liverpool - Rotterdam for seven full years. The service had been successful and was now being operated by Ambassador aircraft. The service had began with a nine seat Dove aircraft, before progessing to a DC3 and was now successful enough to warrent an Ambassador on the route. Mr. Laurence Moore of Dan-Air said the service had grown and was now carrying freight as well as passengers. The flight times were altered to allow for Dan-Air passengers to arrive from other cities on their Link City Network. The main service started in Bristol, and calling at Cardiff before setting off for Liverpool, finally flying on to Rotterdam, arriving at 11-55 in the morning. Connecting flights from Newcastle were timed to so transit passengers would make the connection both ways.
The Ulster Tourist Authority supported Dan-Air in their bid to commence flights from the Midlands to Enniskillen in Northern Ireland. Despite the support the ATLB refuse their application.
In December 1961 a new airline was formed.
The airline was established as
Euravia (London)
by British businessman T.E.D. Langton and aviation consultant J.E.D. Williams on 1 December 1961.
Euravia was founded at a time of considerable turmoil for the independent sector of the British airline industry, during the early 1960s. Several carriers suffered from severe financial hardship and some were even driven into bankruptcy.
Upon deciding to launch operations, Euravia obtained the necessary licences from the ATLB, airworthiness certificates for its aircraft from the Air Registration Board, and an Air Operator's Certificate from the Ministry of Aviation.
These applications were not without some difficulty as Euravia had the distinction of being refused more licences than any other two airlines put together; this was due to the fact that they had placed a larger number of applications than any British airline, except for British United Airways (BUA).
On 1 April 1962, Euravia established its initial operating base at Luton Airport; on 13 April. The airline's first aircraft, a Lockheed Constellation, commenced charters on 5th May. Euravia benefitted from its close association with inclusive tour holiday company Universal Sky Tours. Euravia's batch of three Constellations performed flights on behalf of Universal Sky Tours.
Within ten days, the operation was reportedly breaking-even; by a month later, the firm's initial fleet was operating at its maximum planned utilisation rate. However, all was not well with the new carrier. One ex pilot told us. "We looked on with envy at these large aircraft joined the UK charter market. They were huge compared to anything we flew. They seated a hundred pasengers. The problems they ran into came because they only had two aircraft to start with, and aircraft that were manufactured in the late 40s and early 50s had a habit of going tech. Naturally Euravia didn't have much of a stock of spares and didn't have their own engineering division back then. Consequently when one of their aircraft packed up they were knee deep in do do."
Stories emerged about Euravia aircraft being delayed for 36 hours, which then had a domino effect on flights that were to take place after. The first months of Euravia's debut year were a disaster operationally.
On 5 October of that same year, a rival charter airline Skyways, one of Britain's foremost independent airlines during the 1950s and early 1960s, was taken over by Euravia and integrated into its operations.
With it came operational expertise and technical capability. The decision had already been made to quickly replace the Constellation aircraft with Bristol Britannias. Euravia could be safe in the knowledge that there would be an abundance of spare parts and engineers on hand at BOAC to ensure the aircraft could keep flying.
The Skyways takeover did not include Skyways Coach-Air, a Skyways' associate company. Skyways wasestablished in the early 1950s by Eric Rylands to operate low-fare coach-air services between London and several European capital cities. Following Euravia's acquisition of Skyways, Skyways Coach-Air would remain independent, until its successor Skyways International was taken over by Dan-Air in 1972. Euravia's success saw Dan-Air's strong position in the charter market severly dented. Euravia's Constellations larger capacity and greater speed outperformed Dan-Air's flagship Ambassador. In a further blow Skytours chose to greatly reduce charter of Dan-Air aircraft, in favour of their own. In Liverpool, one of Dan-Air's main bases, Euravia had carried almost 2,000 passengers before the year was out. Dan-Air had carried 6,000 on a mix of charter and scheduled services.
In 1962 the Government had decided that ABTA (Association Of British Travel Agents) would no longer be responsible for regulating accomodation abroad. This followed news that Tour Operators had been 1962 selling holidays before they had even been given licences to sell them. There were stories of passengers stranded in terrible hotels, flights had been double booked and passengers had little means of redress. The Associated National Tourist Office Representatives brought out a code of practice to safeguard passengers. But 1962 was to be critical year for the charter industry. Laws were now in place to see that companies selling these holidays would have to be registered and a scheme was in place that would see Tour Operators, on a voluntary basis, secure Bonds with banks or insurance companies to protect holiday makers should the company go bust. Rules were implemented to ensure travel brochures be more accurate. Double booking was outlawed and companies that merged would have to have approval.
The Gatwick - Prestwick service was suspended in Autumn but by December the carrier announced it was resuming the service.
Second international service commenced
NEW ROUTES
Bournemouth to Basle

Bristol and Gatwick-Ostend began.



1963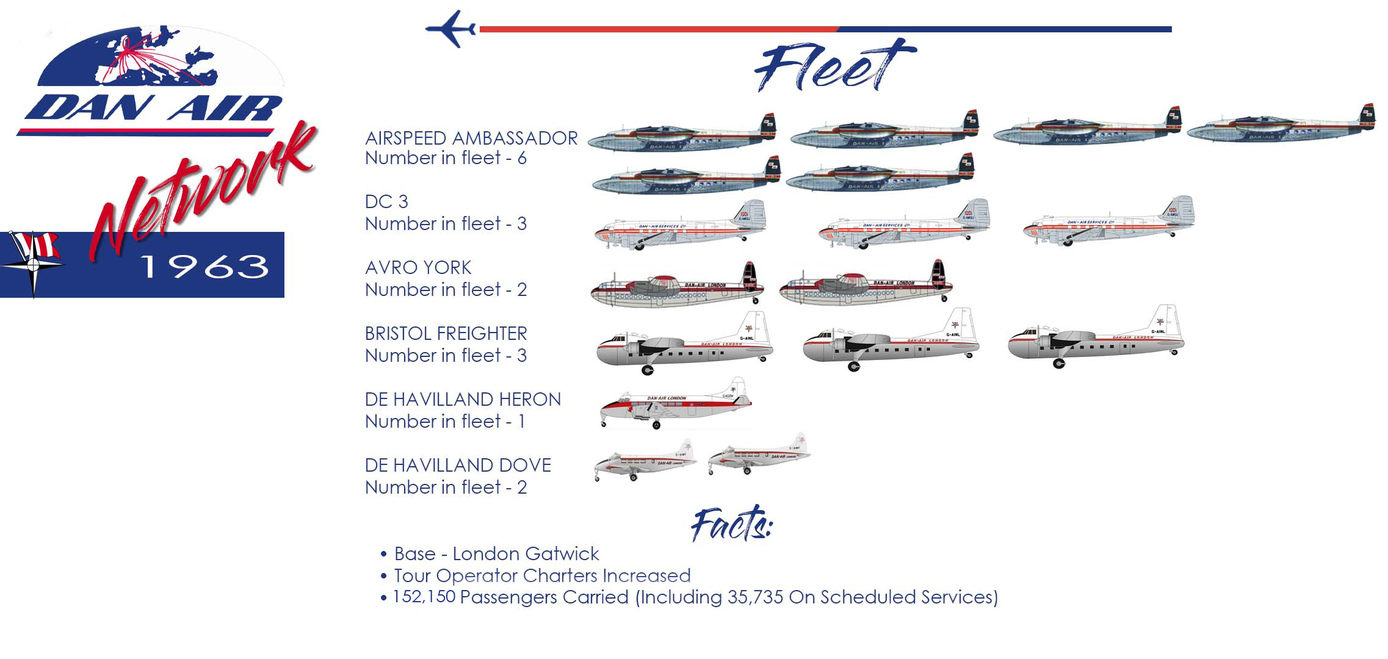 The early part of 1963 saw major disruption to Dan-Air's flights. Severe weather hampered several flights. The Dove airpcraft was unable to fly due to snow for several days in January and the Ambassador flights were also delayed on several occasions, due to fog. The disruption lasted until well into February. All but one of the Avro Yorks were retired from service by the end of the year. Whilst the Yorks were serviceable, they were not efficient. They were also noisy and looked old fashioned.
Three Bristol Freighters carried out cargo flights this year. Passenger numbers continued to increase with the expansion of scheduled services and further charters were undertaken for the majority of UK Tour Operators. The increase in flights meant Dan-Air would need more aircraft, and so a second DH Dove joined the fleet. The number of Ambassadors grew to six models. There were only two new scheduled services added this year;
Gatwick - Ostend and Newcastle - Kristiansand in Norway. The timings would link Liverpool to t
he Norwegian city as well. Passengers could depart on Mondays annd Fridays from Liverpool at 10am and Newcastle at 1130am. The return flights were at 2:45pm. There would be a flight from Newcastle to Liverpool at 5:50pm. Dan-Air had hopes that they could fly seamen working in Norway. Dan-Air announced in January that they hoped to commence services between the two cities. The Norwegian Authorities were first to agree to the propsed route. Dan-Air
would offer a special fare for the seamen. The ATLB approved the route and the 40% seaman's discount. A Dakota with 36 seats would operate the passenger and cargo flights.
The success of the Liverpool Rotterdam service saw to a new Sunday flight added.
Independent airlines applied for a whole raft of new services with British United applying for licences to fly from Gatwick into Paris, Athens, Amsterdam, Barcelona, Gibraltar, Palma, Madeira, The Canary Islands and Palma. BUA were certainly trying to muscle in on British European Airways' (BEA) territory. Dan-Air incresed their international network. Commencing flights to Rotterdam, Kristiansand, Basle and Ostend. Dan-Air's plans to add Plymouth - Prestwick (with stops) was objected to by Liverpool's Starways Airways and Mercury Airways on the grounds that it was 'Needless duplication' despite the fact that Starways flew into Glasgow and not Prestwick. The stops on Dan-Air's flights would be optional. The ATLB decided to reserve judgement. In February the ATLB refused Dan-Air application.
In April a chartered Dan-Air Ambassador wi
th 54 British nuclear disarmers gained publicity when it and its passengers were denied entry into West
Berlin. Their plane stayed overnight at Dusseldorf because the crew's flying hours had expired. After being refused
entry by German police, the demonstrators returned to their plane but refused to fasten their seat belts and the plane could not leave. The Dan-Air spokesman said; 'According to the plans made during the night. the plane should arrive at Gatwick today The Intention is that the British party should be on board.' The German police spokesman, Herr Herbert Klein officer told reporters 'The pilot, a Captain Arthur Larkman braked hard on the runway as he was preparing to take off, because he learned that only 16 of the nuclear disarmers had fastened their seatbelts. The plane then taxied back to the airport with engine trouble.' Herr Klein said that the engine trouble was a result of the sudden hard braking. The disarmers had refused to get off the aircraft and had spent the night on board. This was because the German authorities had refused them entry. The passengers were provided with breakfast. Authoroties said that it they refused to co operate that day they would be detained. Director and General Manager of Dan-Air, Mr. Laurence Moore said the aircraft would be grounded until that afternoon. The passengers agreed to pay the day demurrage charge for the aircraft.
Dan-Air's ground staff threatened a strike on the August bank holiday if they were not paid an increase in Salary of between 9/- and £1. They were not alone. British United and four other airlines were also threatening strike action.
The slower growth of 1963 was a result of the stranglehold of UK law that continued to thwart independent airlines. Standby fares had just been introduced and BEA had achieved 3-4% increases without affecting traditional business. BOAC, the intercontinental state owned airline wanted to also commence standby fares. BOAC applied for the London Heathrow to Glasgow section of their Transatlantic routes. Dan-Air objected. Mr Louden, Dan-Air's Scheduled Services Director said that it was unfair because BOAC were wanting domestic fares when they were an international airline. BKS finally managed to get a foothold into Heathrow airport with domestic flights operated to Leeds/Bradford, Tees Side and Newcastle. BKS flew international services to Bilbao in Spain, Biarritz and Bordeaux and had taken delivery of the new Avro 748 propliner, which had many technological advances over Dan-Air's Ambassador. British Eagle Airways finaly managed to get a base at Heathrow, then purchased Bristol Britannia aircraft.
British Eagle, along with BUA and Caledonian had brought about a change in UK Law that hitherto gave the state airlines a duopoly. From now onwards, in theory at least, airlines could compete head to head with BOAC and BEA. This, in reality, didn't happen. The independent airlines had sought a change their airlines into scheduled carriers. They claimed, the seasonal nature of charter flights made advance planning difficult and the low profit margins made expansion impossible. Eagle, BUA and Caledonian were aiming to break into long haul scheduled markets, primarily across the Atlantic. This was not the direction Dan-Air wished to take, but without an integrated tour operator behind them Dan-Air knew that the purchase of newer and larger aircraft would be extremely difficult. Dan-Air were well aware that if Caledonian and British Eagle were to be successful with their bids, that a substantial gap in the charter market would open. Provided they could match the equipment that Euravia operated, Dan-Air could potentially 'clean up'.
One former pilot told us:
'There is absolutely no doubt about it. Euravia's Constellations were a problem to us. The Britannias they were going to obtain even more so. The package holiday boom was just around the corner and we knew it was coming. Fred Newman was a splendid fellow, but a cautious man when it came to spending big bucks. He knew that Britannia's, even second hand ones, weren't going cheap. The Constellations that were available had limitations. They were old piston aircraft too, the only advantage to them was that they carried more passengers than our Ambassadors; which incidentally were hardly state of the art. We were not in any position to purchase new aircraft, certainly not jets. I walked over to one of our Ambassadors one day and saw it standing next to Viscounts and 748s and I knew, no matter how lovely it was to fly or to be a passenger on, that its days were numbered. I thought it had a few years left on flights to northern Europe, but the fact was, it was not going to be any good for flights to Spain in a very short period of time. Even the Government were against the use of piston aircraft, shoving extra tax on the fuel. Turboprops had less tax and were already a whole lot more efficient. I confess that I looked at other airlines for jobs and was sorely tempted to leave. My loyalty to Dan-Air was the thing that kept me, but I knew that the search for a replacement had to happen sooner, rather than later.'
Although this year saw an increase in passenger numbers to more than 115,000, only 36,000 of that number were carried on scheduled services. In a difficult year o
ne of the largest Tour Operators - 'Fiesta' went bankrupt, leaving passengers stranded in resort and those booked to travel were facing a cancelled holiday, and no provision to pay them back. The Government was forced to make rules even tougher. Several angry passengers protested outside Travel Agents' shops. Angry scenes followed with people complaining that they did not fully understand that a Tour Operator, a Travel Agent and an airline were three separate companies. Travel Agents were only selling holidays on behalf of Tour Operators. Who had chartered aircraft from airlines. Travel Agents were innocent. From 1962 ABTA registered travel agents could sell scheduled airline tickets as well as Inclusive Tours. From 1963 they could only sell holidays from ABTA registered tour operators.
1964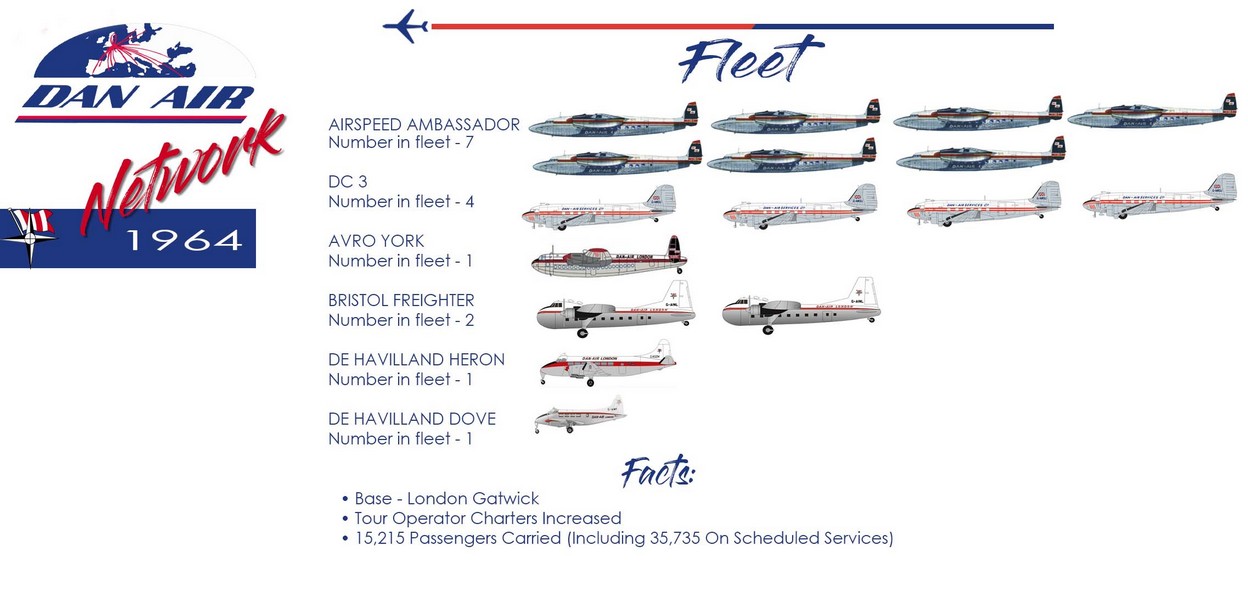 The Dan-Air scheduled network continued to grow, albeit slowly. Newcastle - Kristiansand in Norway was improved by adding Gatwick as a starting point.
Bournemouth - Basle, Gatwick - Ostend and Liverpool - Rotterdam
made up Dan-Air's entire international network. Domestic services comprised of
Gatwick
and
Plymouth
to Jersey
and a series of flights operated between the
Isle of Man and Cardiff, Bristol, Prestwck and Gloucester
. A service linking
Gatwick to Prestwick
commenced
T
he airline also flew from
Gatwick to Liverpool, Bristol, Plymouth
where flights linked up for the
Isle of Man
.
Pilots from several airlines including Dan-Air, Cambrian and Derby Airways threatened strike action over pay in May. This would cause havoc to the upcoming summer season and a settlement was quickly sought. Failure to reach entente saw Dan-Air and eight other airline pilots go on strike on 30th June. A settlement was eventually reached. In a fresh round of route applications British Eagle was rejected licences on several domestic route applications, as was Derby Airways.
Dan-Air was given approval to fly to Cardiff/Newcastle in Norway twice a week, starting in June. The fact that so many proposed routes were turned down was further proof of the bias towards BEA. To help strenghten their position Starways, a major Dan-Air competitor was absorbed into the British Eagle operation.
A noticeable shift in foreign holiday options began in 1964. Destinations such as Tangiers, The Greek Islands, Romania, Poland and Yugoslavia started to appear in advertisements. The limit on how much money a person could take out of the country varied by the amount a holiday cost. It was roughly 60-40%. Some of the resorts listed offered holidaymakers cheap drinks, food and excursions.
Prior to the Summer season, Sir Henry Lunn's company acquired Polytechnic Travel Services which had been a seller of holidays to students. The new company name was
Lunn Poly
. Meanwhile, Universal Sky Tours, which was owned by Captain Ted Langton was proving to be very successful. His airline, Euravia was rebranded as Britannia Airways, to coincide with the acquisition of second hand Bristol Britannia aircraft that had been configured to carry 105 passengers. The tour operator, Universal SkyTours, had previously been owned by Great Univeral Catalogue. Now, under Langdon's ownership, the company had set out to be a very different Tour Operator. In 1964 Euravia submitted plans to fly charters to 34 destinations from Liverpool alone. Similar numbers would fly from Luton and Manchester. The Britannia achieved
much faster speeds than anything else on the charter scene. The Britannias would be the obvious choice for Tour Operators.
The type created a new benchmark, that other airlines and tour operators would have to try very hard
to reach. One series of charters the Britannia operated was Luton to Valencia in Spain, clipping almost an hour off the flying time that Dan-Air's Ambasadors took.
British European Airways (BEA) were flying roughly 5,000 passengers a year from London to Valencia. They were able to do this because of a loosening of rules that allowed charter flights into airports that the state airlines flew into, as long as they did not depart from the same airport. Although Britannia flew out of Luton, much further away from the capital than Heathrow, Britannia Airways was now challenging BEA much closer to BEA's main base.
Arrowsmith Holidays chartered Dan-Air Ambassador aircraft to fly to the city from Manchester.
Dan-Air used Ambassador aircraft carrying 65 passengers on the Valencia flights which was more than they had ever carried before. In 1964 the total number of passengers heading to Valencia from various UK airports was 43,000. British European Airways reacted with indgnity. C
omplaining to the Air Transport Licencing Board (ATLB), that charter airlines were effectively killing off their business. Despite the challenge from Britannia, Dan-Air increased its Ambassador fleet and didn't choose to introduce a new type of aircraft. One of our pilot contributors said; "I met up with Fred Newman and discussed with him on more than one occasion that we had to do something to get ahead, or at least get equal to Britannia Airways. He was very sympathetic and agreed that things would have to change. He told me that he was working toward a solution. I knew that BOAC had begun to sell off their Britannias, and urged him to purchase them, but I was told that they were 'expensive' I also knew that we had made a profit for many years, so I couldn't understand the reluctance to re-equip.'
Lloyd International Airways purchased DC6 aircraft to gain entry on the charter market. The DC6 could seat up to 89 passengers, giving another airline a competitive advantage over Dan-Air.
Dan-Air then applied to add Middleton St George airport (Now known as Tees Side) as the latest destination on its Link City network. The ATLB chose Dan-Air over British Eagle for the service, commenting that Dan-Air already operated between Liverpool and Newcastle, so a further stop would be benificial to the area. Dan-Air's smaller aircraft (which would be the Dove with eight seats and the Heron with 15 seats) would also be an advantage on this service. The new Dan -Air route would serve
Plymouth/Swansea - Bristol / Cardiff / Chester' (Hawarden) / Liverpool Middleton St. George / Newcastle / Dundee / Perth (Scone)
The fare from Middleton St.George to Liverpool will be £3 6s (student £2 19s). A further service from
Howarden to Cardiff
was granted rights in Ausust to commence in the spring of 1965. Whilst the Ambassador could serve hot food, had a bar service and carried 55 passengers on scheduled services and 65 on charters, the Heron and Dove could provide nothing but tea coffee and buscuits, meanwhile, t
he Dakota passengers received cold platters as well as the bar service.
Liverpool was begining to yeild results with more than a thousand passengers carried in September to and from the city. One such Heron flight in January caused upset when it slid off the runway into grass when landing at a snow bound Liverpool. Dan-Air's spokesman said 'The passengers were not even shaken, the pilot did his job correctly and passengers were flown onto their onward destination on a replacement aircraft.'
The Liverpool - Rotterdam service was a success with Dan-Air proclaiming "The route had proved so popular and Dan-Air made it even more attractive when we introduced Ambassadors on it." said their spokesman. Ambassadors cut the flying time by 20 minutes to just two hours. The service from Liverpool departed at 10.05 a.m. The return service left Rotterdam at 5pm the single fare to Rotterdam from Speke was £11 / 18s and £22/ 13s return. A monthly excursion return cost £l8/ 7s.
The last Avro York was retired from service in October. The aircraft had an interesting history having carried equipmet to the Woomera Rocket Range and took part in the Berlin Airlift. Dan-Air used the aircraft to transport Hungarian refugees following the 1956 uprising. It was donated to a Boy Scout Group at Lasham as a bunk house this year. The number of DC3s had now increased to four. The flagship of the fleet, the Ambassador, had now grown to in number to seven. Four DC-3s were operating cargo services plus the odd passenger flight. The two remaining Bristol Freighter aircraft worked hard carrying cargo whilst the Heron and Dove flew the Link City Network.
1965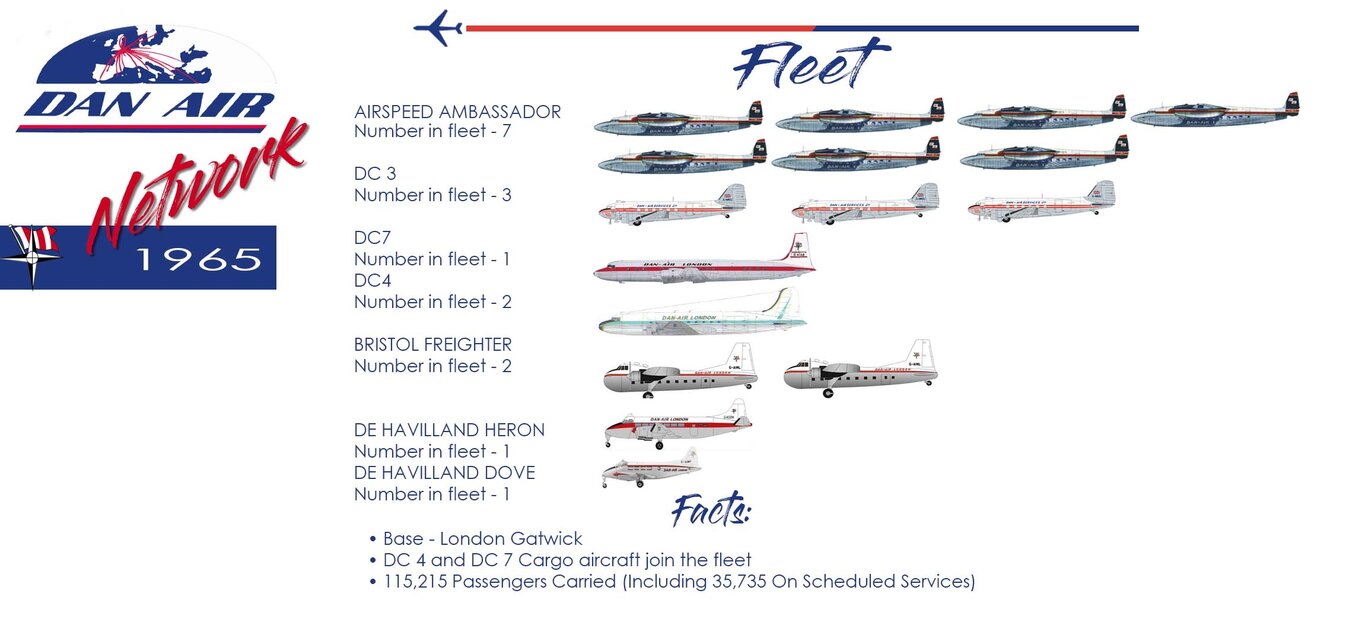 Dan-Air's main rival on the charter scene was a relative newcomer, with only a couple of years operational history. They had ditched the Constellation aircraft in favour of Bristol Britannias and along with the Constellations, their previous name. Euravia was renamed Britannia Airways. The Britannia could comfortably seat 113 passengers and was one of the fastest propliners in the sky. The aircraft had been nick-named 'The Whispering Giant' because of its quite performance. Britannia Airways hire purchased six ex BOAC Britannia 102s and introduced them in 1964 in preparation for the summer season. Each of the aircraft had an identica layout and Tour Operators were able to display the booking form in their brochures, giving passengers the option of requestiing seats, on both outbound and inbound flights. The aircraft had a sophisitcated galley, enabing cabin staff to prepare and serve hot food (most often, shepherd's pie) thus making them the first charter airline to offer hot food to passengers. With such impressive credentials, it was
natural that almost every Tour Operator wanted to use Britannia Airways.
Other UK airlines, including British Eagle, and Caledonian Airways also flew Bristol Britannia aircraft. Caledonian were making large profits on the Transatlantic routes. Their in flight service standards were aguably superior to most scheduled airlines' economy offering. Passengers would receive complimentary cocktails shortly after take off,
hors d'oeurves,
meals and hot food, post meals brandy,
free cigarettes and overnight bags. The airline was carrying the majority of UK affinity charter flights across the Atlantic, more than the scheduled flights of Sabena, Aer Lingus and El Al and Swissair. The standard of service of these carriers gave them a
competitive edge over
Dan-Air, who on the face of it, flew smaller aircraft to much close destinations. Dan-Air could not offer this standard on flights to Ostend or Rotterdam.
The Bristol Britannia could touch down in Spain's Costas from London in just three and a half hours and four from Manchester. The website creator's own thoughts are that Dan-Air was in an extremely difficult position. Dan-Air was concentrating on
scheduled services - that was wise as they were not, by nature, seasonal. They were more profitable - '
when'
they were successful. Routes such as London-Paris or Berlin were undoubtedly large revenue earning routes. Far more so than Newcastle to Kristiansand in Norway. British European Airways would never make room
for competition on their main services.
Charter flights by comparison have notoriously low profit margins. As long as an aircraft was fully utilised and earning revenue, it didn't matter where it was flying to. One Tour Operator that extensively used Dan-Air was Clarksons. It came as a surprise to the industry when Clarkson Tours purchased Autair, a UK airline with a small fleet consisting of mainly DC3 Dakotas and Ambassadors. Autair had several secondary scheduled services, mainly from Blackpool and Luton. One of our contributors told us;
"1965/66 was a turning point for the industry. Skytours had suprised everyone with their phenomenol success in such a short time, it was, without a doubt, because their hole operation was vertically integrated. Thomsons sold holidays and flights together, they could organise a complete package without having to talk to airlines. When Autair ws taken over, we knew why. Clarksons would have their own in house airline in one go. It didn't take them long at all to change the name and drop the scheduled services. They had big ambitions to use jets in a very short time. It left Dan-Air floundering I'm afraid"
As far as Tour Operators were concerned, the availability of these larger aircraft meant that they could have a much bigger programme of holidays. Dan-Air's previous boast that they had a wide range of aircraft with varying seating capacity was now largely redundant. British holidaymakers wanted to fly in ever increasing numbers to sunshine destination in the Meditteranean.
The Air Transport Licencing Board were still restricting independent airlines at almost every application hearing. The ATLB opposed Dan-Air's route application for a service between Manchester annd Gatwick and
even dictated the size of an aircraft on the Liverpool-London service operated by Cambrian and British Eagle. The latter wanted to operated a two class service (Denied) Their desire to replace the DC3 with a Viscount was permitted. In 1965 Derby Airways changed its name to British Midland,following the purchase of Mercury Airlines. The rebranded airline
would operate Argonaut aircraft. Gaytours and Arrowsmith Holidays based in Manchester chartered BEA Vanguards with 100 seats for its Manchester programme whilst Dan-Air's Ambassadors made up the Liverpool and Leeds/Bradford.
Disputes with BEA and the ATLB would intensify this year when BEA appealed against 46 charter route applications from various UK airports to Palma from Dan-Air along with Lloyd International, Britannia, British Midland, British Eagle, Autair, British United and Caledonian. For once, someone in Government saw sense - Roy Jenkins overruled the ATLB stating that he wished the market to be as free as possible. The very idea that scheduled services would be the only type of flight into a holiday airport was arrogant
Universal Sky Tours was then sold to the Thomson newspaper and broadcasting organisation. This giant organisation had the financial muscle to expand thier market leading product,
producing the best brochures and even advertise in their own publications. This financial power meant their own airline, Britannia could also expand. Britannia Airways carried 180,000 passengers in 1964, a far greater number than Dan-Air. The new airline now posed a real threat to all of its competitors. Sensing this major change in the market, airlines and tour operators began scrambling for chances to join forces with Tour Operators. Others chose to expand just their airlines.
Cunard purchased British Eagle Aviation
outright a
nd renamed it Cunard Eagle. This, it was later revealed, was a bad decision as the airline was on the verge of financial collapse.
The much despised 'Provision One' rule stated that holidays could not be sold cheaper than the normal scheduled air fare to the same place. As it stood, scheduled Winter fares were higher than those in the Summer. To apply the rule to a package deal including flights, meant that Winter holidays cost more than Summer ones. This absurdity was relaxed in 1965.
The rule changes came into force, but not without a fight from BEA, who claimed that airlines like Dan-Air could operate their flights at a lower price.
Now Tour Operators could reduce their prices for Winter from typically £48 to £30. BEA then chose to reduce night time Winter fares to £38 12s. Cunard Eagle wanted to reduce their fares to £25. That however was rejected by the ATLB
Dan-Air's Hawarden - Cardiff service that had been approved in 1964 finally commenced this year.

The service would link north and south Wales. Operating on Tuesdays and Thursdays through Summer from May 30 to September 17, the aircraft would leave Hawarden at 10.30 a.m. and Cardiff at 5.50 p.m. for the 115-minute flight with a Heron aircraft.

The service closed after only 27 days. Dan-Air stated it was simply a lack of response, with practically no bookings at all the decision was made to withdraw from the route.
A new service provided links from Liverpool and Chester to the new Middleton St. George Airport, serving Tees-side. Dan-Air also proposed a service from Liverpool to Plymouth that Summer. Leaving Speke at 4 p.m. on Fridays from May 30 to September 17 and returning from Plymouth at 5pm on Sunday to cater for holidaymakers. Liverpool passengers were given an upgrade when their Dutch service was relocated from Rotterdam to Amsterdam with flights on Monday - Wednesday and Friday using Ambassadors.
A temporary solution was found with Dan-Air's shortfall in matching competitors seating capacity when the company took delivery of two DC4 aircraft with 89 seats. These aircraft flew both charter and scheduled services. One such aircraft whist at the Isle of Man ran into difficulties with a technical fault. An engine fault grounded the aircraft resulting in a heavy delay. The aircraft had significant range capabilities but behind the scenes Dan-Air had plans that were coming together towards the end of the year. One of our pilot contributors said;
"I was told towards the end of 1965 that Alan Snudden had been in talks with BOAC who were replacing their Comets with Boeing 707s and VC10s. It was quite a big deal and I was told to keep it to myself, which I did. Someone else wasn't as discreet because I was told the same story three or four times within the same day. In any case I learned that Clarkson's, who were looking at expanding were also involved. I mentioned before that I was looking around for a new job and I had been offered a position with Autair who were also using the Ambassador. The money was good, but I didn't see much point in jumping ship to fly the same aircraft that I already flew. I wasn't aware that Clarksons would be after getting their hands on Autair. There was definitely an air of change within the whole industry, but several airlines were not in a good financial position.'
The new service from Liverpool to Amsterdam took off with fanfare in October. Despite this only eight passengers boarded the first flight - a 55 seat Ambassador. The airline was confident that numbers would soon grow, claiming that the company had their eyes set on Frankfurt and Copenhagen soon. The inaugural flight was captained by Arthur Larkman with Brian Newman as First Officer. Gerry Northgate was the flight engineer. Cabin crew were Theresa Crawley and Pauline Foden. The goodwill message to be handed to the Burgemeister of Amsterdam was handed to the captain by the Lord Mayor of Liverpool. As the picture below shows.
In October Dan-Air applied to fly from Gatwick to Newcastle with an onward connection to its already established service to Kristiansand. BKS Airways, a rival to Dan-Air supported its application and wanted to operate on the alternate days that Dan-Air flew the service. The ATLB reserved its judgement. Naturally, BEA opposed the application, but British United supported it as it might put work in their direction for the many routes they operated out of Gatwick. The ATLB also gave Dan-Air rights to operate charter flights next year to Ostend, Bruge and Lourdes. The services would use Airspeed Ambassador aircraft.
A larger DC 7 cargo propliner joined the fleet this year for freight work. The DC7 had a much longer range than anything operated until now, however it was beset with technical issues from the start. Its oil leaks earned the aircraft the nickname 'Torrey Canyon'.
The DC3 fleet was reduced to three models. Two Bristol Freighters soldiered on with cargo operations. The eight seater Dove and 15 seat Heron helped strengthen the Link City network. The Ambassador, now seven strong in number carried out an outstanding job on both scheduled and charter operations. This year was another difficult year for independent airlines in the UK. Dan-Air had remained profitable and grown in size despite the Government's policies, not because of them!
New services introduced were:
Tees-side -Chester -Cardiff service started, followed by Cardiff - Bristol - Amsterdam and Gatwick - Newcastle-Kristiansand services.



4 October - Liverpool - Amsterdam service began.
1966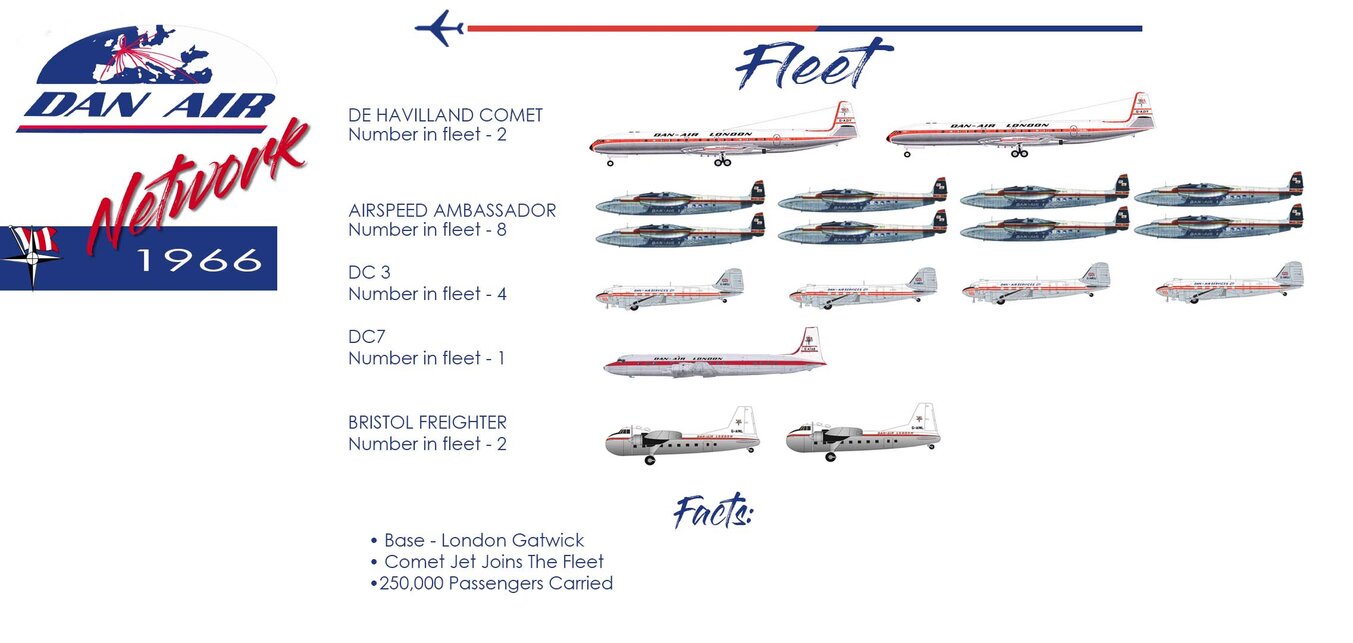 In January this year Dan-Air were able to report that they had carried 26,550 passengers and 69 tons of freight from Liverpool alone. A recuitment drive early in the year saw the airline search for new hostesses to be based at Newcastle,
Joy Moore flew to Newcastle to conduct the interviews. She stated that she had no idea which of the girls she would choose. Questions included "Who is the secretary of state for transport? and asking the girls to calculate 15 two and eight pences".
Bad weather conditions hampered several flights at the start of the year. Dan-Air applied for a licence to operate between
Carlisle and Newcastle
with a view to linking their expanding base at the North East airport.
Britannia Airways with its seemingly endless supply of money from Thomsons announced in January that they had placed an order for three brand new Boeing 737s direct from the manufacturer, for delivery in 1968. This move rocked rival airlines. UK Government officials were known to lean on airline executives in order for them to purchase UK manufactured aircraft. Airlines were aware that imported aircraft carried significant tarrifs and most yielded to Government pressure.
Taffifs were lower if no suitable UK airliner was compatible.
Britannia had done their homework and were aware that no UK jet aircraft was available that could carry 130 passengers at high speed with the same operational costs as the Boeing 737. One of our contributing pilots noted;
"Britannia had kept that pretty quiet and although delivery was going to be a couple of years away, the other airlines knew they had better get their backsides in gear. I was told again that we were going to have some of BOAC's Comets, I went to see the chief pilot and asked him if I could be on the list to convert to the Comet! He smiled and said that if and when Dan-Air takes delivery of any new aircraft that I was welcome to apply to join the fleet....I never did apply for Comet ratings, but I was on the first training course!"
On February 21st it was announced that Dan-Air had purchased two Comet 4 jets from BOAC. The package was to include spares, training and eventually the Comet simulator. The jets were eight years old and cost approximately £600,000. The first was purchased by Clarkson's Holidays and leased straight back to Dan-Air, the second was purchased by Dan-Air on a loan terms with interest. As they were, the aircraft were not suitable for the work they would be undertaking. BOAC had configured the aircraft with 79 seats in a two class layout. The BOAC first class seating featured 'sleeperette' seats, which were almost as large as an armchair (and almost as heavy!) Dan-Air Engineering were given the mammoth job of preparing the aircraft for high density, short haul flying. The floors had to be strengthened and lightweight seats installed to seat 109 passengers. This involved replacing the galleys and even adding extra windows. Toilets were replaced, seating pitch reduced and where the aircraft had been four abreast they would now have an off centre ailse with two seats on one side and three on the other. Carpets were changed, along with hat racks, water systems and even toiket tanks. The eight page modification list can be viewed
here
(Courtesy cometra.uk)
With the purchase of the Comet aircraft, Dan-Air became only the second UK independent airline to own and operate pure jets, the other being British United who had taken delivery of VC10s for long haul charters.
Tour Operators were quick to charter the Comet. Clarksons used one of them exclusively for their own packages. Clarksons would 'time charter' their Comet, meaning they could send it wherever they wanted for the entire period. Dan-Air began operating four day holidays using Ambassadors to Northern Europe on behalf of Cooks Tours. Destinations included
Ostend, Zurich, Innsbruck, Bruges and Lourdes
.
This Comet purchase saw Dan-Air leap frog over all its main competitors. Now Dan-Air could offer Tour Operators a jet that
could fly further and faster than any other aircraft that any rival charter airline had in service. The aircraft would be fully utilised for the entire season. The Winter season was also full, with Tour Operators clamouring to charter a Comet. The second jet would fly individual charters for several different Tour Operators.
The scheduled service network was also boosted this year with the granting of licences for the
Carlisle - Newcastle route. The network was further enhanced with an extension to the Isle of Man. The licences would apply for seven years. Fares would be from £3 6s to £4 4s single.
Competition was tough between the independent airlines, it wasn't helped with the ATLB actively prioritising BEA and BOAC. Airlines like Dan-Air simply could not establish a presence on high visibility routes. This led to confrontation between Dan-Air and British Eagle who wished to take over the Liverpool-Rotterdam service after Dan-Air had switched it to Amsterdam. At an ATLB hearing Dan-Air objected saying that further competition would weaken them as their own service wasn't making any profit as it was, and wouldn't break even on current trends until 1966. The ATLB didn't agree with Dan-Air and granted British Eagle the rights. If one reads back on this section - BEA had objected to Dan-Air flying to Rotterdam from Liverpool as BEA flew there from Manchester! Yet the ATLB gave a rival independent a licence to operate from the same UK airport. Donaldson Avvition, a small Scottish based airline opend a base at Manchester, suppying Bristol Britannias for charter flights.
Liverpool flights were hampered with stiff competition from the railways causing Dan-Air to reduce the number of flights to Dundee, Newcastle and Cardiff. At his time British Eagle was in a desperate financial position itas rumoured that they were about to go bankrupt.
The state controlled airlines were not limited to frequencies on their flights. The independents were. This would mean that any high profile route that an independent gained could be killed off by BEA who would increase frequencies to ensure their flights would be timed to depart earlier than an independent airlines' flight. BEA were known to supplement their aircraft with a more modern, larger aircraft as well. Driving passengers onto their own flights.
BEA's London-Glasgow service offered fine wines, catering and a first class cabin. Eagle passengers trialled a new service; 'Trickle Boarding' Where passengers were invited onto the aircraft by seat number, giving passengers dedicated seating avoided scrambles when boarding. It was an all new way of domestic travel. The frequencies that British Eagle were quickly sandwiched by BEA who put flights on, as was their right, either side of the Eagle departure.
Any attempt by an airline to increase profit is to be welcomed. Seamless stockings were in short supply in the UK. Dan-Air had managed to acquire a huge supply of the nylons and decided to sell them to passengers on their domestic flights. In a somewhat sexist statement they said "We carry a lot of business men on our flights and they might wish to purchase them for their wives as a present." If the trial was a success the product would be extended to international services.
Newer, larger jet aircraft meant much higher tax burdons for Dan-Air this year. The tax on aviation fuel alone would cost them £50,000. The airline had asked more than 50 MPs to try to get the Labour Government to reduce it. In June Dan-Air announced that they may reduce frequncies or cancel
flights if aviation gasolene tax wasn't reduced from 3s 3p per gallon to the jet turbine tax of 2s 2p. The alternative was to re equip the fleet with jet or turbo prop types. This was costly they said and as certain routes had been operating at a loss for as long as six years was unjustifiable. The
Liverpool-Bristol and Newcastle service had carried 20,000 passengers and still lost money. The other alternative was a substantial increase in fares. This would have to be approved by the ATLB. It was a make or break time for Dan-Air. It is true that the piston engined aircraft were in good working order and able to carry out their programmes. But newer types were being operated on domestic services by rival carriers and Dan-Air had lost a lot of its business. Much better news came when charter services to Istanbul were launched in October. The Comet could reach the city in four hours from Gatwick and an extra
30 minutes from Manchester. With hot meals included! Altogether 300 flights and 500 flights would operated on charter airlines from Liverpool and Manchester respectively.
The Labour Prime Minister, Harold Wilson, imposed yet another restriction on holiday makers this year, travellers would now not be able to take UK currency of more than £15 out of the country. Package
holidays included the costs of the hotel, meals and reps, but excursions and additional food items had been dropped from their packages. MPs debated in Parliament and the ruling was amended to allow a further £15 to be added to the total, as holidaymakers were not expected to return home penniless. The ruling became known as the V Form and focused on a £50 total. So, if a holidaymaker booked a holiday for £30 he would be able to take £20 spending money, in the form of traveller's cheques or pre purchased foreign currency - PLUS the £15 UK currency to spend in resort or bring home. If a holiday was £42 the same person could only take £8 spending plus the £15 in UK currency. More details can be seen looking at a V Form! here However, in actual fact, there was nothing to stop people spending the money on whatever they chose. The Labour government also reduced the value of th
e pound. The Prime Minister Harold Wilson famously said on TV that this "would not affect the pound in your pcoket." This was met with howls of derision from the opposition and the travel industry. It may not affect the pound in one's pocket in the UK, but overseas the sliding pound severely hampered what one could purchase abroad. It was inevitable that hotel prices would increase for Tour Operators. who were forced to pass on the increased prices to their clients. Scheduled airlines also increased their fares because of fuel price hikes. This surcharge was either to be paid for by passenger or the Tour Operator. However they could not decrease the prices that had been advertised in their brochures. So, the Tour Operators would have to take the hit that year. The Chancellor of the Exchequer, James Callaghan said that her did not think it was the right time for people who were being asked to take a decrease in their standard of living in the UK should then see other people benefitting by spending money that would go to other World economies.
British United Airways' managing director, Freddie Laker, revealed in February that he would be launching his own airline in the Summer and so it came to pass that in August the first two of his Laker Airways Bristol Britannias took to the sky, even more competition on an already fierce industry.
Major Tour Operators using Dan-Air included Clarkson's, Lunn Poly, Ellermann, Global, Cosmos, Gay Tours and Luxitours. Soon after, the latter two were fully absorbed into the Thomson's organisation and no longer would they need to use Dan-Air, it was a terrible blow.
The Heron and Doves were sold this year and the DC4 was returned to its owner after its lease had expired. The Bristol Freighter was still flying cargo routes.
The ATLB granted Dan-Air a seven year licence to fly to th
e Isle of Man from Newcastle and Carlisle, the good news was overshadowed by the closure of the Cardiff - Hawarden service due to poor take up. It was announced in May that Liverpool would have a charter programme for Summer featuring Dan-Air charters to Palma, Lourdes, Ostend and Perpignan. The Comet was put to work on a very interesting charter in 1966. Flights would take off from London bound for Iran with a stopover in Istanbul.
1967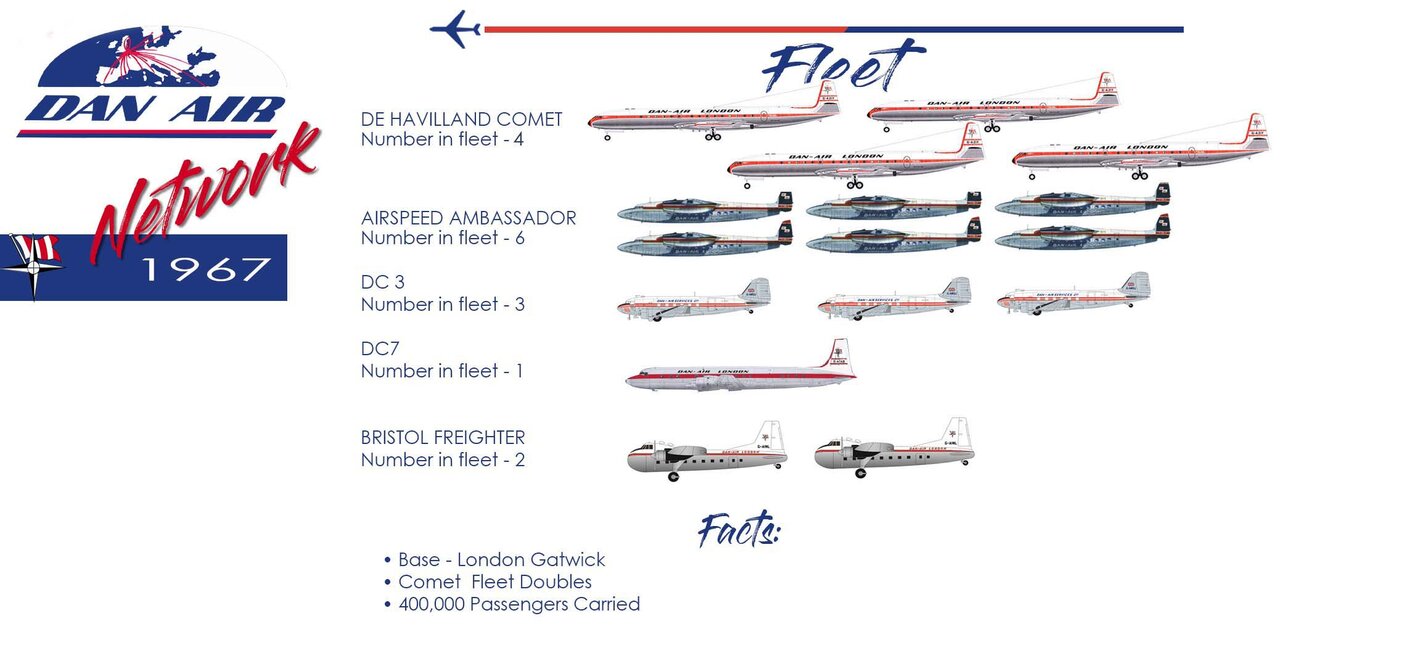 BOAC had placed nine Comet jets up for sale. The two that Dan-Air purchased were a resounding success. The number of Tour Operators wishing to charter Dan-Air jets grew to new levels. It made perfect sense that Dan-Air purchase more of the aircraft, and so two more joined the fleet in 1967.
Passengers who were used to travelling from
Liverpool-Newcastle on the Dak
ota were shocked to find a Comet waiting at Speke to take them to the North East instead of the usual Ambassador or Dakota. The flight normally took 90 minutes, on this occasion it took 30 minutes. The aircraft was a replacement to coincide with the opening of the new terminal at Newcastle.
New scheduled services started this year, including,
Carlisle - Isle of Man. A seven year license was awarded to operate to Basle from Swansea, Cardiff, Bristol, Exeter and Bournemouth. It may come as a shock, by the standards of today, that an airliner would take off and make so many stops along the way before its largest leg from Bournemouth to Basle, but it was the only way that an airline like Dan-air could fill an aircraft and still be in a position to operate from five cities to one one overseas airport. It also permitted travellers to fly between UK cities. The Liverpool-Rotterdam service was joined by an Amsterdam service with an 85% increase in passengers in a year. Dan-Air carried freight on the flights but felt that there was a need for a freight only service. An Ambassador was configured for freight flights, capable of carrying 5 1/2 tons. Sadly there was minimal interest and the service was cancelled within a month.
International holidays centred on Spain, but t
ravellers wanting somewhere more adventurous could try Greece which was now featured as a destination. Several of the islands were natural choices for charter services but The UK regulations still gave Tour Operators and charter airlines a major headache. Athens was the main airport in Greece, as the law stood, charter carriers could not fly there as BEA already did so. The Greeks were only too aware of the boom in Spanish travel, and naturally wanted a a share of the available business. Thee Greeks vowed to open new airports on several islands, the first to open was on Crete. The Spanish Government had provided financial assistance for companies wishing to build hotels. Businesees would pay back the government over time with very generous repayment plans. The Portugese market had begun to flourish. Previously passengers could only take holidays in Oporto as flights to Lisbon were not permitted, because, you guessed it - BEA already flew there. To get to the Algarve passengers would have to travel by coach from Oporto to Lisbon and then train to Faro. The Portugese Government decided built and international airport at Faro as quickly as possible, opening up the Algarve. As soon as Faro opened the Algarve boomed with thousands of holidaymakers taking advantage of what Portugal had to offer. Vilamoura was the first resort with good hotels and gorgeous beaches. Tunisia had already welcomed charter flights and had a modern and very well designed hotel infrastructure. Fortunately for the Tour Operators, BEA did not have a presence there! The Communist states of Romania, Yugoslavia and Bulgaria welcomed British visitors. By 1967 More than two million people were travelling abroad, hardly any of them travelled to Greece.
The Greek authorities quickly
built an airport on the island of Crete this year and welcomed new visitors, many thousands of them were Dan-Air passengers. The awful
'V-FORM'
continued to hamper holidaymakers in 1967 with its £50 plus £15 rule was restrictive (£50 minus the cost of holiday, leaving you an amount to convert into local currency priorto travel, plus £15 UK currency to take with you)
Two Tour Operators, Treffield Holidays and Hourmont ran into trouble in early spring. Treffield had time chartered Viscounts and Laker Britannia that they had arrears with and flights refused to take off without payments. The aircraft were sent back to their owners Laker and British Eagle. Hourmont had chartered Dan-Air aircraft and struggled to pay their debts.
Horizon Holidays signed time-charter agreements with two independent airlines that enabled them to make cuts of up to ten per cent in the cost of their winter sunshine holidays. The company was to use a guaranteed minimum amount of flying time with British United Airways and Dan-Air. They were able to charter aircraft very cheaply. Time charter was only used on the winter tours. BEA reduced fares on night time flights to Malta to £36. As Malta was a Sterling currency area there would be no £50 currency limits. However the rule would apply on the Comet charters to Rhodes that Dan-Air were carrying out on behalf of Cadogen Holidays.
The Kent Chamber of commerce were in negotiations with Dan-Air in November with a view to chartering Dan-Air aircraft to bring French visitors on shopping day trips. They were arguing with airlines about having to pay for any seats that were not sold. Dan-Air's solution was to offer food vouchers provided by large stores as an incentive to sell tickets!
The tax on fuel issue had not been favourably resolved so Dan-Air were left with a decision; to give up or to re equip the fleet and carry on. After major board room talks the decision was made to carry on. A major boost came when rival British Eagle went bankrupt on November 6th. Dan-Air were awarded a contract for charter flights to the value of £6 million. This would be on behalf of the London based Travel Trust Group of Everyman and Lunn Poly. They would carry 200,000 passengers for them in 1969. The increased revenue allowed Dan-Air to order newer equipment in the shape of the BAC 1-11. Two models of the type were bought from American Airlines. The aircraft had been in service for only a couple of years and so were perfect for Dan-Air's style of operation.
Dan-Air, had, overnight, become the biggest player on the charter scene with aircraft being chartered to fly to Turkey, Tunisia, and other Mediterranean hotspots. The Ambassador fleet was reduced over the year from six to four, whilst the three DC3s remained in service, as did the Bristol Freighters. The Freighters had even been converted to carry passengers, rechristened as Wayfarers. They flew short haul services. Although they were never really suited to carrying passengers, they could be tolerated by passengers travelling to Jersey - Just!
It was perhaps a year of consolidation. British United were desperately trying to muscle in on long haul scheduled services, whilst at the same time flying charter passengers. BKS and Cambrian Airways joined forces as British Air Services (BAS) and were heading towards a take over by BEA who owned 70% of BAS. Britannia had suffered their first fatal accident when more than 100 people died when a Britania crashed in Llublijana. Blame was placed on the flight deck crew. Laker had a promising start. Their Britannias were supplemented with BAC 1-11 jet aircraft that joined the airline. Lloyd International Airlines had success in Berlin with the German Tour Operator Neckermann And Reiss who chartered their Britannia's for European sunspot fights. British Eagle struggled too. Monarch Airlines became the next 'new kid on the block' - their operation was aimed specifically at charter flights.
NEW SERVICES
1968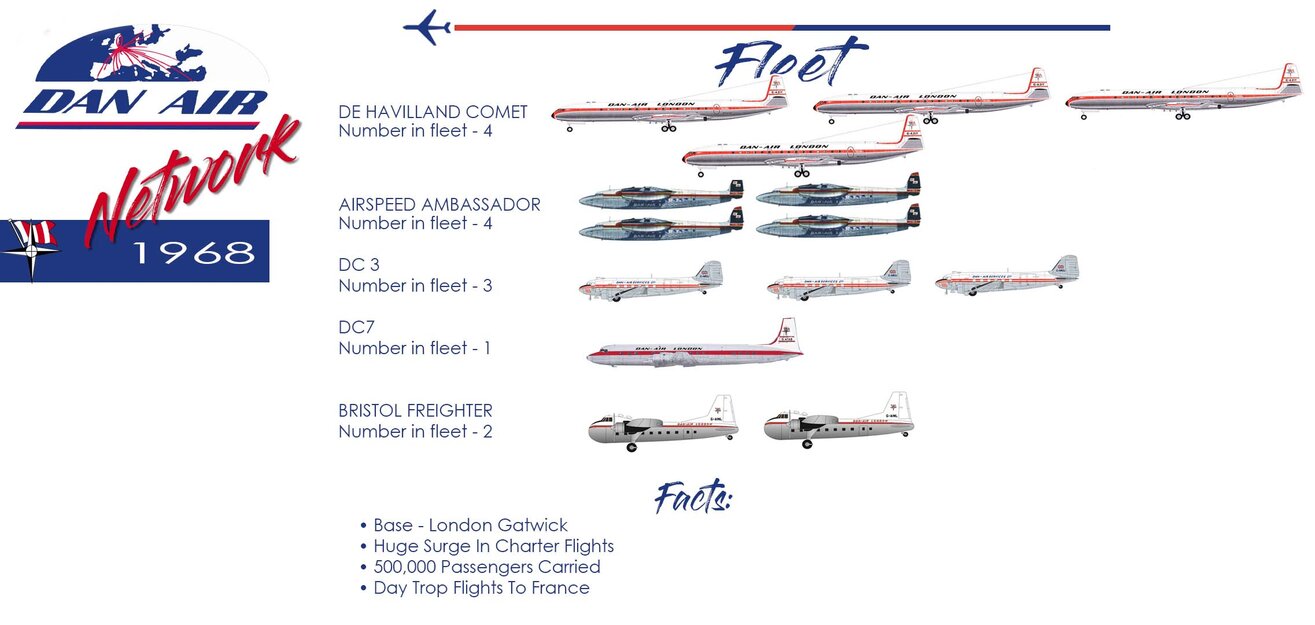 1968 was a troubled year in aviation, however Dan-Air looked toward to the ahead with confidence. Many new charter contracts were secured - enabling Dan-Air to order more aircraft. Two 1-11s had been ordered for delivery early in 1969 with a third by the end of the year. The Comet fleet would grow from four to five by the end of the year. Purchased from BOAC, the Comets were rushed into service after visiting the airline's maintainance base at Lasham. They would undergo the same extensive modications as earlier purchased examples. The Comets had ovens in the galley, this meant that Tour Operators were given the option of providing their guests with hot meals. Britannia Airways had began offering them on their Bristol Britannia aircraft and so it was a natural progression for Dan-Air, signalling the end, for now a least, of the curly Spam sandwiches and limp lettuce salad.
Dan-Air unveiled its new, brighter colour scheme this year. The new Comets were first to wear it and other aircraft in the fleet had it applied upon regular maintainence. A new uniform for ground and cabin crew made for a much more professional image for the airline.
Mid England Travel chartered Dan-Air Comets to fly to Cyprus for the Summer months. The hefty price of £85 was counter balanced by the fact that Cyprus, like Malta, was a Sterling currency country. This meant it was exempt from limits on how much money could be taken to spend. The same regulations applied to Bermuda which was served by British Eagle on Boeing 707s that the airline had recently acquired. Channel Airways ordered BAC 1-11 jets and soon after Tridents to join their IT fleet.
Some of the routes on the scheduled network were not making m
oney. The Bristol - Cardiff -Liverpool - Newcastle servic
e had not even broken even after six years, this was not helped by the inefficiency of the Ambassador and DC 3. The Dove and Heron aircraft had been sold and some of the smaller regional airport stops were dropped from the 'Link City' network. Dan-Air would begin testing new aircraft to replace the Dakotas on domestic flights. In May 1969 an American Beechcraft was evaluated at Liverpool to be followed the next week by an HP Jetstream. Both aircraft were similar in their fuel consumption. They would be capable of flying between 10-15 passengers at 250mph. The Beechcraft took 15 minutes from take off
Bristol to Cardiff,
forty five minutes to Liverpool compared with 20 minutes and 70 minutes with the DC3. Dan-Air's Archie Louden said the airline had made the decision on the fact that the route had had varying levels of success and the only way to make it profitable was to use modern, efficient aircraft. He also disclosed that Dan-Air were looking at replacing the Ambassadors on the Liverpool-Amsterdam service with pure jet 1-11 aircraft.
Kent chamber of commerce chartered a series of Dan-Air flights to fly on day trip shopping trips to France using Dakota aircraft, the sad fact was that the 'Dak' was coming to the end of its useful life as newer, more effiecient models became availalble.
Manchester had featured on Dan-Air's network as a charter base with an Ambassador based permantently at the airport. Northern European charters were carried out to Ostend, Antwerp and Lourdes. Naturally the first Comets would be based at Gatwick. Before long Tour Operators were anxious to charter Comets because of their jet performance. It would take a while before Comets began to appear at Manchester as they were working flat out. As soon as additional Comets joined the fleet they were based at Manchester and the Dan-Air presence was exponential. Very quickly Dan-Air became Manchester's biggest independent carrier. Comet jets would also undertake charter flights from other airports and then head back to Manchester for repositioning before getting back to work early the nest day. It would seem that the Comet could not have worked any harder. All the fleet was utilised to maximum.
A company Ambassador on a routine training flight left Gatwick it became apparent that the undercarriage got stuck. The trainer, Captain Moody took the aircraft through an aerobatic drill to shake the undercarriage out and this failed. The aircraft was diverted to Manston where Captain Moody and Captain James Lecky performed a wheels up landing on a £600 blanket of foam. Captain Moody performed a text book landing which saw only damage to the propellors and the undercarriage.
It was no help to the airline in June when the World's Comet fleet was grounded. Cracks had been found in some models. De Havilland gounded the 44 Comets that were in operation while a spare part was fitted. Several flights were disrupted. Dan-Air's decision to base aircraft at Luton was also dealt a blow in August of this year. The airport had allowed night flights throughout 1967. In August they informed Dan-Air and Autair that their Comet BAC1-11 night flights would have to be reduced by 50%. In Dan-Air's case that would mean losing 30 flights a week. Birmingham which in 1968 was not a 24 hour airport said that it would welcome night flights and have no restrictions in the amount that could be flown.
IT flights continued to be bulk of the airline's flying. Dan-Air was now firmly established as a profitable, reliable and competant company. Apllications were made for more scheduled services, but as ever, the UK Government refused to stop their protectionist practice - Provision One - Any attempt by an independent to obtain a scheduled route was met with the response "Material Diversion Of Traffic" It is not without some irony that in pre 1992 days it was the Conservative governments who had been more reluctant to allow competition from independents than Labour ones. This was not the case in all business, but it was particularly true in civil aviation. The DC7 was put up for sale this year. Boasting that is was available as a 104 seat passenger aircraft or cargo liner. Check IV had been completed and the aircraft had radio, and radar - cost? £65,000 with spares extra!! Prices for a Bristol Britannia at the time ? £325,000.
This year saw the end of the absurd rule that meant if scheduled airlines increased their fare that Tour Operators would have to do the same. (Surcharging) However when brochures initially were printed the rule was still in force. The holiday in total must not cost less than BEA's standard return fare. So, passengers were somewhat protected now from surcharges. They were also more safe in the knowledge that ABTA registration for travel agents and tour operators was essential. The Edwards Committee commenced. It proposed a lot of changes. Most significally that the Tour Operators should be allowed to sell their holidays for the same price as two standard single BEA tickets. That would mean that a weeks holiday to Majorca would now cost £30 7s instead of £35 3s.
By the end of the year the Comet fleet had grown to five and two BAC 1-11 were in service, with the 1-11s being configured to seat 89 passengers. The three DC 3 Dakotas were flying UK domestic routes. The DC 7 worked on Northern European freight flights until it was scrapped having failed to sell. The last two Bristol Freighters were now used for cargo only flights.
Good news came in November 1968 when Dan-Air were awarded a contract with Lunn Poly and Everyman Holidays worth £6m. The contract was to fly 200,000 people to European destinations from Newcastle in the summer of 1969. Passengers would travel on BAC 1-11 and Comet airliners. Although there would be no extra flights than in previous years, Dan-Air were thrilled as the contract had previously been managed by British Eagle.
The year was rounded off with a bitter argument with the Air Transport Licencing Board who had given Cambrian Airways the right to absorb their domestic flights into the Channel Islands that were year round. Dan-Air said they had borne significant losses maintaining their Bristol - Cardiff - Liverpool - Newcaslte services and competition on the route would be disastrous for them. Nevertheless the ATLB awarded licences from 1969-1975.
The situation at British Eagle was dire, The troubled carrier withdrew from domestic services and closed its maintainence base at Liverpool. The airline began to sell aircraft in a bid to save itself. The airline went bankrupt blaming exchange controls of foreign currency and conflict in the Middle East for its demise.
1969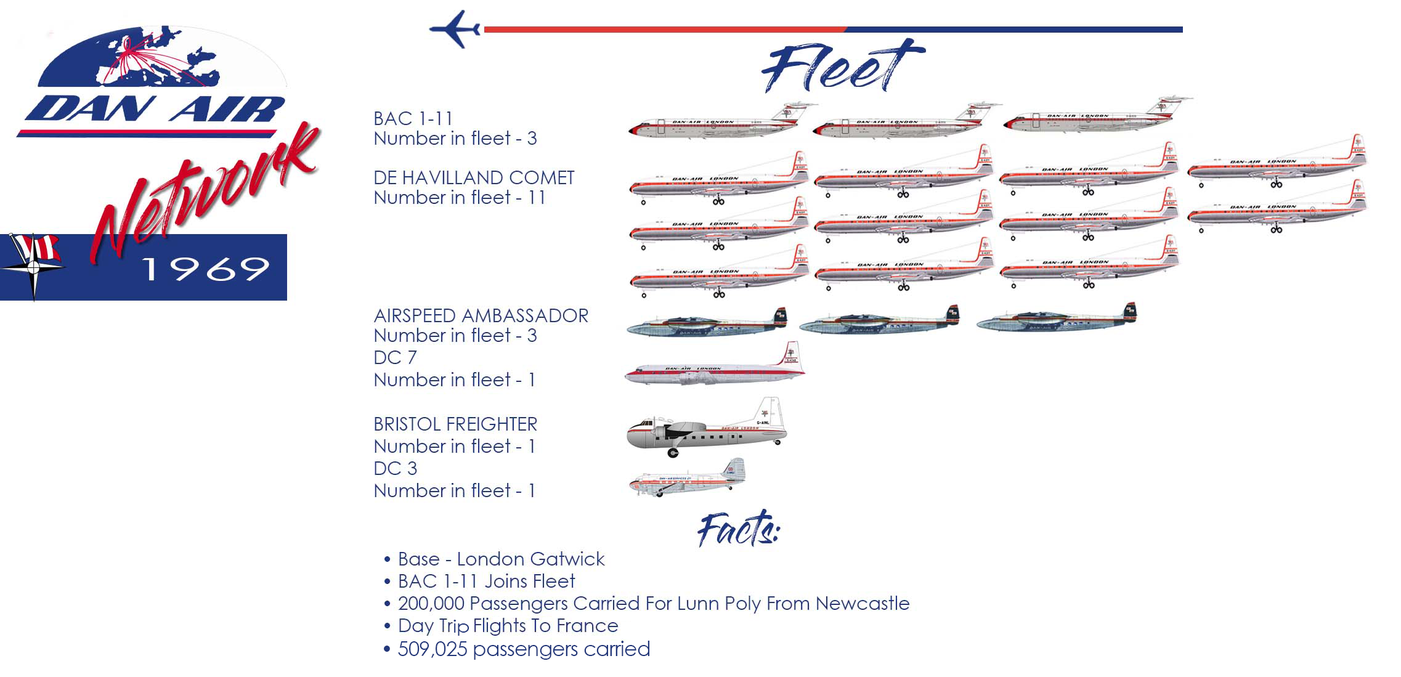 At the end of the decade Only one Bristol Freighter remained in the fleet, carrying cargo. The Ambassador fleet was further reduced to just three. A sole DC3 carried on in sterling fashion on the UK 'Link City' network that had not grown for a couple of years so the introduction of a new
Gatwick - Newquay
service was a welcome addition. The Comet fleet had swelled to eleven models at the end of the year and the BAC 1-11 fleet stood at four. Dan-Air were fortunate in purchasing the 1-11 aircraft. American airlines had taken delivery of the type in 1966 and by the time they joined Dan-Air they were only two years old. The 1-11 was in full production and ordering the aircraft new would have taken a long time for delivery. Dan-Air were able to put the aircraft in service quickly. Britannia Airways had taken delivery of its first Boeing 737 jets. The 737 was a marketing dream. Factory new jets flying with the UK's leading tour operator set them up as leaders in their field. The 737 though could not land at some of the airports with shorter runways where the BAC 1-11 could. This helped secure many charters for Dan-Air. Laker Airways took delivery of their 1-11s and operated them from Manchester Gatwick and Berlin.
Bankrupt British Eagle had planned to operate Boeing 747, 707s and BAC 1-11 aircraft and ten turboprops. The delivery of their 707s had been met by a heavy tariff of £440,000 immposed by the UK Government for importing none UK aircraft. The Government had refused Eagle's plea for an exemption. The aircraft were registered in Bermuda and British Eagle agreed to pay the amount when the 707s appeared in Eagle colours. Invicta Airlines was absorbed into British Midland Airways and Monarch Airlines took delivery of ex British Eagle Britannias.
The failure of British Eagle late in 1969 saw Dan-Air take over their charter work in Berlin. The Station Manager post was offered to the same titl holer at Liverpool who would introduce Dan-Air to Germany. The move would mean Dan-Air jets would have to be based at Berlin. Channel Airways, Laker and Britannia Airways had all taken up opportunities in the free section of Berlin. The 1-11 was so successful that options were placed on four further examples. British Eagle had operated them and it was hoped that Dan-Air would purchase them from the receiver. No firm decision had been taken on the Dakota replacement, however trials on the Beechcraft and Jetstream were followed up with a new trial with the Nord 262. The Jetstream came with a price tag of £235,000! Dan-Air also announced that they were evaluating the possibility of replacing the Ambassador with BAC 1-11 jets on the Liverpool - Amsterdam service.
With the contract to carry 200,000 passengers from UK airports in the bag and more large contracts to undertake this year, it was necessary that Dan-Air acquire more aircraft. It was estimated that a Comet had a value of £500,000 in 1969 so Dan-Air's decision to purchase seven of them this year was a considerable investment. One of our pilot contributors told us:
'It was well known in the industry that Dan-Air did not like to spend heavily on brand new aircraft. By the late sixties the Comet was the only jet aircraft that was available in large enough numbers to purchase. The Comet was a marvellous airliner to fly in every way. The main drawback was that it consumed incredible amounts of fuel. The BAC 1-11 used as much fuel as a 737 and carried less people. The Comet used perhaps almost as much as the two combined. It was enormously overpowered and it wasn't unheard of to close engines down mid flight without any noticeable loss of power. That said, Boeing 737 aircraft cost millions of pounds even in the late 60s. If Dan-Air could get three or four Comets for the price on a 737 then I can see the logic in that. Passengers wouldn't really have noticed that their aircraft was that much older. One has to remember, that most people were flying for the first time anyway. But it is true, our aircraft used a lot of fuel but were cheap to buy, I believe that the balance was in the Comet's favour re: fuel consumption plus aircraft cost. It didn't seem to affect the number of companies wanting to use us. Remember that comparable flights to Palma with Monarch were on a Britannia!'
Air Spain, a charter airline operating Bristol Britannia aircraft was looking to expand. The airline's bankers had asked three airlines to assist them. In the end Dan-Air was given the task of introducting a new type into service. Senior company officials flew to Spain and later on to the USA, where they had extensive talks with Eastern and United. Eastern had two DC 8 jets for sale at $1,500,000 which was considered a bargain price. Whether the type was suitable for high density charter flights had to be worked out. In the end, the aircraft would be configured in a 189 seat layout. United offered the jets with a training package for crews at a much lower price, when Eastern bettered it, the deal was done. Dan-Air invited designers to come up with a new livery for the type. Dan-Air selected a red and yellow stripe that covered the entire aircraft. It was a reflection of the nation's flag. It certainly was a break from tradition and was met with much derision from the Spanish press, who presumably thought that it was vulgar. That may or may not have been the case, but it certainly ensured maximum exposure on TV and press. The overall running of the airline would continue until the company was in a position to manage its own affairs. It was a complement to Dan-Air that a rival airline was considered competent enough, and trustworthy enough to have access to rival airline's whole infrastructure.
In total 509.000 plus passengers were carried this year. Of that figure, at least 109 of them flew to Trinidad on the company's first transatlantic flight. That aircraft, naturally, was a Comet! The Berlin station would eventually see the company base several aircraft there for the next twenty three years. The protectionist "Provision One" did not apply to Germany and major benefits were to be had by Dan-Air. The Edwards Committee report was published this year. It was approved by the Department of Trade. Now airlines could now operate a Package Holiday for the same price as two single one way flights with BEA. The Board of Trade also allowed the Charterers not to increase their fares from the previous year even if the state airlines increased their own fares. This was a major breakthrough. The glaring problem of holiday duration was overlooked. Holidays that were of different duration did not come any cheaper. People were now wanting shorter holidays and holidays of odd durations. However the Board of Trade made a few recommendations that would change the air travel world forever. It recommended that the CAA be formed (Civil Aviation Authority) and that a "Second Force" airline be established to compete in UK scheduled air services. This would have little, if any impact on airlines such as Dan- Air, but it was the start of a new concept and would, ultimately allow freer competition. Lunn Poly continued to expand its partnership with Dan-Air. The 1969 programme would feature charter flights from Manchester, Liverpool, Luton, Newcastle, Gatwick and Birmingham. All the Costas would be served as well as the Greek Islands, the Canaries, Malta, Romania, Russia, Istanbul, Italy, Tunisia and Yugoslavia.
Marathon Travel of London had chartered Dan-Air Comets to fly passengers to Cyprus where they would holiday before taking a cruise to Brindisi to be flown home to Gatwick. Sadly the company was suffering with financial problems and had fallen behind with payments to Dan-Air who refused to take the passengers home from Brindisi or to fly the next set of passengers to Cyprus. The UK Foreign office had to guarantee £1200 of the £2,000 required to get the passengers where they needed to be. The rest was met by the Tour Operator's parent company.
Last year's decision by the ATLB to allow Cambrian's appeal to fly from Newcastle, to Liverpool, Bristol, Cardiff and onto Jersey was upheld. Dan-Air operated the flight but stopped it at Cardiff. Dan-Air claimed they had lost £60000 on the route and that Cambrian would destroy their chances of a £20000 profit when a new, more efficient aircraft was introduced. The ATLB dismissed Dan-Air's appeal stating that if Dan-Air didn't wish to operate the service they could apply under section 3 of the Air Licencing Act to cancel, suspend or vary the service.
For the 1969 season Lunn Poly chartered Dan-Air BAC 1-11 aircraft for their holiday flights to more than a dozen destinations. Quoting on advertisements that the finest of service, reliability of operation and catering on Dan-Air (One of Britain's foremost airlines) was second to none. They said that the flight on the Rolls Royce powered BAC 1-11 was noted for its smooth, silent and comfortable operation. the Lunn Poly deal was terrific news for Dan-Air for it meant that not only would Lunn Poly passengers use their aircraft, but those on Everyman, Wings and Mato Holidays. In addition to the 200,000 passengers on Lunn Poly, many other Tour Operators selected Dan-Air for the first time in its history more than half a million passengers were carried in a single year.
NEW ROUTES