1990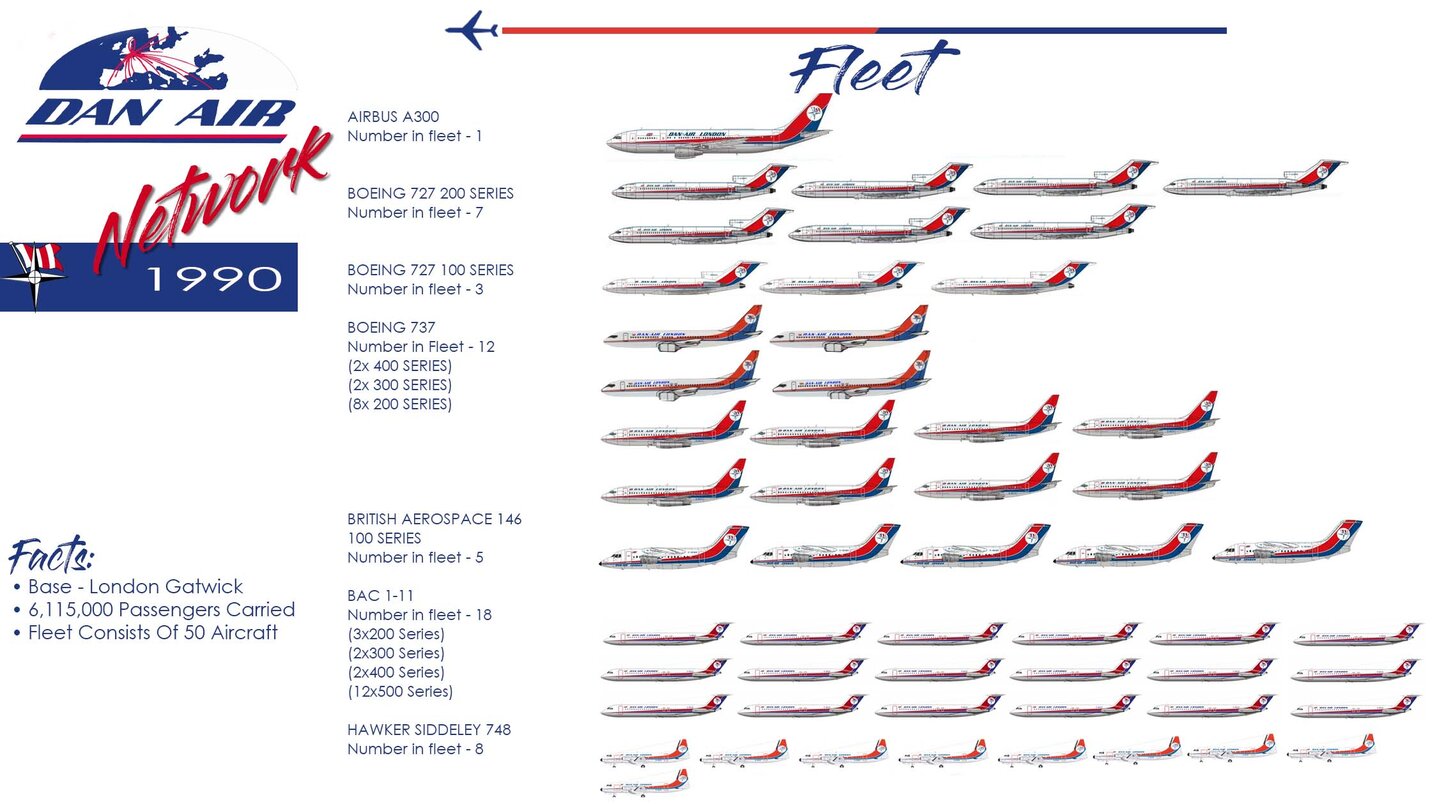 Pop Princess Kylie Minogue flew on Dan-Air in January this year. Dan-Air offered to whisk the star through a quieter part of the airport but Miss Minogue insisted on meeting fans. The airline announced it was withdrawing from th
e Dublin-London route, saying over capacity from several carriers was the reason. Dan-Air were also under pressure to increase services on other, less populated routes where they could maximise revenue. Five staff at the Dublin office wh
ich would also close in March would be offered other jobs within the company. The expansion of other services was no more evident than in Scotland. A company BAC 1-11 was named 'Scottish Connection' in February at a special ceremony.
In April the company announced that for only the second time in its history that it had made a loss. 1989's pre tax profits of £9.9m dropped to a loss of £3.3m. share prices tumbled 50p to 355p (An all time high was last years 570p) Fred Newman stated that high interest rates were partly to blame, as well as an exceptionally hot UK Summer. He also claimed the merger of BCal and BA had hurt the company. Over capacity on some services had not helped either as this meant they were unable to increase fares. Thier charter division was downn 7% however, overall they had maintained their share of the charter market of between 15 and 20%. Turnover was up 11% at £376m. The sale of two Airbus aircraft had raised £5.1m and the company sold more than a million pounds in surplus spare parts. Despite carrying 4.5 million passengers on the charter division which was only 1% lower than last year. They were not able to increase revenue from charter flights as they were operating on the same margins as the previous year. This was against higher fuel costs. The cost of launching Class Elite had been costly, but almost 2 million passengers flew on the scheduled network an increase of 40%.
Secret talks that started in May were revealed to the press. They talks had been between Dan-Air and several interested parties resulted in a dramatic rise ithe price of Davies and Newman shares. they rose 150p to settle at 575p. This increassed the value of the stock market value from £10m to £40.3m. Precisely who was involved in the takeover talks was unclear initially. It was believed that British Midland and BA were not involved as they knew any such merger would be referred to the monopolies and mergers commission. Aviation insiders believed that a European or American airline would be most likely to buy Dan-Air as it was the easiest way to get into the already congested airports of Gatwick and Heathrow. They also knew Dan-Air has massive hanger space at Gatwick and Manchester. Dan Air went to great lengths to reassure passengers that any passengers booking Dan-Air would in no way be at risk with contractual obligations. Dan-Air announced that it would
be withdrawing the Inverness-Manchester-Gatwick service and instead concentrating on the Gatwick-Manchester route which had better yields. However the Inverness-Heathrow and the Aberdeen-Gatwick services would increase. The Inverness-Manchester-Gatwick service had only been in operation for just 14 months. Dan-Air revealed that only 7% of passengers at Inverness had opted for the Gatwick service. The Inverness-Heathrow route had been so successful that not only
had frequencies increased they were now increasing capacity on all flights. Increasing seats from 82 to a 104 seat BAC 1-11 500.
At the start of March Dan-Air replaced one of the Berlin based HS748 with a BAe146. It also took over the
Gatwick-Amsterdam feeder route from British Airways. Dan-Air praised the Airport management at Inverness who had helped by not increasing landing charges. They said that the landing fees at Inverness included navigation service charges but did not include a passenger service charge. At Heathrow the landing charges were simply that - for landing. Thus a BAC 1-11 with an 80% load factor would incure a charge of £878 at Heathrow. Whilst Aberdeen was £856 and Inverness £705.
In a year of pretty bleak headlines Dan-Air had reason to chee
r when in August their tea was awarded best in the world. A panel of 10 judges had travelled almost 300,000 miles to find the best brew in the sky. Dan-Air's tea is a blend of Indian teas. The company were delighted to accept the award.
Shares in the parent company Davis and Newman plunged by 25p in August. Closing at just 150p. Speculation about the impending crash of the company was rife. A further blow came when Airtours - Dan-Air's fourth biggest charterer annouced that it was setting up its own airline early in 1991. Despite this a brand new aircraft joioned the fleet bringing the total number to 51. The new jet the BAe146 300 series was a 110 seat ultra quiet aircraft that would be ued on the
Newcastle-Jersey and Gatwick-Jersey services. The fuel effiiciency of the 146 was not to underestimated. The Gulf Crisis that was engulfing the world saw fuel increase by more than $35 a barrell. Something that no airline could ignore. I
n an effort to raise funds Davies and Newman put Dan-Air Engineering (DAE) up for sale. The price tag of £25 million would give a massive injection of cash to Dan-Air. DAE employed 1,600 people at Lasham, Manchester and Gatwick and had staff at 11 UK Airports.
1990 was a record year for the amount of passengers Dan-Air carried 6,276,000 passengers. 4,472,000 on charter flights and 1,804,000 on Scheduled Services. Their aircraft had flown 68,903 flights. Of those 35,560 were charter flights and 34,343 were scheduled flights. In terms of its network, all flights covered 72,666,000 aircraft km. Forty scheduled Service destinations had now been added to the network and in total 220 airports had been visited. The
HS 748 aircraft were now almost redundant for Dan-Air. They did not have the capacity nor efficiency of most of the jets in the fleet. The oil supply industry had dwindled to a trickle and several were sold leaving just nine in the fleet. The BAC 1-11 fleet stood at eighteen. The 1-11 was beginning to be a problem. Some of the older aircraft would not meet the noise reduction targets set by the EU. They were also not fitted with CAT III technology. Some were fitted to CAT I. Although this was not thought to be a problem on charter routes that had generally good weather. When they were placed on Northern European Scheduled Services some of them were problematic if weather was bad. The airline's strategy was to replace the aircraft and consolidate the fleet on just two types. The Boeing 737 and the BAe146.
Air Europe continued its campaign to smear Dan-Air; they tried to finish the company off by saying that it would not be chartering any Dan-Air aircraft this year. They had just two years prior, time chartered six aircraft. The following year only three. Air Europe went on to say that they had no plans to use any Dan-Air aircraft in future. They plunged the knife in further when they announced that they were no longer going to use the services of Dan-Air Engineering. There was no doubt,
Dan-Air was in deep trouble. The banks that Dan-Air had used for its entire history refused to extend their overdraft facilities. The sale of Dan-Air Engineering (DAE) would be handled by Barings Bank. The company, unlike Air Europe, was asset rich with real estate that they owned, aircraft that were often owned outright and spare parts valued at millions. The Engineering division was profitable and as well as maintaining Dan-Air aircraft, serviced the aircraft of 30 other airlines. Dan-Air would hope to retain a 20% share in the company and wished that its aircraft be serviced by the new owner.
James' decision to sell off Dan Air Engineering is explained in great detail in the
company history section
of this site.
Speculation in the city continued to grow as shares fell to 140p in October; a depressing headline when compared with the 795p that the group entered the year at. The company promised it would release a statement soon to clear the air and put an end to the rumours .
The banks were still willing to give Dan-Air credit albeit with many conditions attached. One they did attach was that Company Doctor David James be employed. Arrangement fees for this were staggering. In addition he was to be salaried at £30,000 a month. At the time of his employment he was chairman and chief executive of the Eagle Trust, a position he intended to keep. He would begin his job at Dan-Air on November 1st. He said at the time
"Most of the company's staff will keep their jobs." going on to say "My arrival does mean a threat to the established regional routes, I have no preconceived ideas about closing off any routes."
Although he did not have a background in aviation he said,
"One has to look at profits, but you cannot go cherry picking and just keep the best routes. You have to look at the total."
James' appointment came with the reassurance that they were no longer looking at selling the airline or joining up with another. They were looking at returning the airline to profitablility. At his appointment banks were willing to increase working capital to £70m from the previous £40m. The Davies and Newman families, who between them owned 52% of the company agreed to restrict their voting rights while James was chariman.
One of James' first moves as new chairman was to replace most of the Board of Directors at Dan-Air with those he had chosen. Many had no experience in aviation. He told the press and the industry that he saw no reason why Dan Air could not be turned around. He was "Pleased at Dan-Air's present perfomance which has seen it sell 85% of its charter capacity for 1991."
British Island Airways crashed out of business early this year. Almost immediately Dan-Air applied for some of its routes, as did Air Europe.
James had the idea that the company would re finance and concentrate on becomming a stand alone scheduled airline with a fleet renewal programme. The General Manager - Europe - Vic Sheppard announced that in 1990 they "Would be phasing out our smaller aircraft and thinner routes" These would be replaced by newer, quieter and more economical jets on high density routes su
ch as Paris which was to now be offered from Gatwick up to nine times a day. Sheppard was aware that people had only seen Dan-Air as a cheap, charter airline "And all that goes with that" He went on to say that "When people have tried our scheduled services, in particular the 'Class Elite' they are often pleasantly surprised at the level of service we offer. Our market research shows this and it shows that they are highly likely to come back for more." In 1990 24% of the scheduled passengers were travelling on business class, 40% of flights were on the scheduled network and the plan was to take that to 60% in 1991. The six domestic services into Gatwick offered other airlines 'Interlining". In particular, American carriers wer
e impressed with Dan-Air's ability to bring passengers into
Gatwick to join one of their flights Stateside. Dan-Air had no ambitions to enter the long haul market and the agreements worked well. As Europe prepared for the deregulation of the airways in 1992, Dan-Air found itself having BA as a direct threat on it's Gatwick-Toulouse route. It also wanted to get back into Paris, but was restricted by only being permitted to fly into Paris Orly.
Announcing pre tax losses of £18.7m in October for the last six months trading, the figures made grim reading. A further 15p fell off the share price of Davies and Newman. Having increased by 20p at the announcement of David James' appointment. They now stood at 140p James was quoted that day saying "Whatever happens, in any circumstances the core business Dan-Air is certain to survive in one form or another."
Going on to say "
The board's first task, is to give priority to addressing the corporate strategy for the future and deciding precisely which parts of the organisation should be developed and which may present potential for realisation" It was at this time that he claimed Cathay Pacific were innterested in purchasing Dan-Air Engineering. This followed the news that Aer Lingus was no longer interested in buying DAE.
A Dan-Air Boeing 737 flew to Moscow on a charity flight in December. Charities had managed to get a plane load of baby food and Dan-Air agreed to fly the food destined for hungry Soviet babies free of charge.
NEW ROUTES AND ROUTE CHANGES
Gatwick - Amsterdam feeder route - March (Taken over from British Airways)

2 April - Gatwick-Berlin service commenced - April 2nd

Gatwick-Dublin service discontinued - April 4th

Gatwick-Vienna service started - May 2nd

Gatwick - Ibiza - 'Class Elite' introduced. May

Connecting flights introduced between Manchester, Newcastle, Tees-side and West Berlin. October 29th
1991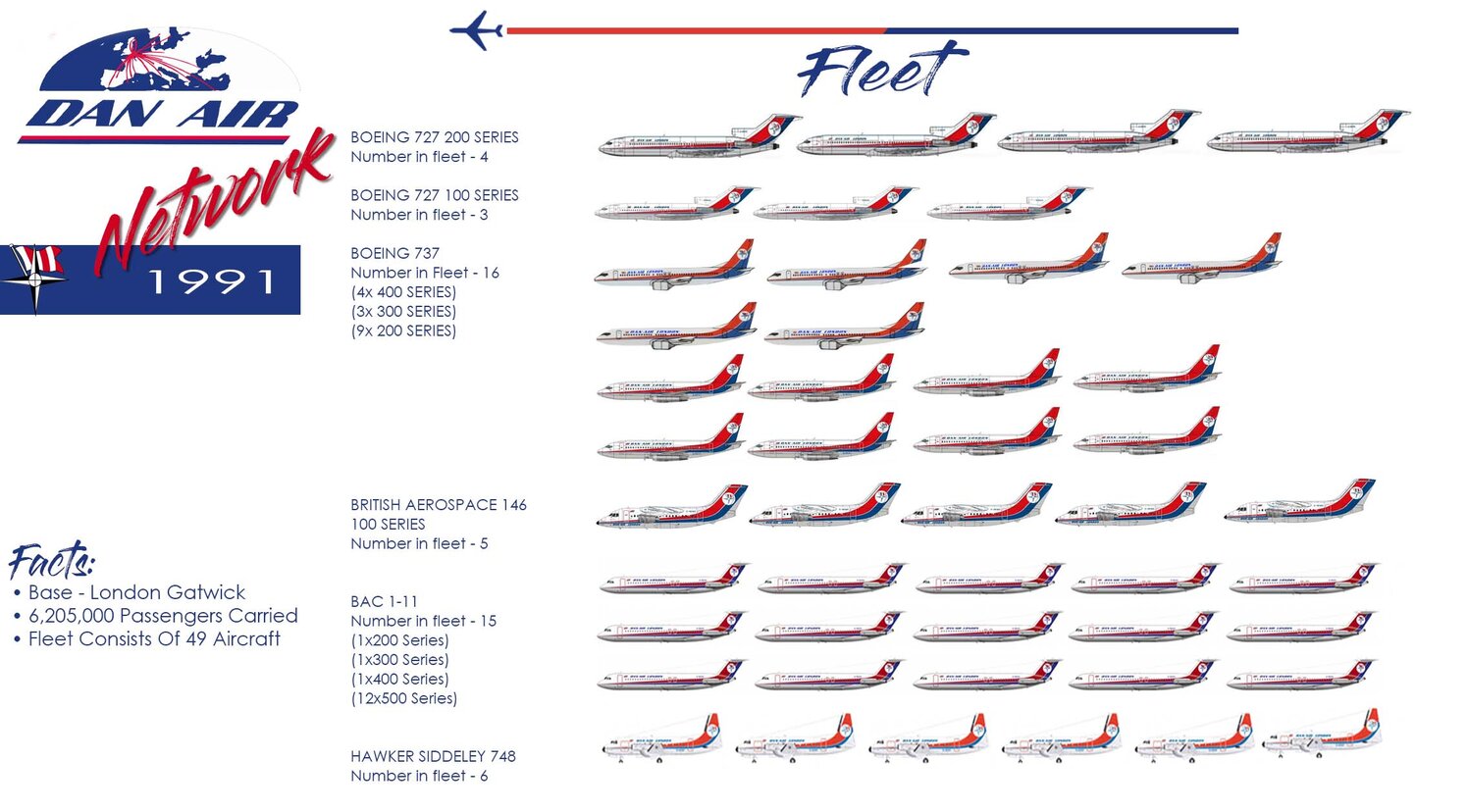 New Year brought much needed good cheer when Dan-Air was given the licence to fly
Gatwick-Amsterdam after British Airways dropped the service. Dan-Air would commence operations in March. This was a premium route that was guaranteed to succeed. However, Dan-Air announced it was scrapping routes from Newcastle and Tees Side to Norway in March. This was in response to a challenge from Norwegian airline Braathens Safe who announced they would be goiing head to head with Dan-Air. It was felt by many that they were not in the mood for a price war with another airline after being stung so heavily on the London-Dublin service.
The Inverness-Heathrow service continued to grow and for the second year in successio
n Dan-Air announced they would replace the 104 seat BAC 1-11 with a 124 seat Boeing 737 200 series. The aircraft used the same amount of fuel but could carry 20 more passengers.
At an extraordinary general meeting new chairman David James announced that the airline was going to need a substantial injection of cash. He hinted at a share offer. The shares fell and then increased by 5p to 125p as James announced that they had sold Dan Air Engineering (DAE) for £27.5m to the Danish Engineering company FLS Aerospace.
Dan-Air's strategic advantages included its 11 domestic routes and 36 European routes. He said flights on some of these routes had "Been curtailed to save fuel and maximise payloads. Partly to offset the five fold increase in fuel costs since the Gulf War."
The decision to replace board members with people from none aviation sources was a great risk. People watched with interest and worry as new board members took over. Danny Bernstein left Dan-Air to become Managing Director of Monarch Airlines. His great skill in the industry saw Monarch go from strength to strength and become one of the most successful UK airlines in the 90s. Graham Hutchinson was aknowledged as a supreme airline manager, respected the all over the World. How could anyone take such a risk in removing these two people? Only three people on the board had a background in aviation. Michael Newman, John Mayes and Peter Sommers. The new Davies and Newman Chairman himself, David James was an accountant by profession and had been trained by Lloyds. James had saved companies from going under in the past, none of them however, were airlines. How could he be expected to know about this kind of industry? Others to come with James were Peter Ryan a chartered engineer and Charles White an engineer.
Citibank had made many loans to Air Europe's parent company ILG on the security of their aircraft, and on March 7th 1991 they demanded that ILG had 24 hours to find new financing. Or they would call in all their loans. Lloyds Bank meanwhile who had been suprisingly negative to Dan-Air and had made the restrictions so wide ranging, were now trying to keep ILG afloat. This policy was understandable from Lloyds point of view. They were the Bank who ILG's owed the majority of their debts to. So misguided were Lloyds by ILG that they had attempted to persuade ILG to take over Davies and Newman as part of the D & N rescue package. As it was, no financing came and ILG along with Air Europe collapsed. David James said
"Dan-Air needs a substantial injection of new funds." and "This might entail a 'rights' offer to shareholders" Shares had dropped and later settle at 105p at the end of that day. James said he wanted "Significant new equity investors, although the latter might dilute existing shareholders. But hopefull there would hopefully be benefit in the enhancement of the overall corporate enntity!" The other option was for Dan-Air to be sold as a going concern, adding that "No talks were taking place, but past expressions of interest might recur once market condition began to improve." The final option was to merge with a similar airline, stating "Again this might requite the approval of shareholders or new investors with additional funding."
James announced that "Dan Air's strategic advantages were its 11 domestic and 36 European routes - but flights to some of these would have to be curtailed to save fuel and maximise payloads. Partly to offset the five fold increase in fuel costs and the Gulf War." Group losses were £30.4m from £18.7m in the first half of last year. This figure included £5m in 'exceptional costs' to pay for 'special fees' to the banks for their lending lifeline, relocation of head office and 'professional fees' in forming the group's future strategy. In other words - bank charges and fees for management.
Air Europe and ILG's collapse in March left significant gaps in the travel market. Companies that had booked seats or whole aircraft from Air Europe would be looking for a replacement carrier. Dan-Air was ideally placed to swallow up not only
this
available business, but also many of the bankrupt airline's Air Europe's scheduled routes. It would mean that Gatwick-Paris would now not face competition from Air Europe. It could have been the saving of Dan-Air. It is widely regarded now that had they done this the airline would have gone into profit again that year. The board chose not to do this. They had already announced that they wanted to be a scheduled services airline. In fact - instead of taking on this available work they actually
reduced
the charter and IT work that year. Despite claiming that now they had refinanced the airline and that they were in a position to 'take advantage of market opportunities.'
Later in the year a new Tour Operator sprung up. Sunworld. It had been born out of the ashes of ILG. Iberotours in Spain were its founders. By late Summer they had launched and carried a few thousand passengers. They said they would be launching a full package for the Summer of 1992. They would sell 360,000 holidays and would be using Dan-Air as its main charter airline. The irony of this is that Sunworld's managing director was the former Manager of Intasun. All the discrediting they had done to Dan-Air, the attempts to deal the final blow had led to a new company chartering Dan-Air aircraft.
Industry Observers noticed the lifeline thrown to Dan-Air. They suggested that the main reason Dan-Air had lost out on charter work was the lack of vertical integration with a Tour Operator. They urged Dan-Air to join forces with one or to start one of its own. Their advice was ignored. Further irony in the new Dan-Air board's decision to concentrate on scheduled services came after the Air Europe/ILG collapse. Thomson holidays said that the crash had resulted in a 25% surge in bookings. Horizon was up 30% and Airtours who aimed at the cheaper end of the market had soared by 40%. Airtours had decided to add three more aircraft to its fleet, bringing the total to eight. Airtours share price had rocketed to 795p. This enormous gap in the market was largely ignored by Dan-Air's management. They were hopeful that in 1992 they would break even. The following year have a profit of £20m rising to £42m by 1995.
Dan-Air had picked up rights fo
r Cairo, Athens, Istanbul, Rome, Malta (Ex BIA), Stockholm, Gibraltar, Ibiza and Brussels. Some of these services were started and some due to commence in 1992. Only two of the former Dan-Air board members had now gone. Ian Peddar and Captain John Mayes. One of James' appointees James Ryan left the board to take up the post of chairman with another company.
In November David James was in a position to say that Dan-Air would be kept flying despite the sale of Dan Air Engineering (DAE) saying "Whatever happens, in any circumstances Dan-Air is certain to survive in one form or another."
All but six of the HS748 aircraft had been sold by 1991.
Of the forty nine aircraft in the fleet nineteen were in the charte
r fleet and 30 aircraft were now carrying scheduled service passengers. The plan David James had was to carry two million charter passengers in 1991 and two million scheduled passengers. There were plenty of airlines that were successfully operating as scheduled carriers that carried two million passengers. Why was this happening? - James had managed to refinance Dan-Air, the sale of Dan Air Engineering had raised £27m. His sale of 105 million Davies and Newman shares had raised just over £50m. Total losses for the year were £35m of which £5m was accounted for with the relocation of the head office!
James said the cash would be used to balance the bank accounts and to go towards new aircraft. Air Europe's collapse also enabled Dan-Air to increase frequencies and introduce larger aircraft on the busy
Gatwick-Charles de Gaulle
and
Gatwick-Manchester routes. At the start of the 1991 winter season, Dan-Air increased the frequency of its Gatwick-Paris Charles de Gaulle service to nine return flights per day and Gatwick-Manchester to eight daily returns. The airline replaced BAC One-Eleven 500s with Boeing 737s on both routes. From then on, Dan-Air carried more scheduled passengers than British Caledonian had ever carried in one year throughout its existence. Total losses for the year were £35m.
NEW ROUTES & ROUTE CHANGES
Gatwick - Brussels - Route commenced - April

Gatwick - Oslo - Route commenced - Twice daily except Saturday - November

Gatwick - Paris Charles De Gaulle - Increased to nine flights daily - May

Gatwick - Manchester - Increased frequency to eight flights daily. - May

Gatwick - Gibraltar - May

Manchester - Gothenburg (Proposed Route - CAA Granted Licences)

Gatwick - Athens

(Proposed Route - CAA Granted Licences)

Gatwick - Cairo

(Proposed Route - CAA Granted Licences)

Gatwick - Malta

(Proposed Route - CAA Granted Licences)

Gatwick - Palma

(Proposed Route - CAA Granted Licences)

Gtwick - Istanbul

(Proposed Route - CAA Granted Licences)

Gatwick - Stockholm

(Proposed Route - CAA Granted Licences)
1992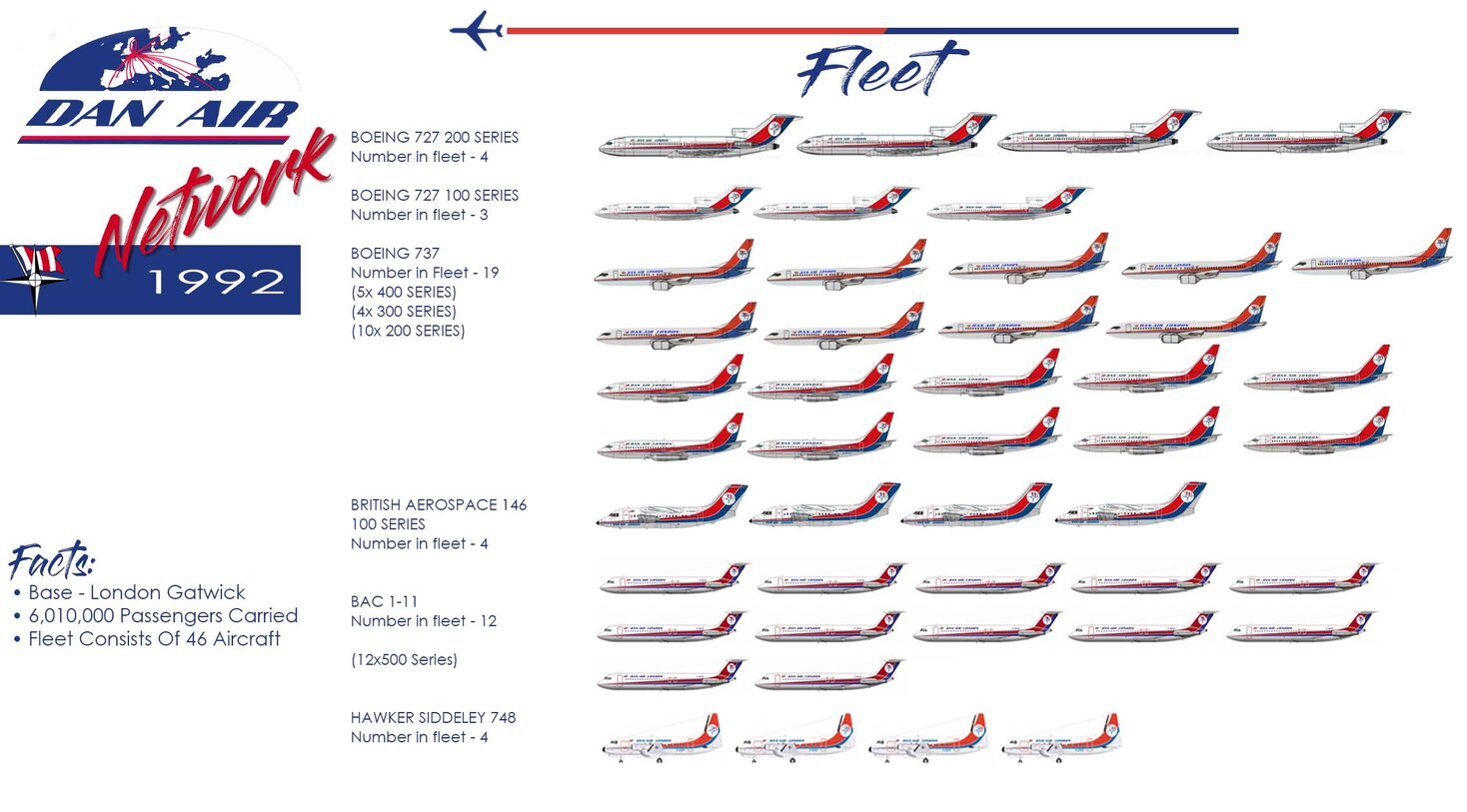 There had been confidence within the airline that they were out of danger. In April the company announced that it had performed better expected turnover was £312m and in fact had been £317 the losses were £18.9m against an expected £19.1m. The airline also announced that four of the older BAe146 aircraft (100 series) were being sent back to British Aerospace along with two BAC 1-11 jets. They would be replaced with four of the latest varient of the 146 - The 300 series. The jets were eight years old and the newer models would bring down the average age of the fleet. The cost was explained as negligable. In addition to these changes there would be a further two BAe146 300 series brought into the fleet at a cost of £20 million. There would be a new uniform coming soon and in the meantime stewardesses now no longer had to wear hats that the board saw as old fashioned. David James stepped down as Group Managing Director but retained his role as Chairman. The new Group Managing Director was John Olsen who was recruited from Cathay Pacific. His salary was a reported £150,000. James went on to be chairman of another loss makinng company LEP. The recruitment of Olsen was seen as a positive appointment. No one thought for a second that he would have left such a successful airline to work for one that was about to fold.
In May Dan-Air rolled out what was announced as its largest ever expansion at Gatwick from February to May. Then at the end of May David James stated that the sustained increase in passengers that was needed to lift the airline back into profit had failed to materialise. He said bookings from April to May had shown no recorvery, but that bookings over the last two weeks had shown a marked improvement. This was despite him saying earlier in the year that the airline had been performing better than had been forecasted. The airline had posted slightly higher turnover and slightly less losses than forecast. Now James was saying."This erratic and unpredictable pattern does underline the difficulty of accurate forecasting in the present conditions." He had told the Annual General Meeting that "by adding just two business class passengers on every Dan-Air flight they would add £20m to annual profits." In April the airline had posted pre tax losses of £35.5m compared with losses of £38.7m the previous year. James had said that the airline's survival plan was on course. A runway extension at Sumburgh was given the go ahead and it was revealed that Dan-Air who were under charter drom BP to fly out of the airport were looking to get out of the arrangement. They had refused to sign a renewal contract and were instead carrying passengers on a month by month basis. The airport could not handle jet aircraft and Dan-Air were in the process of replacinng all propliners with jets. In June Dan-Air joined the Air Miles scheme. This was seen as a positive move it would also complement their frequent flier programme that it ran with Virgin Atlantic. Then the 24th July saw Dan-Air drop its
Newcastle and Teed Side to Amsterdam
service due to low load factors. The airline blamed the recession. Leaked information disclosed that Dan-Air was looking for a partner company to formally merge with. This further unsettled staff and passengers. At this time Dan-Air dropped its sponsorship of a football league.
On the 28th September it was revealed that Dan-Air had been in talks with Richard Branson with a view to a possible merger. Davis and Newman's share trading was to be suspended from that day until the emergency talks had been completed. The share price at the time of suspension was just 21p down from 550p just two years previously. Concern that British Airways share prices might suffer as a result of a Dan-Air / Virgin merger proved to be unfounded. Branson was looking at keeping Dan-Air as a holding company. Virgin's shareholders would be given the option to invest and the 40 aircraft in Dan-Air's fleet would be used primarily as feeder flights for Virgin Atlantic flights wordwide. In return Virgin would rebrand Dan-Air and provide operational and marketing support. The Dan-Air name would disappear. Meanwhile it was revealed that Peter Ryan, Dan-Air's Deputy Chairman was found to have seven other jobs as a none executive director with firms as diverse as engineering group Torday annd Carlisle and a furniture manufacturer. Dan Air said of the merger talks that there were no plans for Dan-Air and Virgin to merge or for Dan-Air to be taken over. They were, they explained, talks aimed at getting financial backing. Flying operations would continue as normal.
The very next day David James issued a message to shareholders to say that "Talks of a merger between the to airlines was untrue - they were to result in co operation between the marketing and operational activities of the airline." He strongly denied reports that Dan-Air had been threatened with the loss of its licences he also described talk of the loss of hundreds of jobs as "pure speculation". Losses for this year were now forecast at £60m.
On 10th October it was rumoured that Branson was only willing to invest £10m in Dan Air and even then he would like to see Dan-Air stripped back to a core network of highly profitable routes and feeder routes for Virgin Atlantic. Dan-Air were looking for heavier investment of up to £40m. James said "One way or another some sort of proposal will come out to try ad save Dan-Air."
This was in total contrast to the statements he had made last year that spoke of the certainly Dan-Air would be saved. The talks between Branson and Dan-Air broke down. New talks were going ahead with the rumour being that they were with British Airways, this tured out to be true. A second round of talks were completed. The announcement that BA had saved Dan-Air was made on 23rd October 1992. In total 1600 jobs would go at Dan-Air. The entire charter division would close. The only aircraft to be taken over by BA would be the Boeing 737 fleet. It was discovered that almost all the scheduled service routes were in profit.
Dan-Air's final year of airline service saw just four HS748 in the fleet. The BAC 1-11 fleet was reduced to 12 models. The Boeing 727 which had dominated the charter market for so long stood at seven. Nineteen Boeing 737 aircraft of 200/300/400 type flew, primarily on scheduled services and four BAe 146. Several of the BAe146s were on order but never arrived. In the aftermath of the Air Europe collapse several things had happened. The beginning of the deregulation of the airways had begun in earnest with airlines now free to fly on any route of their chosinig. Malta for instance, a small island in the Mediterranean was suddenly served by Air Malta, Air Europe, British Island Airways and British Airways. Both Air Europe and British Island Airways had gone bankrupt. This left the stage clear for Dan-Air to apply for and obtain several routes in 1991. By 1992 they had not fully started. Dan-Air had sold its share of the profitable Manchester Handling in January. David James, the Chairman of the company said "From now on Dan Air will be an airline - just an airline." The new board intended every route Dan-Air flew to be a high density, business or leisure route. Thier plans included greater frequency on the most popluar routes, a much more scheduled service approach and a fleet that was to be consolidated to two types; the Beoing 737 and the
BAe146. The Gatwick - Stockholm / Rome / Barcelona routes all started. Route testing and appreciation could take two years. In the pre deregulation days this was possible. Now, Dan-Air was faced with massive competition. The Barcelona route closed after just six months. The expansion of Dan-Air's scheduled operation at Gatwick continued throughout 1992, resulting in the resumption of the former Air Europe route to Stockholm Arlanda in February and Rome Fiumicino in April. In addition, Dan-Air launched Gatwick - Athens in March and re-launched Gatwick - Barcelona in May. During that period, Dan-Air became Gatwick's largest resident, short-haul scheduled operator controlling 18% of all slots, and 2
1% of all morning peak time slots between 8am and 9am.
Anyone who knew the aviation industry should have known that these routes were worth a small fortune. As was the spare parts in Dan-Air Engineering's three bases. Further huge assets remained with the real estate in Horley and London City. Gatwick Handling was a major company with large profits. When Air Europe collapsed not only were its scheduled routes up for grab, but a substantial charter programme. The board at Dan-Air rejected the chance to try and take this work. Instead concentrating on the scheduled services.
The funds raised through new shares were insufficient to standardise Dan-Air's fleet on the Boeing 737 300/400 series and the Avro RJ115 (marketed but never built).The funds were also insufficient to finance transformation from a cheap-and-cheerful charter carrier with a collection of poorly performing, "low visibility" regional scheduled routes into a top quality, "high visibility" mainline short-haul scheduled operator plying trunk routes.
Dan-Air's chairman, David James, said weak marketing and its charter mentality, even after the decision to make high-profile scheduled services the focus of commercial activities, was the reason it failed to achieve results. That meant that instead of making Dan-Air the airline of choice for high-yield business travellers on prime scheduled routes where it had become a major force in the wake of the demise of British Caledonian and Air Europe — such as
Gatwick to Paris Charles de Gaulle — through carefully targeted marketing and publicity, Dan-Air continued selling the bulk of its scheduled inventory to consolidators and discount travel agencies, in the way it had sold its charter invento
ry to package tour operators. The airline saw this as risk minimisation to fill seats on scheduled services. However, Dan-Air surrendered control over its scheduled seats to third parties whose sales were volume-driven. This deprived Dan-Air of the opportunity to boost the profitability of its scheduled operation by concentrating on maximising revenues from high-yield travellers.
British Airways paid a nominal £1 for Dan-Air - in return taking on financial commitments of £50 million which included debts of £37 million. For its part, British Airways got 12 of Dan-Air's most modern Boeing 737s, a similar number of short-haul scheduled routes from Gatwick, the
Heathrow—Inverness feeder service and about one-fifth of its 2,500 workers. Dan-Air was absorbed into British Airways' Gatwick operation. On 27 November 1992, the company's name was changed from Dan Air Services Ltd to British Air
ways (European Operations at Gatwick) Ltd. This rump of the former Dan-Air formed the nucleus of what British Airways intended to be a low-cost short-haul feeder for its
Gatwick long-haul scheduled services, with the aim of helping to return British Airways' loss-making Gatwick
operation to sustained profitability. The spares at DAE had a value of £20m alone - With the slots at Gatwick being worth millions and their office space and headquarters also. It is staggering that the airline failed. Or was allowed to fail.
NEW ROUTES AND ROUTE CHANGES
Gatwick - Stockholm - Twice daily, except Saturday. February 24th

Gatwick - Rome - Daily service commences February24th

Gatwick - Athens Daily service commences - March 26th

Gatwick - Barcelona - Daily service commences - May 18th

Gatwick - Barcelona service closed. October 2nd

Gatwick - Oslo

Gatwick - Istanbul

Gatwick - Malta

Gatwick - Cairo
DISCUSS THIS SUBJECT
25 Sep 2021
Absolutely brilliant!

.....................love the fleet summaries showing the individual aircraft!!!!

...............................should be done for other 'long gone airlines' including overseas ones like Pan Am!