1953

Dan Air's scheduled route network in the 1950s was almost none existant! The UK government's Air Transport Licencing Board (ATLB) had been created to oversee all airline route applications. As a department they built up a reputation for actively thwarting the ambitions of the UK's independent airlines. The IT industry in post war Britain was in its infancy
The ATLB considered route licences for all scheduled air services, any trunk route applications would almost certainly be handed out to the state owned
BOAC and BEA (British Overseas Airways Corporation & British European Airways)
BOAC carried out services to Empire Routes and Intercontinental Services, BEA, as the name suggests, was responsible for providing European air transport. The reciprocal arrangements that existed between foreign countries and Britain ensured that every air service by a British carrier from UK to another country would permit an identical amount of services from a carrier from that country to operate the same service.
This would mean that the exact number of flights would be available, with exactly the same air fares. Competition from any third or more operators was actively avoided. Should an independant airline wish to apply for a route that did not exist hitherto, they would have to submit an application to the ATLB. Before the independent airline could commence an air service on the route the ATLB would ask BEA or BOAC (dependent on European or further afield) if they wanted the route themselves or had any objections to the operation the service by an independent carrier. This bizarre rule was known as
Provision One
.
Naturally, BEA often did object to the independent's applications. Not only did this affect a specific route - If BEA flew, as they did, from Manchester to Amsterdam, then BEA would object if Dan-Air applied to fly from Liverpool to Amsterdam. BEA would argue that even though they were not flying out of Liverpool Dan-Air could potentially steal their Liverpool passengers who had to travel to Manchester as things stood - A laughable situation by the standards of today. It denied passengers choice and crippled the independent airlines in one stroke.
Dan-Air started operations with
ad hoc charters from their base at Southend via Manchester to Shannon
and their sole DC 3 had taken part in the second airlift at Berlin caused by the Soviet blockade in 1954
. Those flights did not hamper the state airlines. Nor did cargo flights that were also operated on ad hoc basis'
If we can step back to a few years before Dan-Air was launched. In 1949 Vladimir Raitz founded Horizon Travel Ltd. After he had received a £3,000 legacy. He immediately ran into obsicles from the ATLB. At this time Tour Operators were heavily regulated as well - They had to apply for licences to operate all flights, even charter ones. The rule '
Provision One
' also stipulated that no charter flights could operate on a route that BEA or BOAC already flew a service. Furthermore it also ruled that flights could only be advertised for a specific group of clilents. Raitz had decided to organise package tours from Gatwick. He submitted his request for a regular charter flight to Corsica.
It had been obvious to him that the cost of chartering an aircraft was significantly lower than putting his holidaymakers on a scheduled flight.
The ATLB had never had such a request until now. He was told to 'Leave it with us'. Three months passed an Raitz still hadn't heard from the ATLB. Fearing he was going to lose business for the upcoming summer months he chased the ATLB up.
The delays were a result of the board not giving his request any priority. Raitz's determination eventually paid off. The ATLB eventually gave Raitz the go ahead to fly a weekly service to Corsica.
The flights would not be without stipulation -
Raitz was told by the
ATLB that he could only sell his holidays to Students and Teachers. The fares
could not go on sale at less than the cost of the standard scheduled return ticket price. The holidays would include simple accomodation in tents. T
o make the holidays have any appeal at all, Raitz
offered meals, drinks, transfers, a representative in resort and excursions into the price. The standard air fare was high at £31 - without the extras the holidays would be unaffordable to most people. The
tours were slow to catch on with the obvious obsticle being that families were excluded from holidaying together. After a few months he began bending the ATLB rules and invited student nurses and Doctors. After a while, upon not being challenged by the ATLB, Raitz further extended his offer to apprentices. Immediately there was a big increase in bookings.
Charters could also be sold as '
Closed Charters'
where an individual could hire an entire aircraft for a group of friends and family and a tour operator would organise transfers and hotels. The price of this was not as regulated as normal charters. Normal charters were, of course, subject to the
Provision One
rule.
When Dan-Air commenced operations in 1953 with a single DC3 they were able to offer Horizon holidays an aircraft with 36 seats.
That increase in capacity was to see a relationship with Horizon Travel that would last for the next three decades. Raitz chartered aircraft from Dan-Air helping the two companies to flourish. Dan-Air quickly gained a reputation for reliability which was especially helpful to Raitz and Horizon Holidays. as so m
any of the early 1950s airlines did not last. A string of airlines failed quickly after start up.
1954

Three Avro Yorks were obtained and they were put to work on cargo charter flights. No licences were awarded to Dan-Air to carry out scheduled services. The UK's air licencing board - The ATLB stood by the 'Provision One' rule. As the company had, in a way, come about by accident, this year saw Davies and Newman decide to carry on with the airline. A new livery was designed and applied to all aircraft. T
he Ministry of Aviation granted Dan-Air
permission to operate a limited programme of a new type of low-fare service that combined air travel and overseas holiday accommodation at a cost substantially below the aggregate of each individual component if purchased separately. Flights would be severly restricted and could not operate on routes where a schedued BEA or BOAC flight existed. British Eagle offered to be Thomas Cook's in house airline, an offer that was declined. New carriers in the UK foound themselves in all parts of the world carrying cargo on a charter basis. Passenger charters were still a long way from being established for average British citizens. Prices for scheduled flights were high and the desire to travel was low. For those adventurous enough, the Channel Islands were an obvious choice as was the Isle Of Man. The Dakota was ideal for short hops to such locations. Horizon Holidays chartered the Dakota for a series of flights to Sardinia. These holilday packages included accomodation in tents, all meals,drinks and transfers to the hotel from the resort airport. The flying time was lengthy at more than five hours. It could sometimes be a bumpy ride on some flights as the aircraft flew at relatively low altitude and were succeptable to any bad weather. The DC 3 was also unpressurised. This could result in 'ear popping' during take and landing. The aircraft were also prone to technical issues, leading to long delays.
1955

Dan-Air's exisiting base at Southend was relocated to Blackbushe. The fleet was reduced to just three models. Dan-Air Engineering was established at Lasham, an ex RAF base with its own runway which had recently been resurfaced by the Ministry Of Defence. The base had adequate hanger space to carry out maintenance on Dan-Air's soon to be expanding fleet. The Engineering division at Lasham were recruiting engineers for the DC3 and Avro York fleet with an hourly pay of 4 shillings and 4 1/2 pence per hour! A caravan site was available to successful applicants.
1956

Dan-Air's three Avro Yorks were joined with an extra model being obtained from the RAF. Now four of them would work on passenger charters and cargo flights. More than 350 Hungarian refugees were airlifted to safety in the UK by Dan-Air from Austria where they had fled the Communist regime. Dan-Air commenced its first scheduled service in May of this year, from Blackbushe to Jersey. A our line advertisement in the Daily Herald's classified section was all the airline did to promote the new service.
1957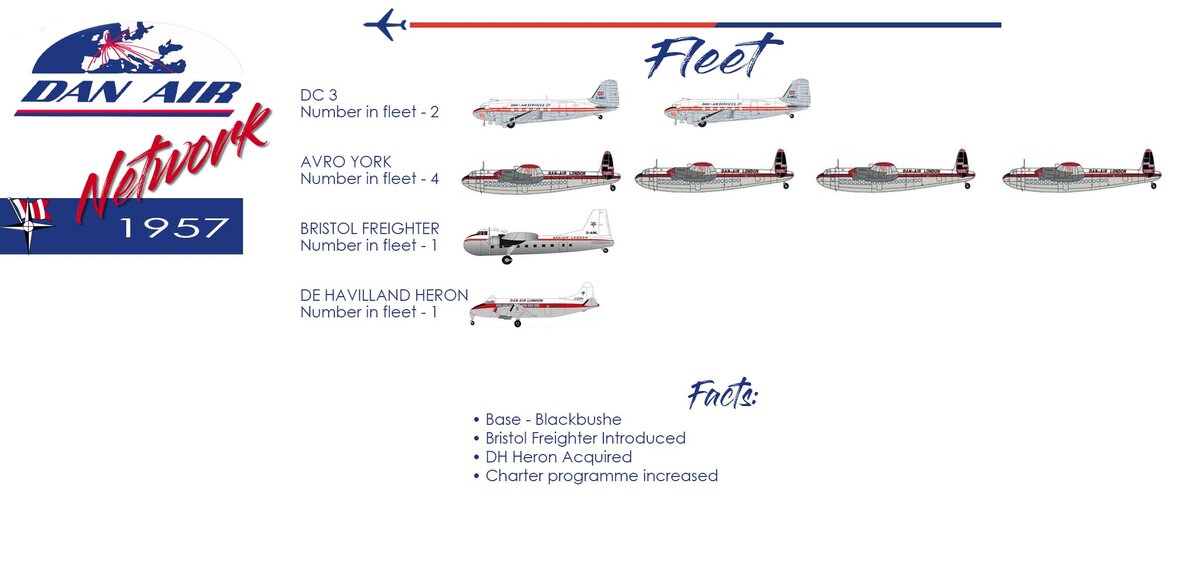 Dan-Air's acquired three additional aircraft in 1957. This gave the airline greater flexibility. Dan-Air had plans to fly domestic services from regional airports The Heron would be ideal for short, low densiity flights. It was suitable to land at runways that were not of the highest quality. The Bristol Freighter, as the name implies was an all cargo aircraft that Dan-Air made good use of. To help ensure the success of the Blackbushe-Jersey service Dan-Air continued to placen Newspaper Advertisements in the Daily Herald...

It is fair to say that the some of aircraft that carried passengers to new destinations were not without limitations. The Avro Yorks and DC 3s were all war time models refitted for passenger use. Independent airlines did not have the financial strength to purchase new aircraft.
One passenger who booked one of the Horizon charters from this period got in touch to say;
"We had booked to fly to Sardinia from Liverpool with, Starways. The airport was pretty basic, it only had a canteen type cafe. Our flight was due to leave about tea time and we were told to get ready to board it. We sat there for a couple of hours. We didn't know if that was normal or not, as first time flyers. So, eventually we get on this DC3 and it starts up. Then it stopped, my wife was not impressed - she suggested we get off and try and get our money back. Eventually we did get off. Then repeated the whole thing. After about six hours in the terminal we were told to board a coach! So we crawl all the way to Blackbushe. We were ferried through customs and given a cup of tea with some toast. Then we were told that our aircraft was ready for boarding. As we walked toward it my wife was concerned that the new aircraft was from Denmark. As we got comfortable in our seats you can image our shock and horror when they said the aircraft had a technical issue! Luckily it only took about half an hour and we could stay on board. We arrived in Sardinia 27 hours later than scheduled."
1958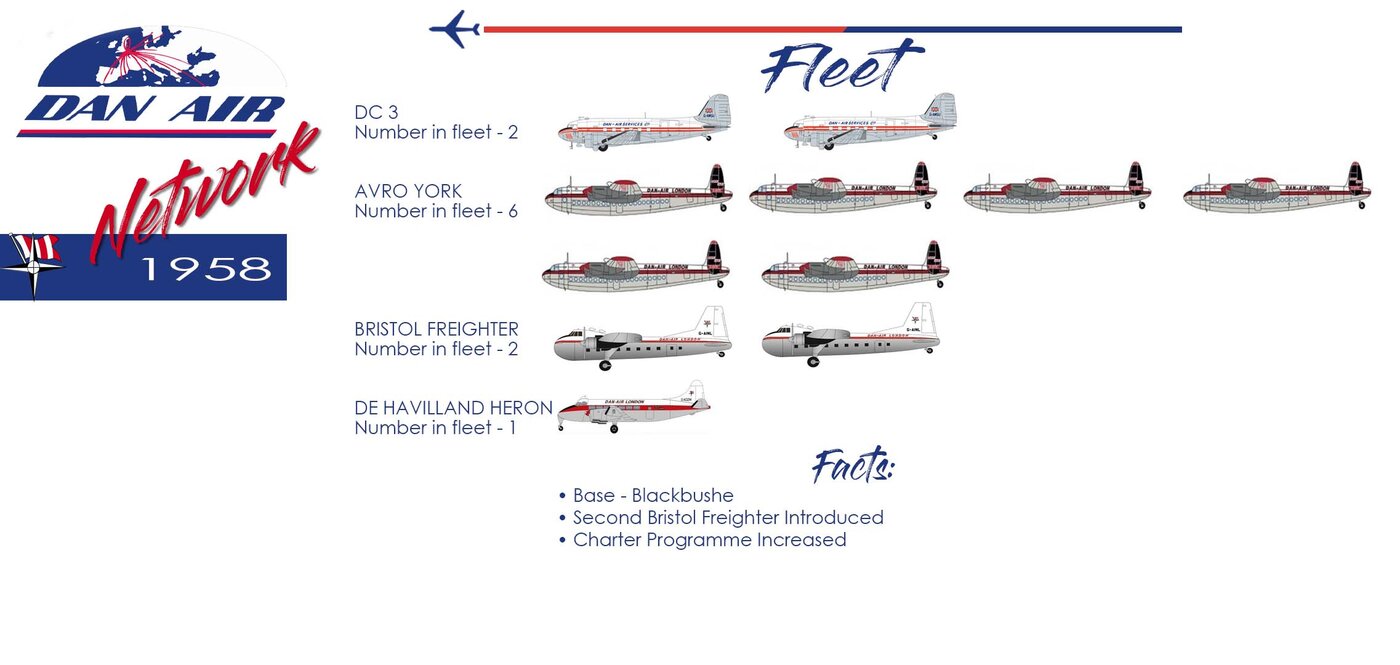 Dan-Air's fleet continued to grow. Charter flights were carried out worldwide. Sadly one of the company Avro York as lost in Malta after overshooting the runway. Dan-Air's first reported SOS occured in 1958 when a DC carrying 33 passengers from Manchester and London to Ostend suffered an engine fire over the English Channel. Captain Paddy Meed noticed 'veins of black oil on the wing' he radioed a 'mayday' to Air Traffic Control who directed him to return to Manchester. The Stewardess, Betty Roberts, who had only joined Dan-Air three months prior managed to keep the passengers spirits up for the next sixty minutes. She joked about the weather in Manchester despite the aircraft filling up with mist and black smoke. Upon arrival at Manchester five fire engines were on hand to deal with the problem. Further drama followed when three elderly passengers fainted.
Dan-Air's scheduled network grew with an international destination added. The service would fly between Blackbushe and Basle. Regular charter flight licences were granted for Valencia,Beauvais and Pisa. Ad hoc charters were also carried out regularly. Italian hoteliers complained bitterly at the UK's ATLB for rejecting some of the charter flight licences applied for by UK airlines.
1959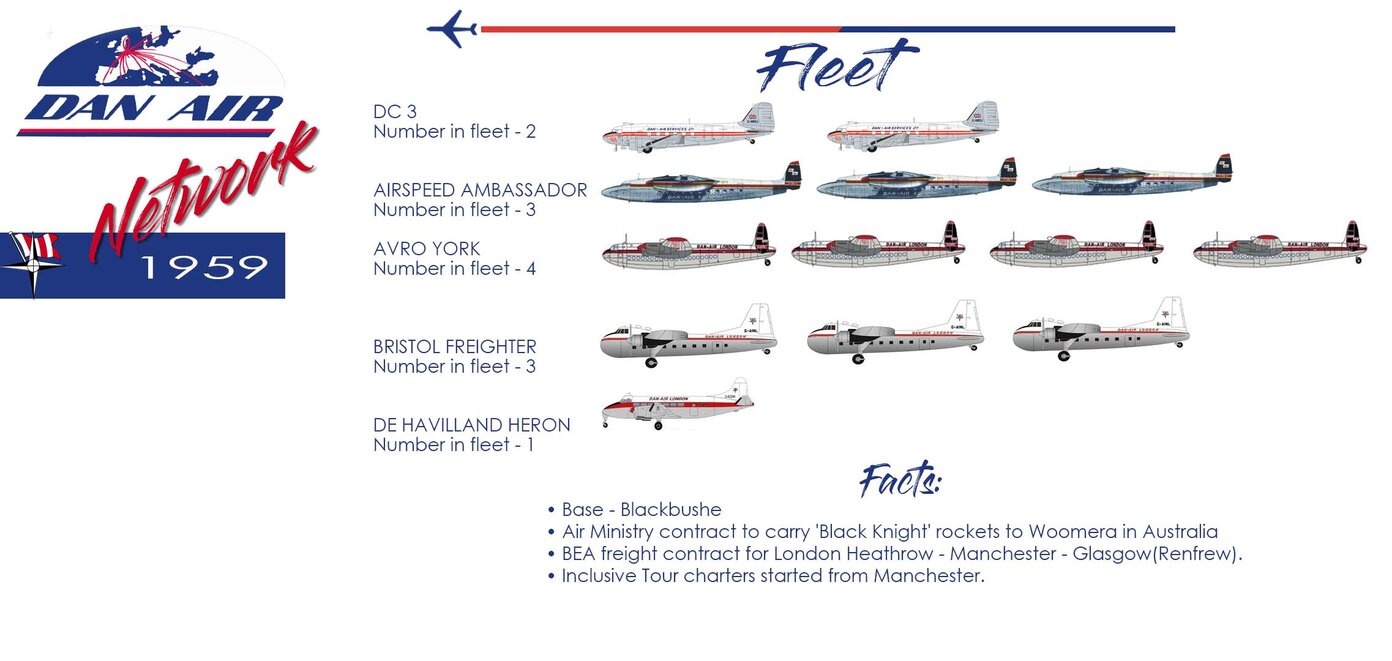 The contract to operate from London Heathrow to Glasgow via Manchester was important to Dan-Air. Although it was a cargo only flight it did show the Air Transport Licencing Board that Dan-Air was a capable airline. UK Authorities were not alone in making life difficult for independent airlines. The Government Office Of Italian Aviation had rejected several applications from UK operators who wished to fly passengers on behalf of Tour Operators on charter flights to Pisa. Several airlines including Dan-Air, Hunting Clan, Derby Aviation, British Eagle and Starways were affected. The local Mayor along with several hotel and business owners demostrated and wrote to the Minister to demand that the flights go ahead. Many UK would be passengers had had their flights cancelled. The local news agency claimed it was the Government's attempt to protect the state owned Italian airline, Alitalia.
Blackbushe Airport was proving not to be adequate for a growing airline. In no small part because the runway passed a major road. A new home was sourced. The UK Government insisted that all none BOAC or BEA flights would have to operated from Gatwick when it opened to the public. British European Airways was in a fortunate position in that it had very deep pockets. The state owned airline would be subsidised even if it operated at a loss. Their Ambassador Aircraft had been purchased by BEA in 1952. In total 20 of them were delivered to the airline over the next few years. BEA gave the airliner the name 'Elizabethan Class'. In a short time the Vickers Viscount became available. The Viscount was the first turboprop aircraft, therefore it was much quieter, cleaner and efficient that the piston engined Ambassador. The Ambassadors that Dan-Air purchased from BEA were less than six years old and in excellent condition. The Ambassador had carried 47 passengers in what was considered a 'quiet cabin for a piston engined aircraft' Dan-Air configured theirs to carry up to 55. This was straight forward as BEA had invested heavily in ensuring the comfort and space of its passengers. The Ambassador contained power points in its galley that enabled cooked food to be brought aboard and kept at the correct temperature, courtesy of insulation with glass and cotton wool. This was not the usual standard for Dan-Air passengers who would be offered tea and coffee with sandwiches and salads. On ad hoc charters where hot catering was required the airline could oblige. The Ambassador could fly at 20,000 none stop as far away as Malta. Other charter carriers purchased similar models. As more destinations became available the charter competition was intense.